TACLOBAN, Philippines — Thousands of survivors on Tuesday swarmed the airport in the province hardest hit by Typhoon Haiyan, trying to flee the country as another heavy tropical weather system made landfall in the Philippines.
Only a few hundred people were able to make it out — leaving behind a shattered, rain-lashed city short of food and water and littered with countless bodies.
Tacloban, a city of 200,000 people on the island of Leyte, lay in ruins, with bodies littering the streets. A civil defense official told NBC News on Monday that more than 56,000 homes had been destroyed on the island of Panay, with 83,000 others damaged.
Assistance was only just beginning to arrive for the victims. The national disaster agency said Tuesday morning that it had confirmed 1,774 deaths, with 2,784 other people confirmed injured, but authorities aid workers and emergency officials warned that there had been no contact with many hard-hit areas, and they estimated that when the final tally is known, 10,000 or more will have died.
The city was in the grip of a health crisis. There wasn't enough clean water, and cases of dysentery were reported. The city was without electricity and facing severe water and food shortages. Survivors stumbled among the shells of shattered buildings and splintered trees, passing by numerous bodies covered in red tarps.
Even as aid workers and emergency officials struggled to make their first contact with many typhoon-hit parts of the country after more than three days, a new tropical depression called Zoraida made landfall about 11 a.m. (10 p.m. Monday ET), in the southeastern province of Mindanao, the national weather agency reported.
Although Zoraida was only a tropical depression carrying maximum sustained winds of 35 mph, it was moving northwest — directly over the devastated island chain — at only 18 mph, much more slowly than Haiyan, and it wasn't expected to leave Philippine territory until Thursday morning.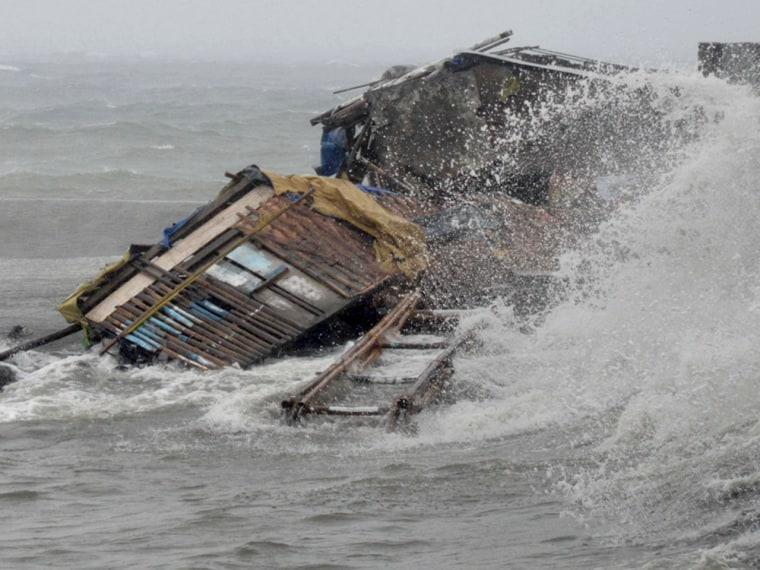 "What worries us is there are so many areas that we have no information from, and when we have this silence this usually means that the damage is even worse," Joseph Curry, country representative for Catholic Relief Services, told TODAY.
"We're unable to know the full extent of how many people are isolated and unreached. I would say it's in the millions," said Julien Anseau, an Asia region communications manager with ChildFund International.
The storm is estimated to have destroyed up to 80 percent of buildings in its path in the provinces of Samar and Leyte.
President Benigno Aquino declared a State of National Calamity on Monday and said 1.1 billion pesos (more than $83 million) had been approved by the government for victim relief.
Haiyan leveled Basey, a seaside town about six miles across a bay from Tacloban. Guiuan, a town in eastern Samar province with a population of 40,000, was also largely destroyed.
A World Vision official said early reports suggested that as much as 90 percent of northern Cebu had been destroyed. An aid team from Oxfam reported "utter destruction" in the northern-most tip of Cebu, the charity said.
The region's infrastructure was destroyed by giant waves and winds of up to 235 mph when the storm slammed into central Philippines on Friday, which made bringing aid to hardest-hit communities almost impossible.
The military was deployed after reports of looting. Aquino said 800 soldiers were deployed to Tacloban to "restore peace and order."
Residents of Tacloban were relying almost entirely on three military transport planes flying from nearby Cebu city for supplies and evacuation.
Even water from Tacloban's normally reliable pumps had been compromised, and few people appeared to be boiling water as officials suggested. Many people said that they were thirsty and that there was little access to aid.
"Help us! Help us! Where is President Aquino? We need water! We are very thirsty!" a woman shouted as she stood among dozens of other residents at the airport gates in Tacloban. "When are you going to get bodies from the streets?"
Mobs attacked trucks loaded with food, tents and water on Tanauan bridge in Leyte, Philippines Red Cross Chairman Richard Gordon said.
There were reports of a mass grave with up to 500 bodies in Tacloban, according to Reuters.
"It is so difficult. It is like we are starting again," Awelina Hadloc, the owner of a convenience store in Tacloban, told Reuters as she foraged for instant noodles at a warehouse that was almost bare. "There are no more supplies in the warehouse and the malls."
Residents of Tacloban told terrifying accounts of being swept away by a wall of water. Jean Mae Amande, 22, said she was washed several miles from her home by the surge of water. The current ripped her out to sea before pushing her back to shore, where she was able to cling to a tree and grab a rope thrown from a boat.
"It's a miracle that the ship was there," Amande said.
Weather forecasters said they believed this was the strongest storm ever to hit land.
"There have been more powerful storms over the sea, but this could be the strongest ever to hit land," said Kevin North, a lead meteorologist with the Weather Channel.
On Sunday, U.S. officials dispatched a team of 90 Marines and sailors — the first wave of U.S. military help — to the Philippines to assist with search and rescue operations and provide air support.
The U.S. Agency for International Development is also sending emergency shelter and hygiene materials expected to arrive early this week. The agency announced that the U.S. government is providing $20 million to affected areas to help with "emergency shelter, food, relief commodities, water and sanitation."
Ten million dollars of that is being used by USAID's Office of Foreign Disaster Assistance (OFDA) to "support immediate response efforts, including procuring, transporting, and distributing emergency relief commodities and improving access to sanitation facilities for typhoon-affected populations," officials said in a statement.
The Pentagon announced Monday that Secretary of Defense Chuck Hagel has ordered the aircraft carrier USS George Washington and other Navy ships to make best speed for the Philippines.
The aircraft carrier, which holds 5,000 sailors and more than 80 aircraft, is in Hong Kong for a port visit. The crew is being recalled early from shore leave, and the ship is expected to be underway later Monday evening.
British Prime Minister David Cameron said Monday that Britain has also deployed a navy warship with equipment to purify seawater into drinking water and 200 military personnel on board.
Justine Greening, Britain's secretary for overseas development, said Britain has also pledged a total of 10 million pounds (about $16 million) to relief efforts.
NBC News' M. Alex Johnson, F. Brinley Bruton, Elisha Fieldstadt and Henry Austin, Reuters and The Associated Press contributed to this report.
Related: