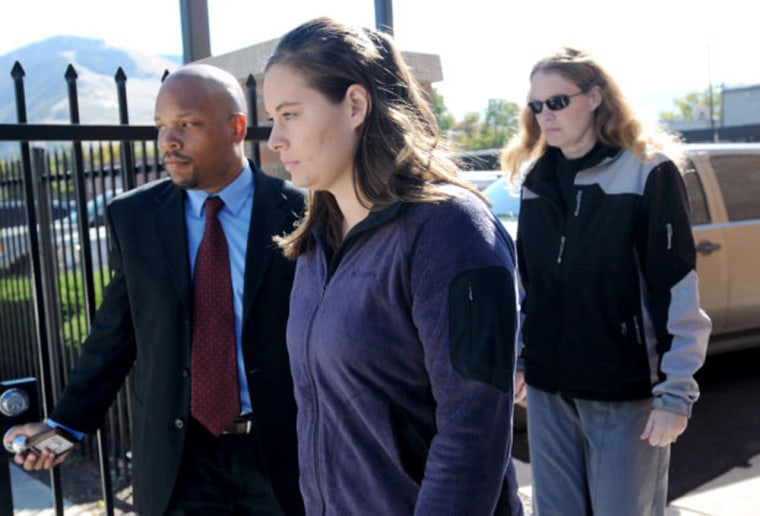 A Montana bride on trial for pushing her husband of eight days off a 200-foot cliff pleaded guilty Thursday to second-degree murder just before closing arguments were set to begin.
Jordan Linn Graham, 22, agreed that shoving Cody Johnson, 25, while the two argued on a narrow ledge at Glacier National Park was a "reckless act," the Missoulian newspaper reported.
"I ran back up to the car and left," she told the judge. "I was scared of what happened, and in that moment I was so scared I didn't know what to do."
As a result of the plea, prosecutors will drop charges of first-degree murder and making false statements. Graham faces a maximum of life when she's sentenced March 27, but it was unclear what punishment prosecutors will recommend under the agreement.
Johnson's family left the federal court in tears as Graham was taken away by U.S. marshals.
The plea came shortly after the defense rested its case — just a dozen witnesses testifying in a single morning. Both sides were due to present closing arguments when the surprise announcement was made.
That Graham pushed Johnson was not in dispute: She admitted as much during an FBI interrogation nine days after his July 7 death.
But her team was trying to mount a self-defense case, claiming Johnson made Graham go to the park, lured her out onto the ledge and then grabbed her as they argued.
The day-care worker said that when she tried to push him off her, he lost his balance and fell, landing in a shallow pool of water below.
Prosecutors charged that she acted with "malice" and suggested she might have blindfolded her husband before sending him to his death because she was having second doubts about their marriage.
They noted that she told a series of implausible lies to explain his disappearance, even going so far as to create a dummy email account and send herself a message from a man named Tony reporting that Johnson fell while hiking and was dead.
As the police search for Johnson intensified, Graham even led relatives to the cliff to look for him, saying that's where he went with his "car buddies." She reported seeing a body and then sent her teenage brother to verify it, he testified.
The prosecution's evidence included text messages Graham sent her friends, confessing she was having second doubts about the marriage and planned to confront Johnson with her concerns.
Two witnesses testified that Johnson canceled plans for the day he died because he said his wife was planning "a surprise" for him.
The defense's brief case seemed designed to convince jurors that Graham was content in the days leading up to the wedding and at the ceremony.
She wept as her lawyers played a short video from the wedding, and her grandmother, Linda Rickford, testified that the tears Graham shed as she walked down the aisle were ones of joy.
"She seemed like she was very happy," Rickford said, according to the Missoulian.
Graham did not testify, but jurors heard her words in the form of the taped confession she made July 16.
"I pushed him and I took off," she said.
"It was a quick thing. I just wanted to get him off me," she said in the recorded interview. "I don't feel like I killed him. I mean I pushed him, but it was an accident."
NBC News' Jim Lichtenstein and Jessica DeVera and The Associated Press contributed to this report.
Previous coverage: