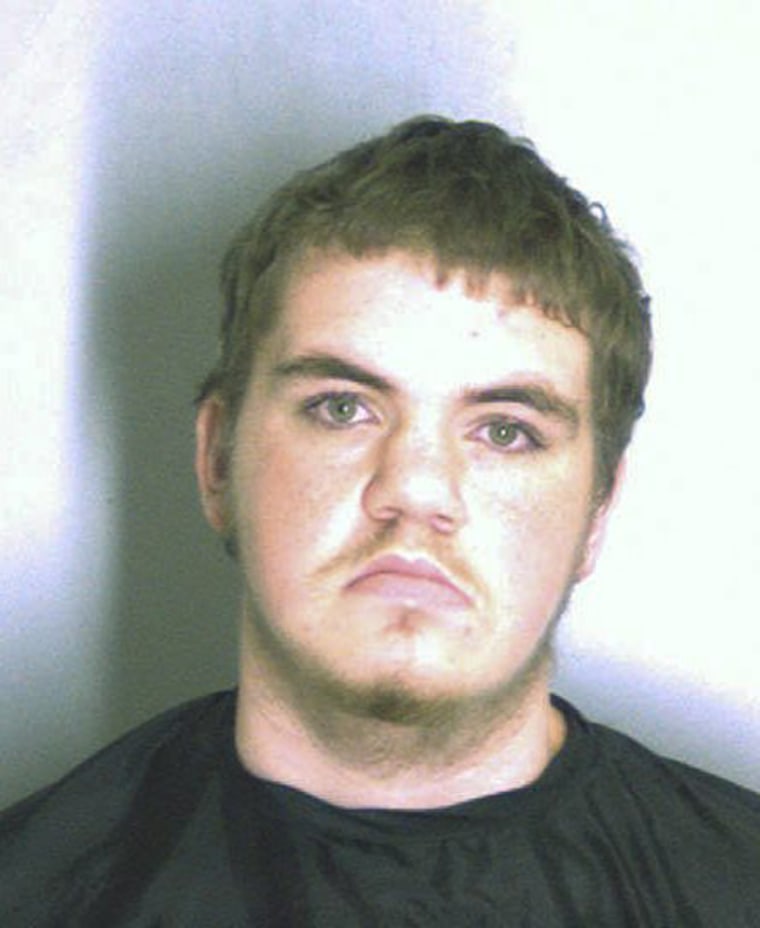 A troubled young man who allegedly walked into a Georgia elementary school with a high-powered rifle and hundreds of rounds of ammo was making a plea for help over his mental health, a pastor said Wednesday.
Michael Brandon Hill, 20, is charged with aggravated assault on a police officer, making terroristic threats and possession of a firearm by a convicted felon after he fired at least six shots in the front office of Ronald E. McNair Discovery Learning Academy near Atlanta. Police returned fire, yet no one was hurt.
He told a terrified school bookkeeper, Antoinette Tuff, that he was mentally unstable and had nothing to live for, before eventually surrendering.
A woman who said she served as a mother-like figure to Hill said he didn't seem to have any friends, that his birth mother was dead and that he didn't know his father.
Natasha Knotts said she took Hill into her family home for months, several years ago, when he started coming to the small church where her husband is pastor and she is an assistant pastor.
He was quiet and didn't display anger or violent tendencies, she said in an interview with The Associated Press at her home in Lithonia, Ga.
"He was part of our family," Knotts said, though they were not related. She said her family was aware that "he had a mental disorder" before he moved in.
"This is something that's totally out of his character. This is not him. This is not the Mike that I know. For anyone that knew Mike, this was a total devastation," she told The AP.
She kept in touch after he moved out and said he'd recently been living with another couple who belonged to the church.
Knotts said she thinks Hill's actions were a plea for help. "Unfortunately," she said, "he didn't know a better way to get it."
The DeKalb County Public Defender's office said in a statement Wednesday that it was representing Hill, calling him "a young man with a long history of mental health issues."
One of the office's attorneys, Claudia Saari, wrote in an email that a preliminary hearing is scheduled for Sept. 5. 
Hill pleaded guilty in July in Henry County, south of Atlanta, to making terroristic threats. Court records show that he was sentenced to three years' probation and anger counseling. Because that charge is a felony in Georgia, Hill would have been barred from possessing a weapon.
Hill's brother, Timothy, told NBC News that the charge stemmed from Hill's threatening to shoot him. He agreed that there was no way his brother could have legally bought the weapon through a licensed firearms dealer.
"He had to get them from buying them off the streets," Timothy Hill said. "There is no way possible a gun store would sell them to him with his mental history. And no gun laws would have prevented that."
Clues to Hill's motives were set out in a remarkable 911 call made by Tuff, the school bookkeeper, who called police and stayed on the line for almost 25 minutes during Tuesday's ordeal.
"He said he don't care if he dies, he don't have nothing to live for," Tuff told the operator. "He said he's not mentally stable."
Occasionally, Hill himself can be heard speaking, at one point saying, "Tell them to stop bothering me," and a little bit later yelling, "Tell them to stand down now!"
Law enforcement officers praised Tuff, for helping to avert a potential tragedy.
"She was a real ally," said DeKalb County Police Chief Cedric L. Alexander. "She was a real hero in all of this. She just did a stellar job. She was cool, she was calm, very collected in all of this, maintained her wherewithal."
Elizabeth Chuck, Tom Winter and Erika Angulo of NBC News, and The Associated Press contributed to this report.
Related: