Florida police are investigating a dispute between George Zimmerman and his wife Shellie — who called 911 and said her husband threatened her with a handgun and attacked her father, an official said.
Lake Mary Police public information officer Zach Hudson said police were at the home, investigating a "possible domestic battery." George Zimmerman was detained without being arrested and was released Monday afternoon, Hudson said.
Police Monday afternoon said George Zimmerman was "free to go," according to Hudson. 
Mark O'Mara, George Zimmerman's lawyer, held a news conference Monday evening. He said no one would be pressing charges in the incident. 
Police received a call at 2:10 p.m. from Shellie Zimmerman, who filed for divorce last week — a little more than a month after he was acquitted of second-degree murder in the shooting death of teenager Trayvon Martin.
She said her husband of five years was in an argument with her and her father and had a handgun, Lake Mary Police Chief Steve Bracknell told NBC News.
In an audio recording of the 911 call obtained by NBC News, Shellie Zimmerman tells the dispatcher that her husband had "accosted" her father and "punched" him in the nose, leaving a "mark" on his face.  
But fire officials who responded to the scene "checked everyone physically" and found that "no one had any visible marks or needed any treatment," according to Hudson.
At the beginning of the call, Shellie Zimmerman says: "He's in his car and he continually has his hand on his gun and he keeps saying, 'Step closer.' He's just threatening all of us with his firearm."
Shellie Zimmerman later told the dispatcher that her husband  then took his wife's iPad out of her hands and "smashed and cut it with a pocket knife." 
"I don't know what he's capable of," she says to the dispatcher, apparently distraught and out of breath. "I'm really, really scared."
Later in the 911 recording, Shellie Zimmerman seems to break down crying. In response, the dispatcher tells her "this is a tough situation for anyone."
After police arrived, she said, ""He's got his hands in the air. He's not touching his weapon."
Police said George Zimmerman also accused his wife of being the aggressor.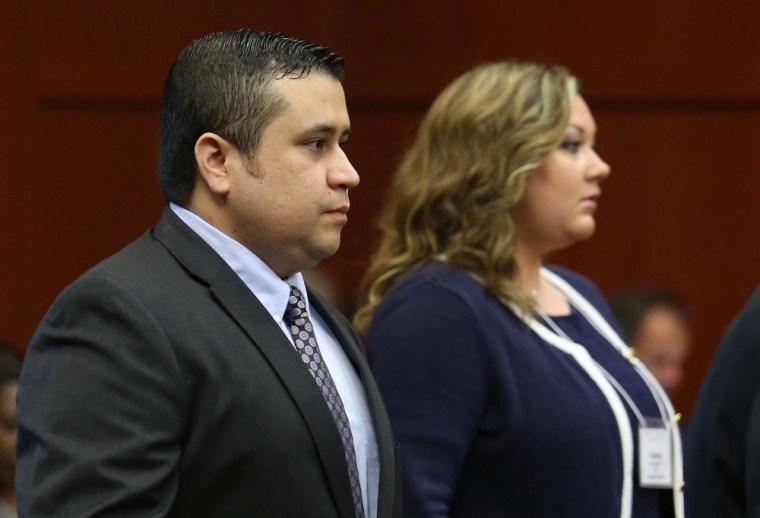 "There was an altercation and one party put their hands on another party," Hudson said. "We're still trying to figure out who touched whom."
Officials later said that Shellie Zimmerman and her father were not going to press charges. 
On Monday night, police even backtracked on an earlier claim that they had confiscated, and returned, George Zimmerman's gun.
"We never had contact with a weapon, we, we never touched a weapon, we don't know that there is even a weapon here," Hudson told NBC's Orlando affiliate WESH, just hours after saying the opposite.
Shellie Zimmerman told ABC News last week her husband was "selfish" and has been making "reckless decisions."
"In my opinion, he feels more invincible" since his acquittal, she said.
After a trial that transfixed the nation, a jury found George Zimmerman, 29, not guilty in the death of Martin, 17. The defense argued that he shot Martin, who did not have a gun, in self-defense after being attacked.
The verdict sparked protests and debate on race and guns that stretched all the way to the White House. In the weeks since, George Zimmerman has helped rescue a family after a car wreck and been pulled over for speeding twice.
In late August, Shellie Zimerman pleaded guilty to a perjury charge for misleading a Florida court about her family's finances during a bail hearing for her husband.
Her plea deal — in which she avoided a felony conviction — gave her a year's probation and 100 hours of community service.
Prosecutors had accused Shellie Zimmerman of failing to disclose a $135,000 donation fund set up through PayPal during her husband's bail hearing, even though she was allegedly heard discussing the account over a jailhouse phone.