Prince William and soccer legend David Beckham teamed up Monday to launch a campaign that aims to protect animals from illegal poaching.
The Duke of Cambridge, who is also the president of United For Wildlife, promoted the new hashtag #WhoseSideAreYouOn while flanked by Beckham and other star athletes at Google Town Hall in Central London.
"The illegal wildlife trade is responsible for the slaughter of tens of thousands of animals a year, pushing some of our most beloved species to the brink of extinction," William said.
"Our children should not live in a world without elephants, tigers, lions and rhinos. Enough is enough. It is time to choose between critically endangered species and the criminals who kill them for money."
The #WhoseSideAreYouOn campaign aims to reach people via Twitter, Facebook, Google Plus and You Tube. Supporters will also be urged to participate in or watch United For Wildlife sports events.
In anticipation of the launch, William posed alongside his brother Prince Harry for a photo posted to United For Wildlife's Twitter account. The brothers held a sign that bore the campaign start date of June 9, as well as their royal signatures.
Beckham, who worked with Prince William on England's bid for the World Cup and attended the royal wedding, leads a group of athletes behind the campaign, including Wimbledon champion Andy Murray, India's former cricketer Rahul Dravid and retired South African rugby captain Francois Pienaar.
United for Wildlife was founded in recent months by the Royal Foundation, led by Prince William, and brings together seven of the world's top wildlife conservation charities, according to WWF's website.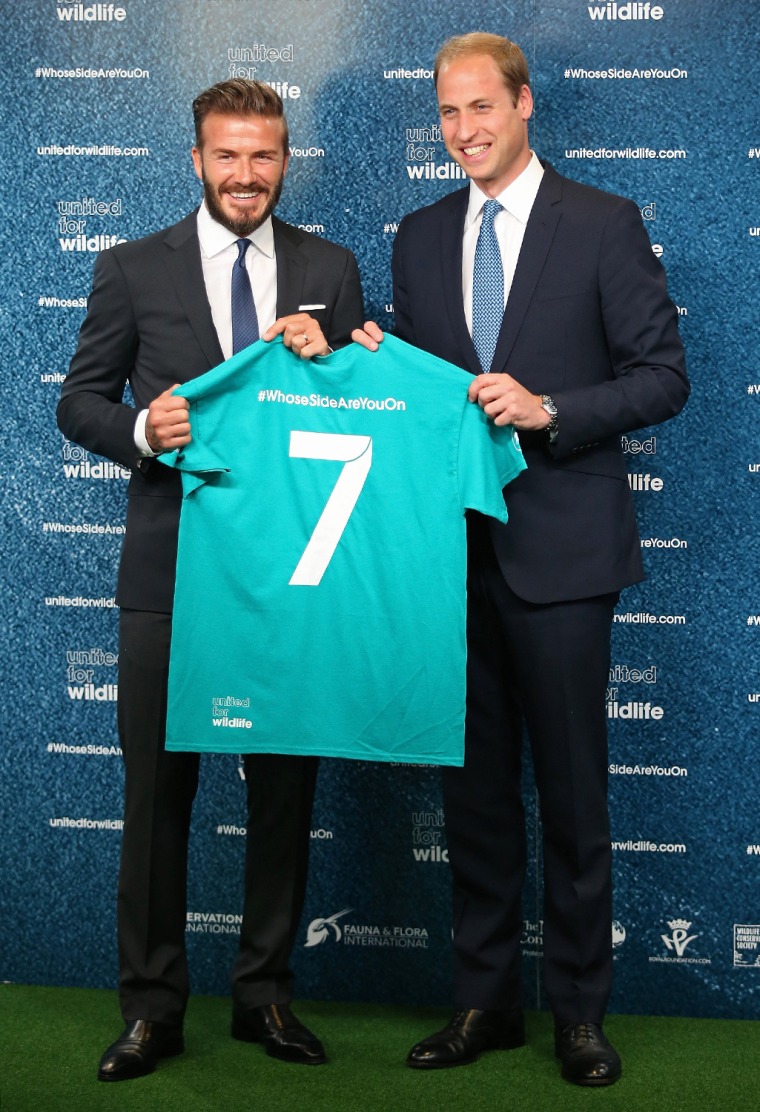 Beckham got involved with United For Wildlife soon after its inception, saying at the time, "When I learned of the current poaching levels in Africa, I immediately agreed to help get this message out. It is shocking to think that we could lose these animals from the wild in our lifetimes," The Telegraph reported.
William follows in his father's footsteps in advocating for wildlife conservation. The Prince of Wales made the keynote speech February at a major international conference in London on the trafficking of endangered wildlife. There, politicians considered how to fight the illegal trading of tiger parts, elephant tusks and rhino horn — illegal business that is estimated to generate £11.5 billion each year.
Both William and Harry attended the conference, which William lauded as the "beginning of the end of this despicable trade.''
Take a look at the prince's life, from a privileged childhood to an exciting adulthood.