KABUL, Afghanistan -- Recalling his battlefield days, ex-jihadist warlord Haji Mohammad Almas Zahid offers up a grisly tour of his scars, souvenirs from a life spent fighting.
"I've got a lot of bullets in my body," the former mujahedeen fighter and Afghan army commander says with spine-chilling seriousness during a rare series of exclusive interviews with NBC News.
"This one is from Taliban," he snarls through gritted teeth, pointing to the right side of his face and the back of his neck, where a round entered and exited, breaking his jaw. "I tilted my head so that my blood would spill onto Afghan soil. I was proud my blood was being shed for my country, while taking it away from the Taliban."
The next stop is a shrapnel wound to his left shoulder, courtesy of the Soviets during his days as a holy warrior.
Sitting in the inner sanctum of his Kabul office, the 53-year-old continues the battered body tour by pointing at his knee.
A guard under guard
At least 20 heavily armed guards stand just beyond the door and surround the three-story building. Almas believes the Taliban want him dead.
However, he is no longer considered an ally of the Western forces battling the militant group. U.S. officials last year alleged that Almas is "actively supporting an insurgency" in his homeland and urged the Pentagon not to do business with him. Almas denies reports that he's worth $10 million or presently owns a single business and simply says that he "has some properties."  
In a country that has been at war for decades, changing sides is a common survival mechanism. As one of Kabul's most influential men, he has switched allegiances many times over the years.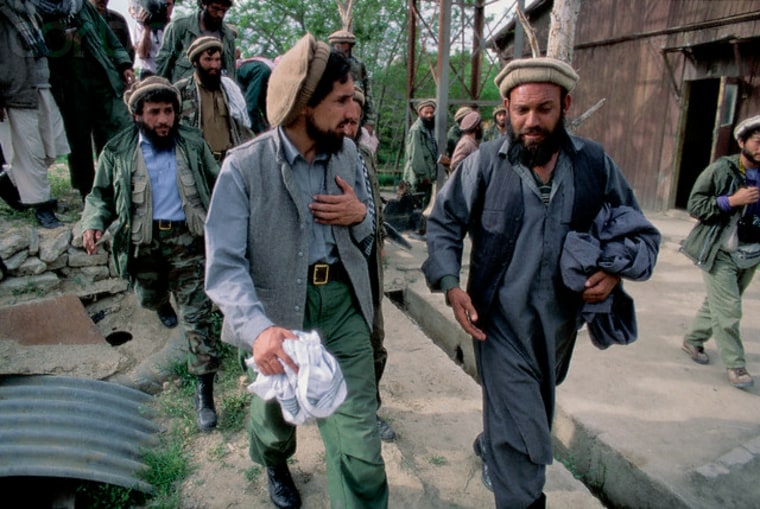 During the Soviet invasion he was a commander for the notoriously radical Islamist Gulbuddin Hekmatyar, later becoming a commander under the legendary Northern Alliance leader Ahmad Shah Massoud. 
He then led the Fifth Army Corps during President Burhanuddin Rabbani's mujahadeen government. Since 2005, he has served as a powerful lawmaker in President Hamid Karzai's U.S.-backed government. Almas feels this demonstrates his belief that "the pen is mightier than the sword."
However, Human Rights Watch has called for an investigation into the role of Almas and other sub-commanders during a series of incidents in 1992 and 1993 when militias "intentionally targeted civilians and civilian areas in western Kabul for attack." A 2005 report by the New York-based group also alleged that some of the forces Almas fought beside were linked to "numerous robberies, general criminality, and killings of civilians in non-combat situations."
When asked about the report, Almas says such allegations are absolutely "baseless," volunteering he's never treated a Taliban or Soviet detainee as anything "other than a brother," in accordance with Islam. 
"The Russians invaded us, they buried our people alive … When the Taliban came in, they did the same to us…We fought to bring the peace here, we have fought to bring the pen here," he says, pointing his finger in the air.
Almas said he wouldn't hesitate to return to the battlefield if the Taliban violently tried to reclaim power in his homeland.
"Yes, 100 percent," he says with a steely gaze. "All the tunnels that were dug in Parwan [province] during the Russian war are still functional, so we are ready to go again if somebody were to attack us. If anything happens, we'll jump back in there and fight."
'My life is like a book'
Many Westerners don't realize that the men who really run Afghanistan and are determining its future aren't the ones pushing paper around the Presidential Palace. Rather, a controversial collection of ex-jihadist fighters-cum-businessmen-or-politicians wield a tremendous amount of influence over their native provinces and populations.
In America, there is a natural tendency to categorize people simply: You're either a "good guy" or a "bad guy." But here, nothing is that black or white.
A unique breed of man has evolved from decades of war: There are "good guys" who have done some bad things, and "bad guys" who have done some good things – but nearly everyone in power seemingly falls somewhere within that spectrum depending on the circumstances.
Perhaps fittingly, Almas' favorite TV show is "24," a series in which the flawed but well-intentioned hero Jack Bauer sees himself as a good guy who sometimes has to do morally questionable things in the fight for what he believes is right for his country.  
"Every day of my life is like a book," Almas says. "If I told you what really happened, you wouldn't believe me. It would not be acceptable to you if you had to listen to what we have done and what they were doing to us."
Almas' eyes look primal as he recounts performing life-saving battlefield amputations with a hacksaw on his comrades. There were no painkillers available, he says, only the formidable Afghan toughness to get them through it.
His booming voice fills the room as he recounts brushes with death, telling outrageous, vividly detailed tales of being cornered by tanks and surrounded by "50-60 helicopters at a time." 
One memory stands out from the war against the Soviets: As his army post was being pounded in an aerial attack, Almas says he led the charge to save several fellow soldiers.
"I didn't look to see if anyone was following me. Everything was flying in the air: bodies, mud, bricks… I saw a dead man standing, the mud walls had collapsed around a soldier as he clutched his weapon …I don't know how I had the strength to do it, but I pulled injured men out of there."
After being shot in the head by the Taliban, Almas says he had his mouth wired shut, then returned to fight, surviving mostly on lamb soup broth.
A community figure
Almas seems determined to be defined as a "good guy" who does good things. To his family, and the people of Parwan that his team introduced NBC News to, the father of 11 is just that.
He is omnipresent in the northern province. Posters of him hang in the police station and on government vehicles. 
After a hosting a lavish breakfast of bone-filled mutton stew with tribal elders, Almas proudly beckons two sons into the office, introducing them with paternal pride: one is a doctor, the other is a lawyer. Almas boasts that his seven-year-old son, who he has with one of his two wives, speaks such perfect English that he's tutoring fellow students.
Almas says his focus is to serve the people of Parwan and is eager to display how the power of his pen and personal coffers have transformed his home province.
He points to a new mosque, madrassa, medical clinic and girls' and boys' schools that Almas says he spent over $1.75 million of his own money building.
Not far from the community complex is a personal "palace" he is constructing. Huge perimeter walls and four massive guard towers are already in place to protect whatever will be built inside.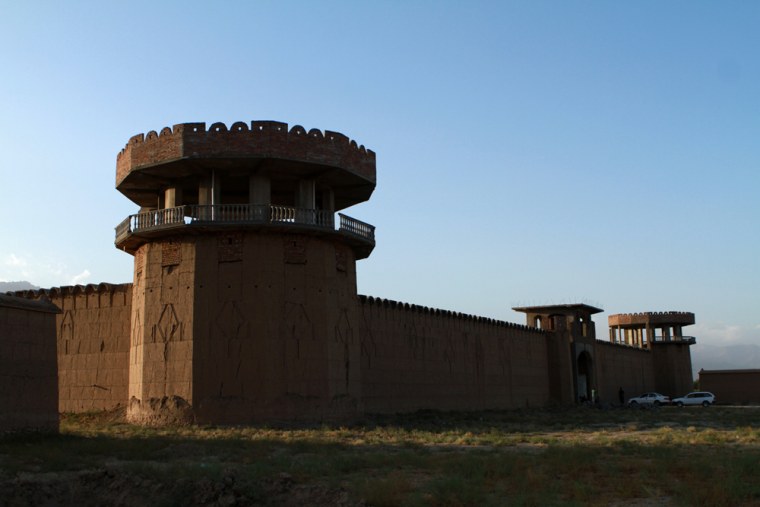 Although in recent years he has reportedly been involved with companies including an Afghan-Iranian construction firm, a raisin export company and a popular Iranian restaurant, Almas says he currently does not own any businesses.
Almas denied allegations by the U.S. Special Inspector General for Afghanistan Reconstruction that he is "actively supporting an insurgency in Afghanistan." American officials last year took steps to prevent Almas from receiving any Defense Department contracts or grants.
"If they took the microscope or binoculars they will see that I have never done anything to my people, nothing wrong," he says.
Almas' feelings about the presence of U.S. troops in Afghanistan are strong. 
His voice crescendos as he complains that this war was a missed opportunity. He wishes the coalition never came to this country. That despite good intentions at the outset, a laundry list of poorly executed programs has instead led the Taliban to ingratiate themselves to the public, uniting against a common enemy of foreign occupiers.
"When they hit the Twin Towers in New York, most of the world was not ready to do the suicide attacks or sacrifice themselves then, but today a lot of people are ready to do that," he said.
Almas believes the Taliban are targeting him and worries that 20 bodyguards are "not enough."
"The risk is always high. I need at least 50," Almas says, adding something many Afghans would agree with: "You never know who is your friend and who is your enemy."
Related: