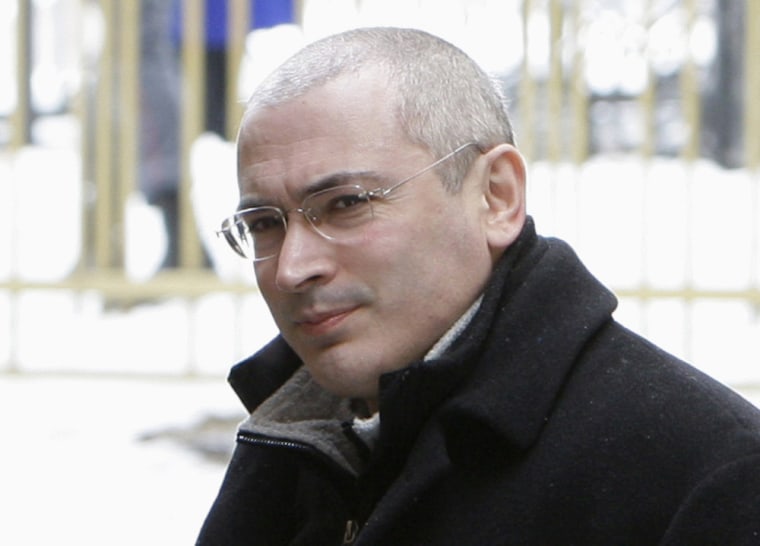 MOSCOW -- President Vladimir Putin is to pardon one of his best known opponents, oil tycoon Mikhail Khodorkovsky, after a decade in jail in what may be a gesture to critics of his human rights record before Russia hosts the Winter Olympics.
Putin made the surprise announcement that he would soon free Khodorkovsky, once Russia's richest man, after a marathon news conference on Thursday in which he exuded confidence that he has reasserted his authority in the face of street protests.
He said two members of the Pussy Riot protest group would also be freed, but it was the about-turn on Khodorkovsky, who was due for release next August, that grabbed most attention, lifting Moscow share prices on hopes it may mean investors have less cause to fear falling foul of Kremlin politics.
'Serious punishment'
Khodorkovsky, 50, fell out spectacularly with Putin a decade ago. His company, Yukos, was broken up and sold off, mainly into state hands, following his arrest at gunpoint on an airport runway in Siberia on fraud and tax evasion charges in 2003. 
He became a symbol of what investors say is the Kremlin's abuse of the courts for political ends. The Kremlin denies this but Putin has singled Khodorkovsky out for bitter personal attacks and ignored many calls for his release.
On Thursday, however, he said: "He has been in jail already more than 10 years. This is a serious punishment."
Saying Khodorkovsky's mother was ill and that he had asked for clemency, he added: "I decided that with these circumstances in mind ... a decree pardoning him will be signed."
Russian shares rose over 1 percent on the news, though later settled back by the end of the day.
A sustained rally would require "a consistent track record of implementation of market-friendly reforms - in particular, of steps to improve the judicial system, so that decisions are more predictable and property rights better protected," a Moscow-based economist at an investment bank said.
Lawyers for Khodorkovsky initially said he had not sought clemency but his representatives later said they were trying to reach him in prison near the Arctic Circle to clarify matters.
An early release had not been expected and there had even been speculation that new charges might be brought against him, as they were before his sentence was extended in 2010 after a second trial for theft and money-laundering.
Khodorkovsky began dabbling in small business as a Moscow student Communist leader under Mikhail Gorbachev's perestroika reforms of the late 1980s. Still in his 30s, he emerged from the cut-throat chaos of the Soviet collapse as one of the wealthiest "oligarchs" under Putin's predecessor Boris Yeltsin.
His fall from grace after criticizing Putin, a former KGB officer, has long been held up by foreign investors as evidence of the weakness of property rights and the rule of law in Russia.
'A thief should sit in jail'
Supporters say Khodorkovsky was sentenced in 2005 to curb a political challenge, bring his oil assets under state control and warn other oligarchs not to cross Putin. 
Amnesty International, which campaigned for dissidents in Soviet times, declared Khodorkovsky a "prisoner of conscience".
In the eyes of critics at home and abroad, Khodorkovsky's jailing is a significant stain on the record of Putin, who was first elected president in 2000 and has not ruled out seeking another six-year term in 2018.
In televised comments three years ago, Putin aggressively defended his imprisonment, spitting out a line uttered by a tough detective in a Soviet film: "A thief must be in jail".
Noting the 150 years given to American fraudster Bernard Madoff, he quipped: "I think we are a lot more liberal."
Putin also suggested Khodorkovsky had blood on his hands, referring to a murder conviction against a former senior Yukos employee and saying of alleged victims that "they found only their brains in a garage".
Khodorkovsky is believed to have angered Putin by funding opposition parties, questioning state decisions on oil pipeline policy, raising corruption allegations and presenting himself as an embattled champion of good corporate governance.
Khodorkovsky's mother, Marina, who will turn 80 next year and has had cancer, was unaware of any request for a pardon. But she told Reuters by telephone: "I want to believe he will pardon him ... I want to believe Putin is not totally lost."
Putin's spokesman, Dmitry Peskov, said a plea for a pardon meant Khodorkovsky had admitted guilt. His lawyers say convicts seeking a presidential pardon are not automatically required to admit any wrongdoing.
In comments published in the New York Times late last month, Khodorkovsky said his mother was facing cancer for a second time after many years of remission and that they might never see each other again outside of a prison.
"Putin is Putin, war is war, but one's mother is dearer than anything," Dmitry Gololobov, a former Yukos legal head who lives in Britain, told Reuters by telephone. He said Khodorkovsky might have sought a pardon without telling his lawyers.
Khodorkovsky's son, Pavel, called it "very happy news" and said he was waiting to talk to his father to hear more. Russian business leaders and foreign investors welcomed the pardon.
"This is good news for investors," said German Gref, CEO of state-controlled Sberbank, Russia's biggest bank. Gref served as economy minister under Putin for many years.
Business magnate Mikhail Prokhorov said: "Something has happened that should have happened several years ago."
Political challenge?  
Analysts had said Putin would only allow Khodorkovsky to walk free if he no longer regarded him as a political threat. The former businessman has announced no political plans.
Gololobov said Putin had nothing to lose by letting Khodorkovsky out a few months early and that the show of mercy would make it harder for Khodorkovsky to criticize Putin.
"Will he walk up to a podium and say: 'Putin's a swine'?" Gololobov said. "Such direct battle would be awkward."
Lawyers said Platon Lebedev, a business associate who was tried alongside Khodorkovsky and is due for release in May, would not ask Putin for a pardon.
Freeing Khodorkovsky and the two women from Pussy Riot, jailed over a protest against Putin in a Russian Orthodox Church but now covered by a broader amnesty, could ease criticism of the president before the Olympics in February.
Putin has staked a great deal of personal prestige on the Winter Games in Sochi, and is under fire abroad over a law banning the spread of "gay propaganda" among minors.
A government source said the pardons would deprive Western critics of a cause: "I think the decision to free Pussy Riot and Khodorkovsky was taken just before the Olympic Games so that they will not be able to wield this banner against Putin."
On a website supporting Khodorkovsky, a man named Igor commented: "It was simply beneficial for Putin to make a show of 'mercy' before the Olympics in order to avoid a huge world scandal."
Boris Nemtsov, an opposition leader, said Putin's motives were unclear: "Maybe the Olympics," he said. "It doesn't matter. The important thing is that this is wonderful and absolutely unexpected news."
Thirty people, mostly foreigners, jailed over a seaborne Greenpeace protest in September against Russian Arctic oil drilling are also expected to avoid trial under the amnesty approved by parliament this week, though Putin said the measure was not drawn up with Pussy Riot or Greenpeace in mind.
Related