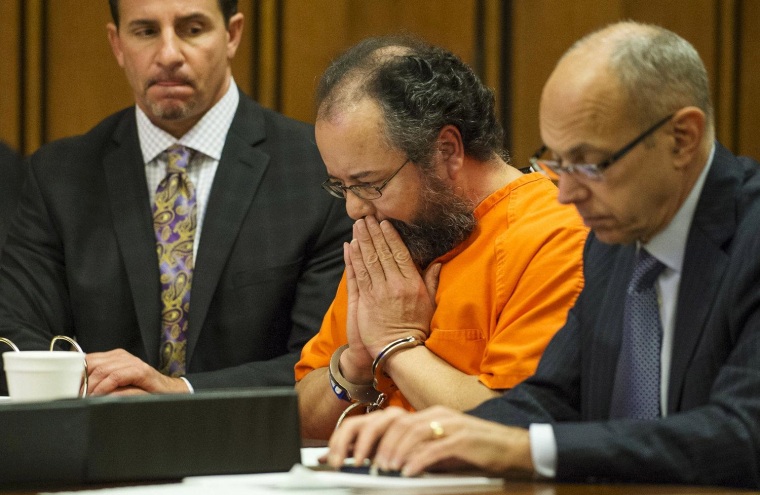 When kidnapper and rapist Ariel Castro hung himself in his prison cell on Tuesday night, it brought to light a dark truth that happens behind bars: Suicide is one of the leading causes of death for inmates.
In 2011, suicides made up 5.5 percent of deaths in state and federal prisons, which was more than drug and alcohol intoxication, homicide and accidents combined.
According to the Bureau of Justice Statistics, 185 inmates took their own lives in state and federal prisons that year. 
Castro, who was found hanging in his cell late Tuesday, was being kept in protective custody, with guards making rounds every 30 minutes at staggered intervals, prison officials said. It was unclear early Wednesday whether he was on suicide watch.
Illness kills far more inmates in the nation's state prisons than anything else. Statistics show that cancer and heart disease are the most common causes, accounting for 56 percent of all state prison deaths.
Dr. Alexandra Fleischmann, an expert in suicide prevention at the World Health Organization's Department of Mental Health and Substance Abuse, said it was vital that a number of "risk factors" are assessed as soon as possible after person enters a prison or jail.
"[Suicide] is difficult to predict so the only way to intervene is to address as many risk factors as possible," she said. "These factors are typically mental distress, chronic illness, acute emotional distress or the loss of a loved one." 
Authorities found a suicide note at Castro's home along with a written confession when they searched the property in May, Cuyahoga County prosecutor Tim McGinty said after his sentencing.
Castro's attorney Craig Weintraub told NBC's TODAY on Wednesday that his client had been transferred to the Correctional Reception Center in Orient, Ohio, about two weeks ago. Castro was only a month into a life-plus-1,000-years sentence.
"My colleague and I in the last couple of days when he was in the Cuyahoga County Jail, we asked if we could get an independent forensic evaluation of him, prior to his departure to the corrections center in Lorraine County and it was refused by the county," Weintraub said.  
"Then we asked the Ohio Department of Rehabilitation and Corrections if we could get to him with our own forensic expert while he was in Lorraine and they refused that while he was down in Orient, so I will be very interested to hear what they have to say about how in-depth and what the wide scope of the evaluation they conducted."
Lindsay Hayes, project director at the National Center on Institutions and Alternatives and an expert on suicide prevention in prisons, urged authorities not to rush to conclusions in the Castro case.
"The prison should be very careful and take as much time as possible to look at both the inmate and the prison system to see if it did its due diligence," he added.
According to a 2007 report by the World Health Organization, all prisons "regardless of size, should have a reasonable and comprehensive suicide prevention policy."
"The essential component to any suicide prevention program is properly trained correctional staff, who form the backbone of any jail, prison, or juvenile facility," WHO's Preventing Suicides in Jails and Prisons report said.
"Very few suicides are actually prevented by mental health, health care or other professional staff because suicides are usually attempted in inmate housing units, and often during late evening hours or on weekends when they are generally outside the purview of program staff.
"These incidents, therefore, must be thwarted by correctional staff who have been trained in suicide prevention and have become more attentive to the inmates under their care."
The rate of state prison suicide nationally has been remarkably steady over the past decade, averaging 15 incidents per 100,000 inmates nationwide. That's down considerably from 30 years ago, when when it was nearly twice that level.
In 2011, the most recent year for which statistics are available, Ohio state prisons reported 63 suicides during the 11-year period of 2001 trough 2011.
The state's prison system is the sixth-largest in the U.S., and the figure of 63 suicides was the seventh-largest in the nation during the period, roughly in line with the size of its prison population. 
Ohio has seen two other high-profile inmates commit suicide this summer. Billy Slagle, 44, of Cleveland hanged himself in August, hours before he was due to be executed for stabbing his neighbor in 1988.  
In June, Adam Matthew Moss, 35, who pleaded guilty in 2001 to seven murders in Iowa, hanged himself while serving a life sentence.
The Associated Press and NBC News' Pete Williams and Henry Austin contributed to this report.
Related: