Florida officials Tuesday authorized university researchers to excavate the remains of boys buried on the grounds of a notorious reform school where former students allege they were beaten and raped.
Gov. Rick Scott and the Florida Cabinet issued a permit allowing University of South Florida anthropologists and archaeologists to begin unearthing the bodies of boys who died at the defunct Arthur G. Dozier School for Boys in the panhandle city of Marianna over several decades.
The vote in Tallahassee drew a round of applause from former wards in the audience, some of whom broke down crying, according to Roger Kiser, 67, who says he was brutally attacked by administrators and staff during two stints at Dozier between 1959 and 1961.
"I went numb," Kiser told NBC News. "Everyone stood up, gave a standing ovation. It was absolutely incredible."
The state's decision was also welcome news for researchers at the University of South Florida, who have spent years pushing the state to allow them to exhume the boys' bodies.
"I was so relieved," said Erin Kimmerle, the forensic anthropologist heading up the project.
The excavations of an estimated 50 or more unmarked graves at Dozier may help investigators determine the circumstances surrounding scores of mysterious deaths, which likely transpired between 1914 and 1952, Kimmerle said.
The bodies of some of the boys recovered from grave shafts marked by rusting pipe crosses may be reburied in their hometowns, near their families and loved ones, Kimmerle said.
Kimmerle and her colleagues began researching Dozier's dark history more than two years ago, in the wake of news reports detailing disturbing allegations from aging former students and the relatives of deceased children.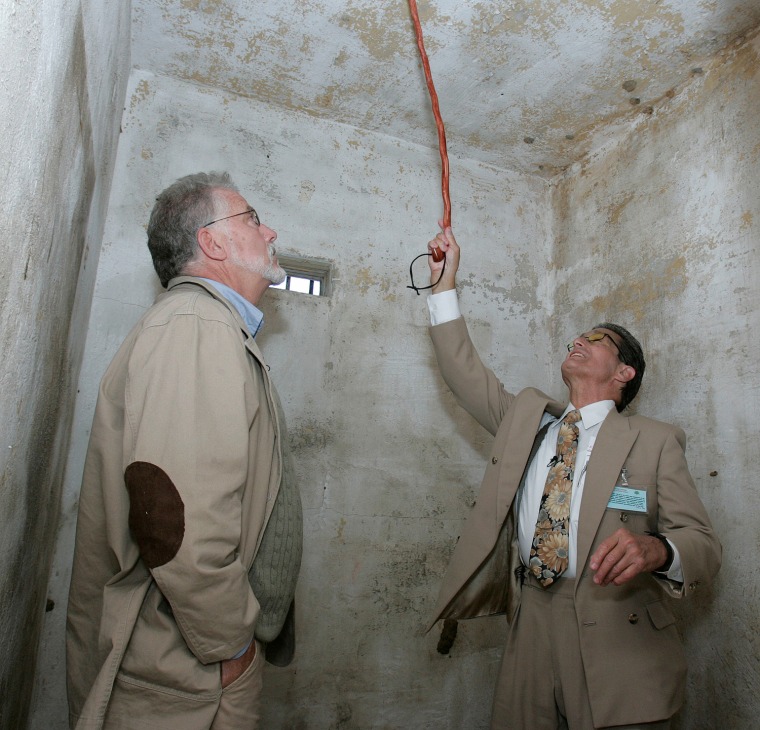 Victims have alleged that the school, once one of the country's largest reform institutions, was a veritable hellhole of savagery and degradation in which hundreds of boys were routinely bludgeoned and battered, sometimes to death, at the hands of administrators and staff.
Kiser, who said he was once beaten so mercilessly that his bloodied underwear had to be picked off his skin with tweezers, has lobbied the state government for nearly 25 years to investigate accusations of criminality at Dozier.
"When the evidence is just so overwhelming, you can't deny it anymore," Kiser said.
In "The White House Boys — An American Tragedy," a book Kiser wrote about the horrors he purportedly witnessed and experienced while incarcerated at Dozier in the 1950s, he described the school as a "concentration camp for little boys."
They're called the White House Boys because much of the alleged abuse took place in a squalid 11-room building on the campus known as the White House.
Former students, many now in the twilight of their lives, allege they were savagely beaten there with leather straps by administrators and staff. The oldest living victim is 84, Kiser said.
The school, which opened in 1900, was shuttered in June 2011 after the U.S. Justice Department's Civil Rights Division confirmed pervasive abuse over several decades, although a 2009 state investigation did not find evidence of criminal conduct.
A group of those former students sued the state in 2010 after reports of criminal activity captured national attention in 2008. But the case was tossed out because the statute of limitations had expired.
Records had shown that 31 boys were buried on school grounds and that most of them died in a fire and an influenza outbreak at Dozier at the turn of the century.
But Kimmerle and her colleagues say they now estimate there are at least 50 grave shafts in the school's makeshift graveyard and scattered throughout the nearby woods — 19 more than state investigators discovered during a 2009 inquiry ordered by former Florida Gov. Charlie Crist.
"There's not going to be enough crime scene tape in the state of Florida to take care of this situation," Jerry Cooper of Cape Coral, Fla., who says he was lashed more than 100 times during a beating at the school, told The Miami Herald on Tuesday.
Nearly two dozen former wards of the school, which was also known as the Florida State Reform School, rose to their feet, clapped and wiped tears from their eyes when Scott and the Cabinet announced their decision Tuesday.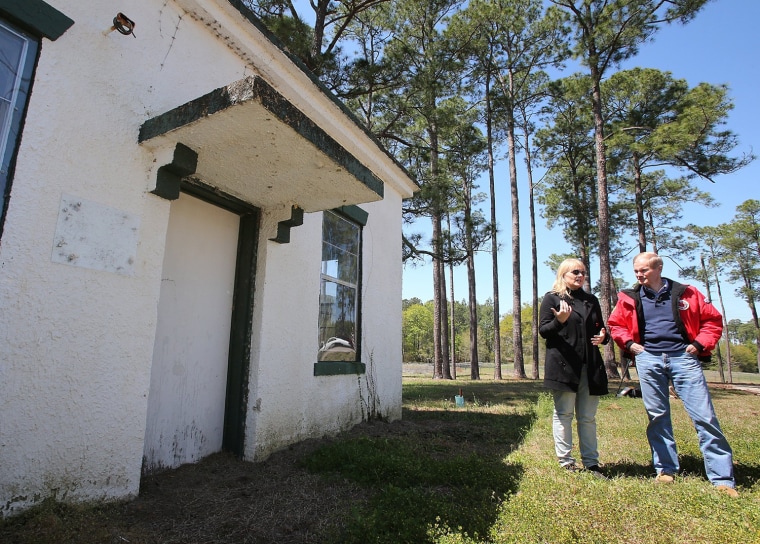 "We have fought so hard to get to this point," Bryant Middleton, 68, told the Herald. "They're going to find out the truth."
Kimmerle, who worked with an international forensics team to gather evidence presented in Yugoslavian war crimes trials, said that she doesn't know how long the excavation project will take.
What's more, there may be another, secret graveyard somewhere on the grounds, given the number of still-unaccounted-for boys, Kimmerle told reporters in December 2012. African-American boys made up the majority of the school's population for much of history and may not have been buried beside white boys.
"I didn't realize going in how much of a story of civil rights it was," Kimmerle told reporters last year.
The research team used ground-penetrating radar and other techniques to map the school's graveyard and chemically analyzed the soil to identify the number of graves, nearly all of them on the north side of campus, called Boot Hill, where African-American boys were segregated.
It will involve painstaking forensic examination, identification of the remains and, in some cases, DNA testing, she said.
The state signed off on a use agreement that gives the university researchers one year to excavate the backwoods graveyard.
M. Alex Johnson of NBC News contributed to this report. The Associated Press and Reuters also contributed.