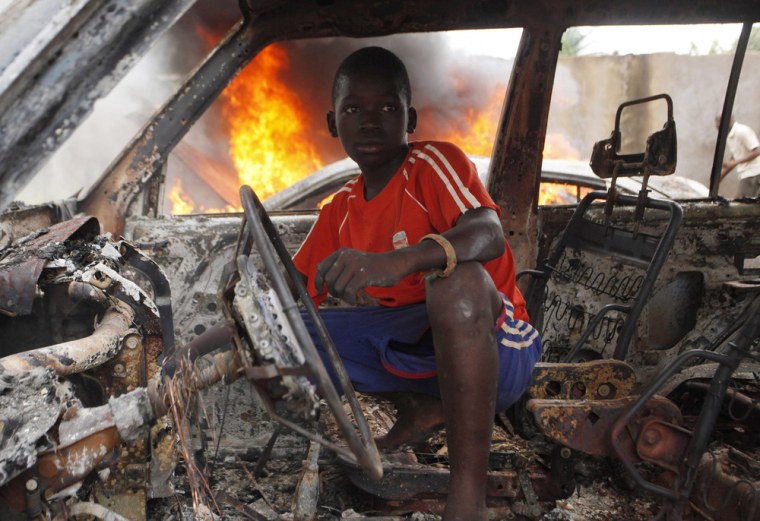 PARIS/BANGUI, Central African Republic – Two French soldiers were killed in overnight fighting in the Central African Republic, France's first casualties in an operation to restore stability in its former colony, the French government said on Tuesday. 
Much of the wide-scale violence that has killed hundreds in the last week has eased but Reuters reporters in Bangui saw a mosque set on fire, houses looted and cars torched on Tuesday. Residents reported several lynchings overnight too.
The country has descended into chaos since mainly Muslim Seleka rebels seized power in March. Months of looting, raping and killing since has brought reprisals by Christian militias.
Michel Djotodia, Seleka leader-turned interim president, has lost control of his loose band of fighters, which includes many from Sudan and Chad.
The soldiers' deaths in the capital were announced just before French President Francois Hollande's office said he would make a quick stop-over in Bangui on his way back from a memorial service for the late Nelson Mandela in South Africa.
"The head of state expresses his deep respect for the two soldiers' sacrifice," his office said in a statement.
The 1,600-strong French force battled gunmen in Bangui on Monday in an operation to disarm rival Muslim and Christian fighters responsible the violence that has killed at least 465 people since Thursday, according to the Red Cross.
Soldiers have also been deployed to other towns across the country, where a regional African peacekeeping force has struggled to stamp its authority.
French officials said on Monday night they had restored some stability to Bangui although shooting had broken out when gunmen refused to hand over weapons.
The two French soldiers, marine paratroopers from the 8th Regiment based in Castres, died after coming under attack at close range during an overnight patrol, the government said.
According to Celestin Christ Leon, a spokesman for the African peacekeeping force in Bangui, a rebel commander was harassing people, who called the French to come and help them.
"They came and tried to disarm the Seleka but gunfire erupted," he said.
'Arms in the mosque'
Hollande rushed French troops to the country last Thursday immediately after the U.N. Security Council authorized France to use lethal force to help African peacekeepers, who have been struggling to restore order.
An attack on Bangui by Christian militia, known locally as "anti-balaka" and some fighters loyal to ousted president Francois Bozize triggered the latest wave of violence.
Tens of thousands of Christians have fled reprisals by Seleka gunmen following the offensive but the French move to disarm all fighters has subsequently weakened Seleka's influence in the capital.
In the Fouh neighborhood, civilians armed with wooden clubs and machetes attacked a mosque and nearby houses.
"We found arms in their mosque. We don't want to see Djotodia and his Muslims here any more," said one man at the scene, who wielded a large knife and refused to give his name.
At least six people were lynched overnight, mainly during violence targeting Muslims, according to residents in Benz-vi and Miskine, Bangui neighborhoods.
The French presence on Bangui's streets was lighter than on Monday, when disarmament operations were underway.
France has lost seven soldiers in a separate operation in Mali, where it sent troops in January to drive back militants threatening to take the capital of Bamako.
Central African Republic is rich in diamonds, gold and uranium but despite such resources, most people remain poor. The country has seen little stability in five decades and France has intervened more times since independence in 1960 than in any of its former colonies.
It also lies at a crossroads of conflict in the heart of Africa, with Sudan, South Sudan and Somalia to the east, the Islamist threat in the Sahel region to the north and the revolts of the Great Lakes to the southeast.
Related: