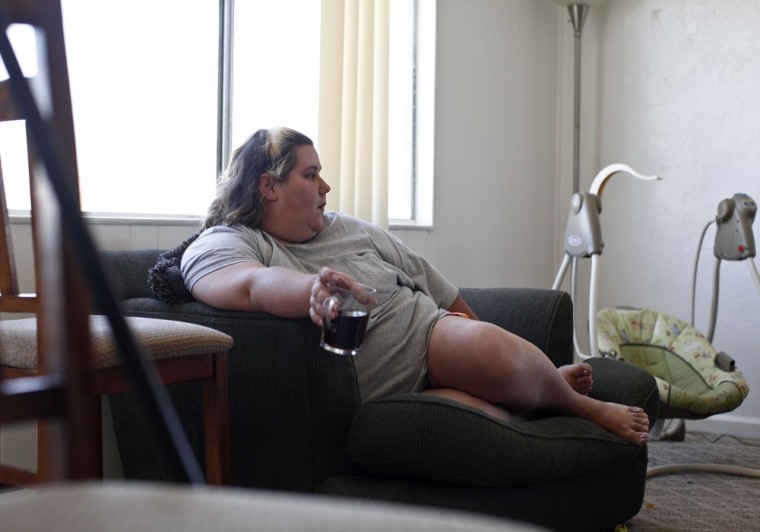 Editor's Note: Today's stories are the second installment in a series of online and broadcast reports on adoption by Reuters and NBC News.
HICKORY, North Carolina, Sept. 10 - When Megan Exon began moderating an Internet bulletin board in 2007, she viewed her effort as a way to help kids find better homes.
The group was called adoption_disruption, and it drew parents who were struggling to raise children they had adopted.
The North Carolina woman wasn't a licensed social worker or an adoption specialist. She was a 41-year-old mother who had taken in a child herself less than two years before. Her husband had noticed a Taiwanese boy advertised on the Internet, in one of the online forums that support America's underground market for unwanted adopted children.
The parents who were giving up the boy told Exon that the 4-year-old's feet were too big and his ears looked funny. If parents could discard their adopted kids so callously, she reasoned, maybe she could help children find new families by moderating one of the Internet sites.
"We were just introducing people," Exon says of the online group, where parents sought new homes for unwanted children in a practice known as "private re-homing."
Well-intentioned as that seemed, Exon would come to regret her role in the re-homing network, a collection of Internet forums where people seeking children can find one quickly. They are able to do so without involving the government and sometimes with the help of middlemen whose activities can be naïve, reckless or illegal, a Reuters investigation has found.
For Exon, the perils of the re-homing network became clear shortly after she referred two sets of parents to a couple who was living in Illinois, Nicole and Calvin Eason. The Easons subsequently took in two children, a Russian boy and an American girl.
A Texas teenager says that after her adoptive parents gave her away at age 13 to a couple they'd met over the internet, her new "mom," who went by the web handle "Momma Bear," made an unusual request.
"The first night I had to sleep with the woman, in the same bed with her," recalled Anna Barnes, now 18. "That was weird, and she wasn't clothed."
Anna Barnes is one of the adopted children who was "re-homed" as part of America's underground child exchange.  An investigation by Reuters in partnership with NBC News has uncovered a vast network of adoptive parents who transfer unwanted children – often foreign adoptees – to virtual strangers they meet online in a range of chat rooms.
Read part one of the investigation of the Reuters investigation of the Child Exchange
Read the full Reuters investigation of the Child Exchange here
Adopted girl says mother forced her to dig her own grave
Like moderators on other re-homing sites, Exon didn't consider vetting prospective parents to be her responsibility. After initial connections were made on her bulletin board, it was up to the two families to do due diligence. "We always reminded people, 'Get an attorney,'" Exon says. "And obviously people didn't always do that."
To legally take custody of a child through the U.S. foster care system, prospective parents undergo criminal background checks, home inspections, and in most states, dozens of hours of training. After placement, social workers visit the family regularly to ensure the child is safe.
In informal private re-homings, none of that happens. The online bulletin boards have emerged as a do-it-yourself way for parents to quietly end adoptions, which often involve foreign children. By not involving child welfare authorities in the custody transfers, parents can bypass some of the most basic but time-consuming government safeguards meant to protect children.
MAKING MATCHES
On one bulletin board, Adopting-from-Disruption, Reuters found dozens of other middlemen who were advertising children. Few were licensed child welfare workers. Some had taken in or re-homed children themselves. Many appeared to be do-gooders like Exon who delight in helping needy children find new families.
In some cases, the advertisements for unwanted children skirt a patchwork of state laws that define who can place children and how. In some form, 29 U.S. states have laws that govern how children can be advertised for adoption. In many of those states, those helping to arrange an adoption must be licensed to do so. 
Yahoo took down Adopting-from-Disruption after being informed of what was going on there. The company also took down five similar groups that Reuters identified. A spokeswoman said the groups violated Yahoo's terms of service agreement. 
A relatively new re-homing group is a Facebook page called Way Stations of Love. It was founded last year by Tim Stowell, a 60-year-old father of four adopted children who works at a Tennessee boarding school for boys. Facebook says activity on the page is "a reflection of society."
Stowell says Way Stations serves a dual purpose: to support distressed parents to avert re-homings, and to help find new families for children if necessary. Today, the group has about 275 members. Its Facebook classification is "secret," meaning only members can see it; others need Stowell's permission to join. 
Like most go-betweens, Stowell says he leaves the checking of prospective parents to families offering a child. In some cases, he says, parents meet on the site and exchange private emails to arrange custody transfers. "And then I never know what happens to them," Stowell says of the children.
In Tennessee, no law prevents Stowell from advertising children for adoption, or from helping parents find available children. But Stowell says he isn't certain whether other middlemen who facilitate such transfers online are breaking the law. "They may be," he says. "I don't know that state laws have kept up with the way the Internet is. I'm hoping that people will obey the laws of their different states, whatever they may be."
Idaho is a state that does restrict who can advertise adoptions. There, a statute prohibits those without a state license from advertising children for adoption or from conveying "the ability to place, locate, dispose or receive a child or children for adoption." 
'JUST TRYING TO HELP' 
One online roster of available children is kept by an Idaho-based non-profit organization named Christian Homes and Special Kids, or CHASK. The group has been helping match children with new parents for almost a decade. It has no state license.
"We're just trying to help families," says Tom Bushnell, a lawyer who founded the group with his wife, Sherry. 
 Most of the children listed by the group for re-homing come from failed international adoptions, and a disclaimer on its website reads: "CHASK should be considered a 'last resort' avenue for finding a new adoptive home for a previously adopted child."
Initially, regulators were unfamiliar with CHASK. After Reuters inquired more recently about the organization, a spokesman with the Idaho Department of Health and Welfare said late last month that the state attorney general has begun a review. At issue, the spokesman said, is "the scope of CHASK's activities and if they are complying with Idaho law."
Tom Bushnell says CHASK isn't violating Idaho's law on advertising children for adoption, in part because the computer server the group uses is located in another state.  
However the children are advertised, the custody transfers themselves may violate the law - an agreement between U.S. states called the Interstate Compact on the Placement of Children (ICPC).
Although the ICPC has been adopted by each state, some states attach no penalties to violations of the pact. In others, violations are considered misdemeanors, but even then officials almost never prosecute offenders. Illinois says it hasn't brought charges in 15 years.
Many police are unfamiliar with the ICPC. Authorities who do understand the compact say they are focused on helping children rather than enforcing the law.
"Speaking honestly, we wouldn't be that concerned about the penalty for the person who violated the compact," says Harry Gilmore, deputy administrator of the ICPC in Oregon.
To see a database of the messages advertising unwanted adopted children, click here.
Watch an interview with Reuters reporter Megan Twohey.
Adopted girl says new 'mom' slept naked with her
'VIOLENT TENDENCIES'
When Megan Exon heard more about the Easons from another woman who monitored the bulletin boards, she says she became terrified. A woman whom Exon knew from the bulletin boards said she suspected that the Easons were lying to persuade parents to give them children.
Even then, Exon had no idea what sort of parents the Easons had been. Child welfare officials had taken away Nicole Eason's two biological children, a son and a daughter, years earlier. A report by authorities who removed the Easons' newborn son characterized them as having "severe psychiatric problems" and "violent tendencies." And a man who once took in a child with Nicole had been trading pictures of naked children online. He's now serving 20 years in federal prison.
Exon ended up driving 10 hours from her North Carolina home to the Eason place in Danville, Illinois. There, Calvin Eason acquiesced to her wishes, and she left with the children that day.
She's close to adopting the girl, now 14; the boy, Dmitri Stewart, is now 20 and living on his own.
Today, Dmitri relates his experience living at the Eason house. Strangely, none of the bedrooms had doors. Dmitri asked Nicole why. "I like to watch you sleep," Dmitri says she told him. Her answer, he says, made him feel "really weird."
Dmitri had no idea how long the 8-year-old girl, with shaggy brown hair and a wide smile, had been living there. He didn't know where she had come from, either. He says that she slept in the Easons' bed.
The Easons never made him go to school, he says, so he sat home and smoked cigarettes they gave him. A picture taken in Danville shows Dmitri perched on the front steps of the house, a cigarette and a water bottle in his left hand. He wears a striped soccer jersey, dark pants and a blank expression.
In an interview, Nicole Eason took issue with Dmitri's account. She said his bedroom had an accordion-style door, that she never bought him cigarettes, and that the girl living there never shared the Easons' bed. Eason also said child welfare officials never removed her biological children and that they still live with her. Officials in Massachusetts and South Carolina confirmed to Reuters that the children were never returned to Eason after they were removed more than a decade ago.
'THE ADOPTION WORLD' 
The experience with the Easons persuaded Exon to stop moderating the re-homing bulletin board immediately. "I felt like maybe we were doing something wrong," she says. "I didn't want to be a part of it anymore."
More than most people - and certainly more than the U.S. government - the Easons understand the risks of the Internet child exchange: how children can be handed over without any oversight, and how easy it is for parents to deceive and be deceived.
"You want to know what's wrong (in) the adoption world?" Nicole asked. "You don't get information. You get lied to."
In interviews with Reuters, the Easons discussed the children they had taken through re-homing. Most stayed with them only a short time.
Nicole recited their names and talked about how much it means to be a parent. "It makes me feel important," she explained. "I guess maybe that's my psychological problem, you know.… It's like, what would I be without them?"
Last month, the Easons were staying in a hotel room in Tucson, Arizona. They had just moved out of a house; the landlord said the couple had failed to pay rent for two months.
Outside the hotel, Nicole was asked if the Easons might be taking in other children.
"Yes," she said. "I have kids in my room."
Megan Twohey is an investigative reporter with Reuters. Additional reporting by Ryan McNeill and Robin Respaut in New York.
More from NBC News Investigations: