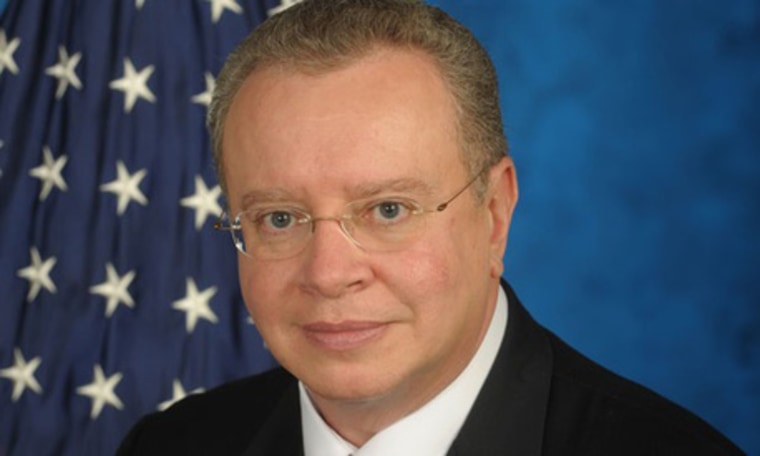 A former Department of Veterans Affairs official who resigned from his post last year amid revelations that the department had spent vast sums of taxpayer money on a pair of extravagant conferences was tight-lipped at a hearing Wednesday.
John Sepulveda, the former Assistant Secretary of Human Resources at the VA, invoked his constitutional right against self-incrimination, repeatedly saying: "On the advice of my counsel, I respectfully decline to answer based on my Fifth Amendment constitutional privilege."
Sepulveda said he was exercising his "privilege to remain silent" — and he refused to even acknowledge whether or not he ever worked for the VA.
He stepped down from his position last year amid revelations detailed in a congressional report that two 2011 conferences held in Orlando, Fla., near Walt Disney World, cost taxpayers $6.1 million, and included spa treatments, helicopter rides, and expensive tickets to shows.
Conference planners at the event also spent upwards of $50,000 creating a 15-minute video that parodied the Oscar-winning film "Patton," about the World War II general.
Although the House Oversight and Government Reform Committee hearing was short on new revelations, one exchange concerned the fact that the VA spent more than $400,000 on consultants — to determine whether or not they were wasting money.
Near the end of the brief hearing, Sepulveda exchanged words with committee chairman Rep. Darrell Issa, R-CA, who said: "Well, Mr. Sepulveda, I have many more questions on this list, but it appears as though you'll answer no additional questions. Is there any question I can ask you today that is germane to our discovery that you are willing to answer?"
Sepulveda replied: "On the advice of my counselor, I respectfully decline to answer based on my Fifth Amendment constitutional privilege."
"Okay," Issa said. "In that case, I won't say you're excused. You're dismissed."
Wednesday's hearing was part of Issa's ongoing effort to expose wasteful expenditures by federal agencies. His committee has looked into similar spending by the General Services Administration and the Internal Revenue Service.