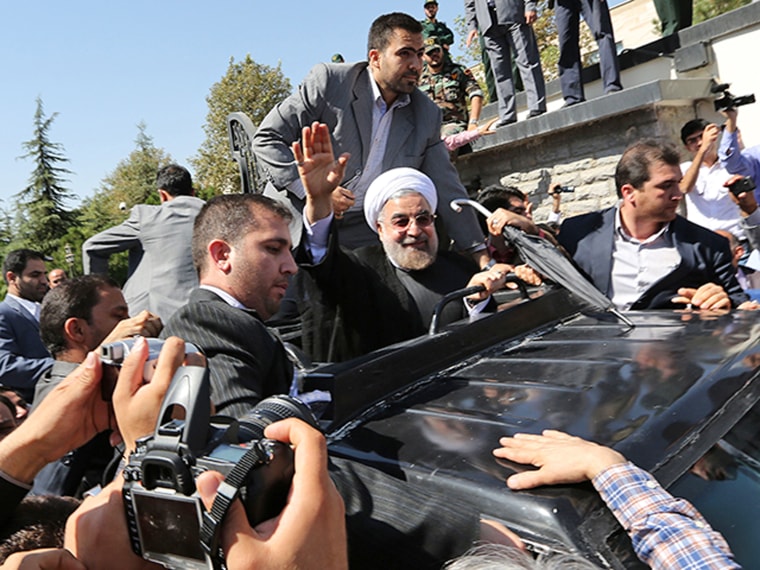 News analysis
TEHRAN -- Iranian President Hassan Rouhani's phone conversation with Barack Obama has sparked a new debate: Is the popular "Death to America" chant now outdated?
The phrase has been commonly heard in Iran since the early days of the Islamic Revolution 35 years ago, but jokes about Iran and America becoming friends are now spreading among cellphone users.
Some parliamentarians have weighed in on the subject, according to newspaper reports. Some think "Death to America" remains a legitimate message, while others disagree.
"Death to Saddam" was a popular chant in the wake of the Iraq-Iran War of the 1980s but it eventually faded away.
Rouhani's more conciliatory and diplomatic approach toward the West also has won the backing of the majority of the country's lawmakers -- a further sign that he has the support of the Iranian establishment. 
According to the Fars news agency, 230 of Iran's 290 parliamentarians signed a letter this week signaling their support for Rouhani presenting the image of a "powerful and peace-seeking Iran which seeks talks and interaction for the settlement of regional and international issues" while attending the United Nations General Assembly.
The letter said that Rouhani represented Iran with dignity while in New York City and called for Western and U.N. sanctions linked to the country's disputed nuclear program to be stopped immediately.
Iran's powerful Parliament Speaker Ali Larijani also heaped praise on Rouhani following his visit to the U.N., saying his recent interviews with the foreign media were thoughtful and respectful.
Last month, Rouhani told NBC News' Ann Curry that Iran would never develop nuclear weapons. However, he also blamed Israel for causing "injustice to the people" of the Middle East.
The backing of both parliament Larijani are things Rouhani's predecessor Mahmoud Ahmadinejad did not enjoy, particularly during his second term. Larijani and the parliament are staunchly loyal to Iran's Supreme Leader Ayatollah Ali Khamenei.
In mid-September, Khamenei publicly endorsed Rouhani's softer strategy of rapprochement with the West, particularly America.
Khamenei indicated he was willing to give the new approach some time, but just how long is not clear.
Speaking to reporters outside the presidential palace on Wednesday, Rouhani said that he spoke to Obama on the phone last week because some had suggested Iran was snubbing or disrespecting America over a hugely anticipated handshake that never happened.
Rouhani added that Iran's strategy is to upset Israel and that Prime Minister Benjamin Netanyahu's reaction to Tehran's seemingly improving relations with the West shows Israel's true nature.
Speaking at the U.N. General Assembly on Tuesday, Netanyahu called Rouhani a "wolf in sheep's clothing" who was set on building a nuclear bomb.
"Iran's fanaticism is not bluster. It's real," Netanyahu added. "This fanatic regime must never be allowed to arm itself with nuclear weapons."
He vowed that Israel would not allow Iran to get nuclear weapons and Israel was prepared to "stand alone," if necessary.
And in an interview with NBC News' Andrea Mitchell on Wednesday, Netanyahu cautioned against embracing Rouhani's charm offensive and alleged that Khamenei "heads a cult." 
Not everyone in Iran is thrilled with Rouhani's new approach.
A few dozen hardline opponents of Rouhani booed and threw tomatoes, eggs and shoes at his car last weekend when he returned to Tehran from New York City. The episode lasted less than a minute, according to witnesses.
However, a larger crowd of supporters of the president sacrificed a lamb in his honor and cheered him at the airport after his plane landed. 
Any excitement by Rouhani's supporters and those looking for peace with Iran should be contained.
While this appears the closest the two sides have come to solving their disputes in three decades, they have tried before and things collapsed quickly. This is as much a deal between Rouhani and Obama as it is with the supreme leader and Congress.
Reuters contributed to this report.
Related: