There's nothing like a pair of red-blue glasses to add some perspective to a cosmic scene like the Curiosity rover's surroundings on Mars. Now that the rover has left its mark on the reddish Martian gravel, these 3-D views give you a better idea what it'd be like to walk in Curiosity's footsteps ... er, wheel tracks.
The red-blue views were created by British educator-astronomer Stuart Atkinson. He's one of those people who have a knack for doing mighty things with NASA imagery, sometimes even before NASA gets the chance to do likewise. You'll find plenty of those people hanging out at UnmannedSpaceflight.com — but Atkinson also maintains his own visual gardens of delight, including The Road to Endeavour for imagery from the Opportunity rover, and The Gale Gazette for Curiosity's pictures.
Not all of Atkinson's pictures are served up in 3-D, but these are two gems from today's haul that take advantage of Curiosity's capability for stereo imagery. The six-wheeled rover has 17 onboard cameras, and 14 of them are grouped in pairs. That includes the two Mastcam cameras, which come in wide-angle and telephoto; the four navigation cameras, which come in two pairs, left and right; and the eight hazard avoidance cameras, which are doubled up on the left and right, front and rear.
When the left and right images from any of those camera systems are put together in just the right way, the result is a 3-D image that the Curiosity team's drivers and scientists can use to plot the rover's future course. Today, project scientist Joy Crisp said it was even possible to set up a long-range, high-resolution 3-D picture by snapping one picture with the telephoto Mastcam, then moving the rover just enough to snap the other image for the stereo view. Apollo moonwalkers used a similar strategy called the "stereo cha-cha" to snap most of the 3-D pictures that were taken on the moon: The photographer took one picture while putting his weight on the left leg, then shifted his weight over to the right leg and snapped the second picture.
Once Curiosity is fully up and running, it'll be able to send back HD stereo frames for 3-D movies from Mars. When Curiosity starts its climb up the 3-mile-high mountain known as Aeolis Mons or Mount Sharp, we could be in for some impressive stereo views of the Martian landscape. But it'll be a while before we get those 3-D thrills. For the next couple of months, Curiosity's course is expected to be pretty two-dimensional — and that's the way the mission managers like it.
"We should have smooth sailing ahead of us," lead rover driver Matt Heverly said today.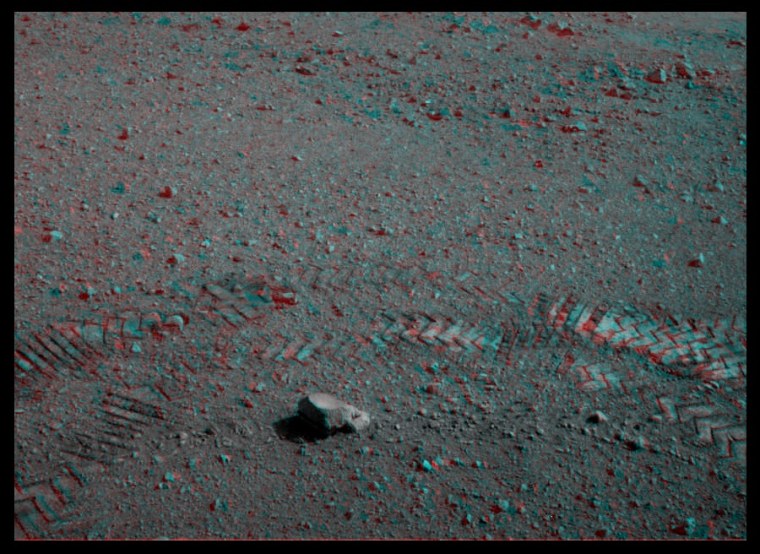 More imagery from Mars:
Got 3-D? To get the stereo effect from these red-blue images, you need special glasses with red and blue lenses. You may be able to find 3-D glasses at your local novelty shop, or you can order them online. NASA offers this list of online providers, as well as instructions for making your own 3-D glasses. I've also set up a weekly "Where in the Cosmos" photo puzzle that offers free 3-D glasses as the grand prize. The next puzzle will be posted to the Cosmic Log Facebook page on Friday. Be sure to "like" the page so you don't miss out.
Alan Boyle is NBCNews.com's science editor. Connect with the Cosmic Log community by "liking" the log's Facebook page, following @b0yle on Twitter and adding the Cosmic Log page to your Google+ presence. To keep up with Cosmic Log as well as NBCNews.com's other stories about science and space, sign up for the Tech & Science newsletter, delivered to your email in-box every weekday. You can also check out "The Case for Pluto," my book about the controversial dwarf planet and the search for new worlds.