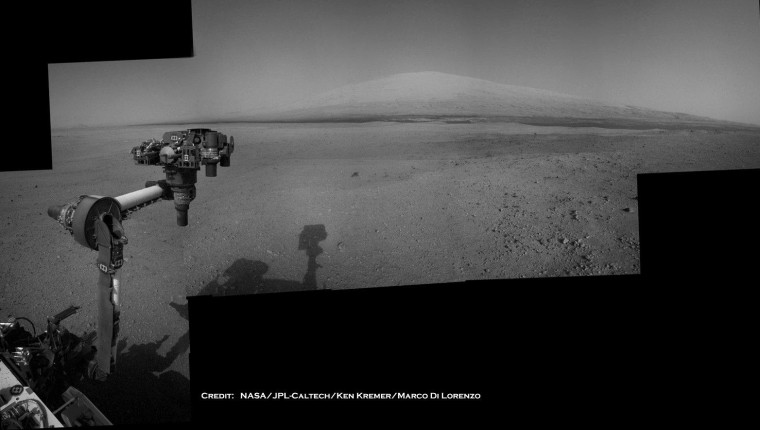 If you want to know where NASA's Curiosity rover is heading, all you have to do is look where its robotic arm is pointing in this picture. The Martian mosaic was pieced together like a jigsaw puzzle by Ken Kremer and Marco Di Lorenzo, using black-and-white pictures from the rover's navigation camera system.
The robotic arm was raised into what looks like a pointing position as part of this week's checkout for Curiosity's $2.5 billion mission. When fully extended, the arm can stretch out for 7 feet (2.1 meters). About 66 pounds' (30 kilograms') worth of scientific instruments, including a camera and an X-ray spectrometer, are mounted on the end of the arm.
The arm is pointing at a 3-mile-high (5-kilometer-high) mountain known as Aeolis Mons or Mount Sharp — a mound inside Mars' Gale Crater whose layers of rock could reveal a geological record going back billions of years. During its two-year mission, Curiosity is expected to make the 12-mile (20-kilometer) trek to the mountain's flanks for one of the most sophisticated scientific investigations ever conducted on Mars.
But first things first: After testing the robotic arm, Curiosity is ready to roll its wheels on Mars for the first time, more than two weeks after its high-stakes landing. For more about that, check out today's report from mission managers as well as the Curiosity files on NBCNews.com.
Bonus round: Here's another view of the rover and Mount Sharp, pieced together by Kremer and Di Lorenzo from an assortment of navigation camera imagery and "colorized" to reflect Mars' reddish tones:

Alan Boyle is NBCNews.com's science editor. Connect with the Cosmic Log community by "liking" the log's Facebook page, following @b0yle on Twitter and adding the Cosmic Log page to your Google+ presence. To keep up with Cosmic Log and NBCNews.com's other science and space stories, sign up for the Tech & Science newsletter, delivered to your email in-box every weekday. You can also check out "The Case for Pluto," my book about the dwarf planet and the search for new worlds.