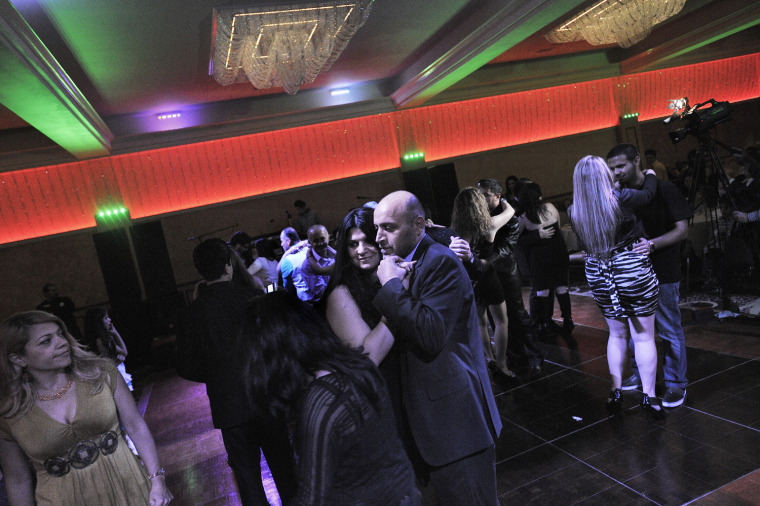 Photojournalist Kadir van Lohuizen traveled from the southern tip of South America to the far reaches of Alaska on the North American continent to explore migration in the Americas. What he found both supported and defied stereotypes, which he reported on a website and an app for iPad called Via Panam.
"Little Baghdad" is the nickname for El Cajon, a suburb of San Diego that is home to a high concentration of the 116,000 Iraqis living in the United States. The Kurds came in the late 1980s, followed later by Sunnis, Shiites and Christians. They live together peacefully, far away from the violence in Iraq, but life is far from easy. Many lost their social status and networks of family and friends when they emigrated, and they often struggle to find work. Xenophobia is also an ever-present obstacle.
The United States admits thousands of Iraqis each year as refugees -- although that is only a fraction of the number that Iraq's Middle Eastern neighbors and some European countries have absorbed. Nonetheless, their numbers in the San Diego area rose rapidly after the American invasion of Iraq. El Cajon, around 15 miles northeast of San Diego, has almost 7,000 Iraqi-born residents out of a total population of 100,000. A further 3,000 have Iraqi ancestry, according to the 2010 U.S. Census.
In recent years, Iraqi stores and restaurants have been cropping up across the city, the Arabic script signs above their doors quickly becoming part of the city's scene. But the growing Iraqi presence has also brought some unsavory characters: According to authorities, members of Iraqi criminal organizations from Detroit are now active in El Cajon. In late 2011, police raided an Iraqi club in search of drugs and weapons.
Many Iraqis in El Cajon say xenophobia is common, and some fear being the victim of a hate crime. It is not an unfounded worry -- a 32-year-old Iraqi woman was murdered in El Cajon in what appeared to be a racially motivated attack in March. Next to her body police found a note threatening her family. "Go back to your own country, you're a terrorist," it read.
Iraqis in El Cajon make an effort to support their fellow immigrants. Each year the Iraqi community organizes a large celebration that brings everyone together. Local businessmen meet one another and newly arrived immigrants learn about life in America from their established countrymen.
Experience the entire journey, from Chile to Alaska, by exploring the slideshow at right, the Via Panam website or by downloading the app for iPad.
More Photoblogs from the Migration in the Americas series:
Mom works in US while family stays in El Salvador
US retirees flock to Nicaragua
On the run from water in Panama
Bolivia hopes for windfall from producing lithium