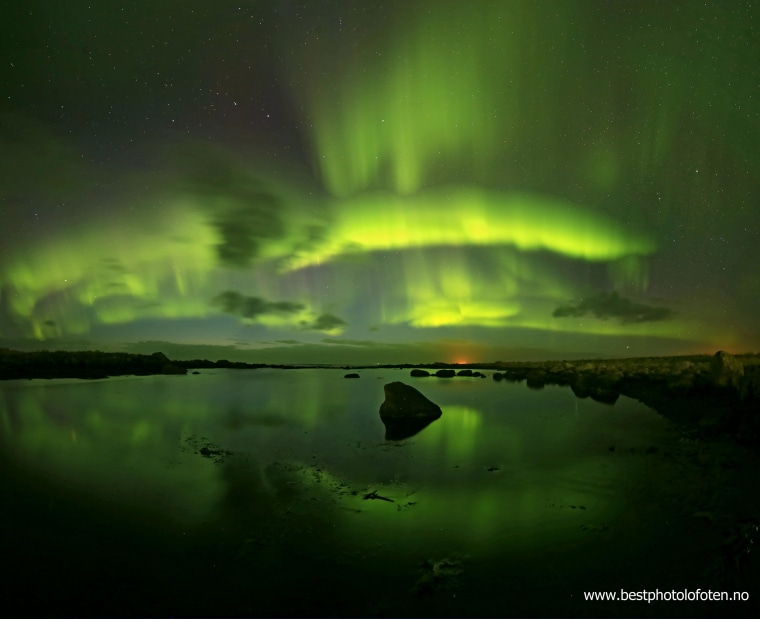 The sun has been quiet over the past week or so, but the northern lights are nevertheless eerie enough to spawn an "X-Files" sequel.
June Grønseth's panorama of the northern lights, captured on Friday from Laukvik in Norway, makes it look as if a UFO is hovering over the horizon. This was no alien invasion, however: Think of it instead as a heavenly dance. "As soon as it was dark enough to see the Lady Aurora, we went out to meet her," she told SpaceWeather.com. "The lady was really playful in all colors. As always, a huge pleasure to see her dance, and just leave everything else behind."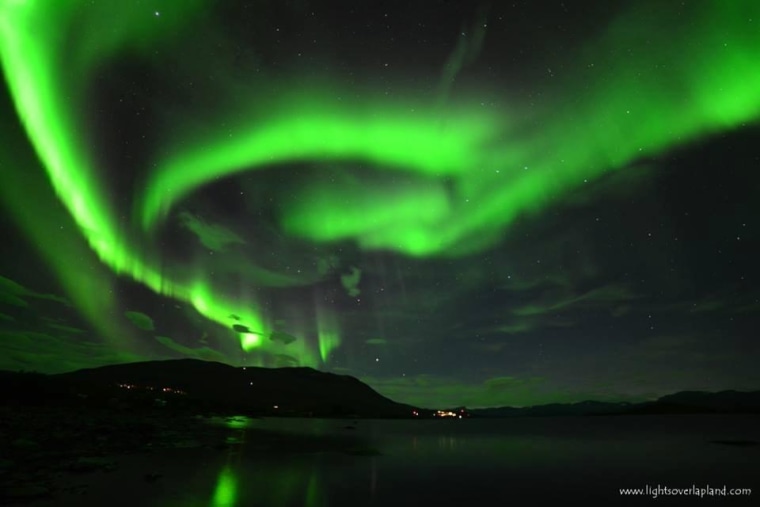 Meanwhile, off to the east, Chad Blakley was reveling in the view from Sweden's Lake Torneträsk. "The lake is incredibly beautiful — especially when the auroras are dancing in the sky and reflecting in the water!" Blakley told NBC News in an email.
For more pictures from Grønseth, check out BestPhotoLofoten.no on the Web and on Facebook. For more from Blakley, click on over to Lights Over Lapland's website, plus this Facebook page and this Vimeo gallery. To see auroral images dancing across your screen, take a look at SpaceWeather.com's auroral gallery.  And for still more auroral glories, follow the links below.
Alan Boyle is NBCNews.com's science editor. Connect with the Cosmic Log community by "liking" the NBC News Science Facebook page, following @b0yle on Twitter and adding the Cosmic Log page to your Google+ presence. To keep up with NBCNews.com's stories about science and space, sign up for the Tech & Science newsletter, delivered to your email in-box every weekday. You can also check out "The Case for Pluto," my book about the controversial dwarf planet and the search for new worlds.