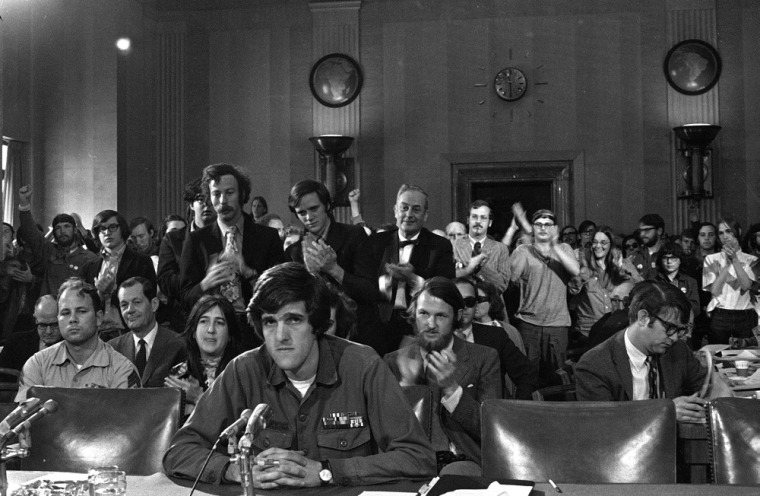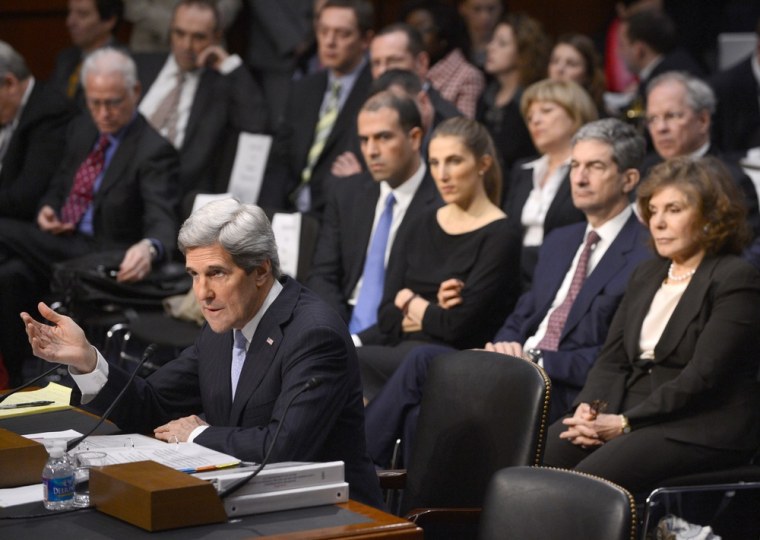 In John Kerry's farewell speech on the Senate floor yesterday, the former democratic senator from Massachusetts alluded to the first time he spoke to the Senate in 1971.
During his speech, Kerry said he came "not with my vote, but with my voice — and that is why the end of my tenure here is in many ways a bookend." He continued:
Forty-two years ago, I testified before Senator Fulbright's Foreign Relations Committee about the realities of war in Vietnam.
It wasn't until last week that I would sit before that Committee again, this time testifying in my own confirmation hearing. It completed a circle, which I could never have imagined drawing, but one our founders surely did: that a citizen voicing his opinion about a matter of personal and national consequence could one day use that voice as a senator, as the Chairman of that same Committee before which he had once testified a private citizen.
And then as the President's nominee for Secretary of State — that is a fitting representation of what we mean when we talk about a government of the people, for the people and by the people.
Several days before his Senate testimony in 1971, Kerry appeared on Meet the Press, telling NBC's Robert Goralski:
We are down here to demand that those who call themselves the most committed of all in this country, namely the senators and congressmen who have been talking peace for the past few years, that these men exercise their responsibility, granted them by the constitution of this country, to end this war.
That is what we are here to demand, and we are here to demand it because we are the men who have seen what is happening in Southeast Asia. And we believe that there is no reason, and no excuse, and no justification, for the loss of one more American life there, or for the loss of more Vietnamese. This war can be ended, and should be ended now, and that is what we are here to say.
Watch Kerry's full appearance on Meet the Press.
The Senate confirmed Kerry to be secretary of state on Tuesday.