An uncrewed Antares rocket owned by Orbital ATK Inc. blasted off from Virginia on Monday with a cargo ship headed for the International Space Station, marking the booster's return to flight two years after a previous version exploded at liftoff.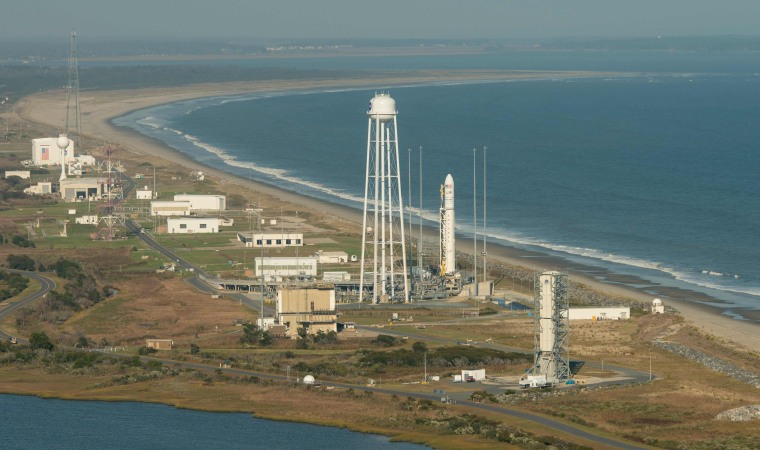 The 14-story-tall rocket, powered by a pair of new Russian-made engines, lifted off from Wallops Island, Virginia, at 7:45 p.m. EDT, a NASA TV broadcast showed. Launch was delayed five minutes to give the team extra time to review their checklists, Orbital President Frank Culbertson told reporters.
"It's such a feeling of elation to see the vehicle take off. ... I'm very happy to see Antares back," said Amanda Davis, Orbital's director of program engineering.
The rocket carried a Cygnus capsule loaded with 5,290 pounds (2,400 kg) of food, supplies, equipment and science experiments for the space station, a $100-billion laboratory in orbit about 250 miles (400 km) above Earth.
The capsule is expected to reach the station on Sunday after lingering several days in orbit to allow time for a Russian Soyuz capsule carrying three new crew members to reach the outpost on Friday. The Soyuz is slated to launch Wednesday from the Baikonur Cosmodrome in Kazakhstan.
The last Antares launch, on Oct. 28, 2014, ended in disaster a few seconds after liftoff due to a problem with the booster's refurbished, Soviet-era engines. After the accident, Orbital sped up plans to replace the motors.
During the downtime, Orbital bought rides for two Cygnus cargo ships aboard Atlas rockets, built and flown by United Launch Alliance, a partnership of Lockheed Martin Corp and Boeing Co.
Orbital conducted a 30-second engine test firing of the Antares at the Virginia launch pad on May 31, but had never flown the refurbished rocket before Monday.
The mission became more crucial for the U.S. space agency after a Sept. 1 accident destroyed a Falcon 9 rocket operated by Elon Musk's SpaceX and a $200 million Israeli communications satellite.
The accident, which occurred while the rocket was being fueled for a routine prelaunch test, has temporarily grounded SpaceX, the only company apart from Orbital currently contracted by NASA to fly cargo to the space station.
Private contractors for the cargo runs became necessary following the retirement of the space shuttles in 2011.
With SpaceX sidelined, NASA said it added extra food, clothing, laptop computers and spacesuit parts to the Cygnus cargo list.