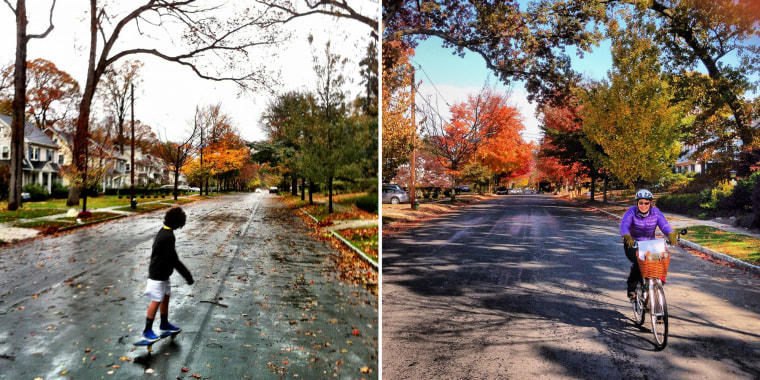 When photojournalist Ed Kashi began his day covering the aftermath of Superstorm Sandy, he never thought his first picture taken would be 100 yards away from his own house.
"Our dear friend's home had a huge tree firmly implanted into its second floor bedroom," Kashi said. "I immediately broke down - Sandy had struck too close."
This picture would be the first of many memorable images Kashi would shoot with his mobile phone while on assignment for TIME. From there he would travel down the coast and head to Atlantic City.
As part of this year's anniversary of Sandy, Kashi spent today and yesterday retracing the steps he took through New Jersey last year documenting the effects of Superstorm Sandy. Follow his travels live on the NBC News Instagram account, or watch for updates here on PhotoBlog.
Then (left): An ominous sign warns motorists of Superstorm Sandy before it made landfall on Oct. 29, 2012, on the Garden State Parkway near Montclair, N.J. Now (right): Traffic flows along the same highway on a beautiful autumn day a year later on Oct. 29, 2013: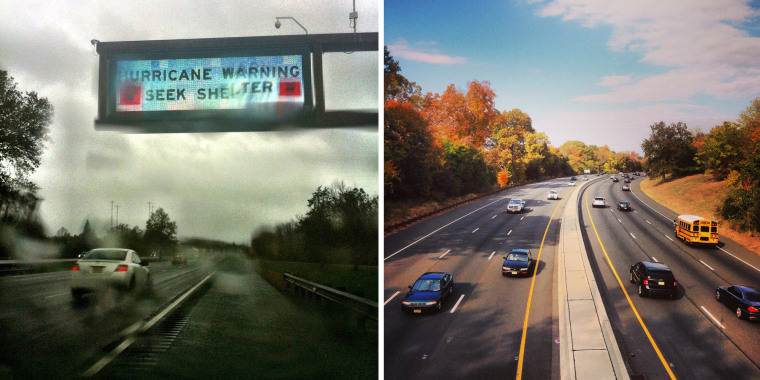 Then (left): A man wearing a foreboding mask walks along the Hudson Waterfront Parkway in Jersey City, on Oct. 29, 2012, as Superstorm Sandy approaches the New Jersey, New York harbor. Now (right): Adam Jaskowiak holds his 11-month-old son, Luke, along the Jersey City waterfront, on Oct. 29, 2013. Sandy closed many hospitals during its aftermath including the hospital where Luke was originally supposed to be born: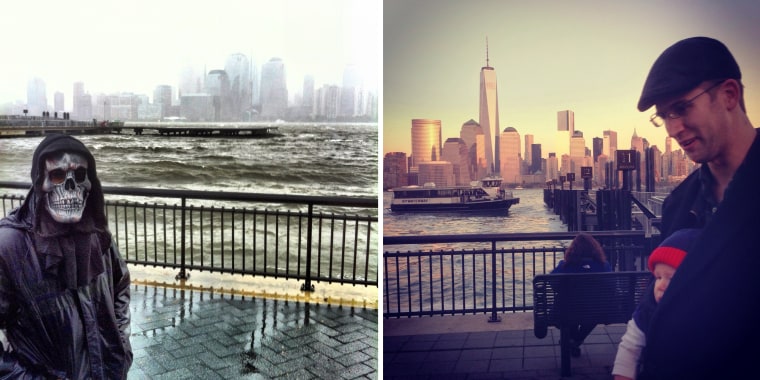 Then (left): Rain and clouds from Superstorm Sandy descend on New York City, obscuring the cranes attached to the top of One World Trade Center, as seen from Jersey City, N.J., on Oct. 29, 2012. Now (right): One World Trade Center, rises above Manhattan on Oct. 29, 2013, with it's silver spire now attached making it the tallest building in the West: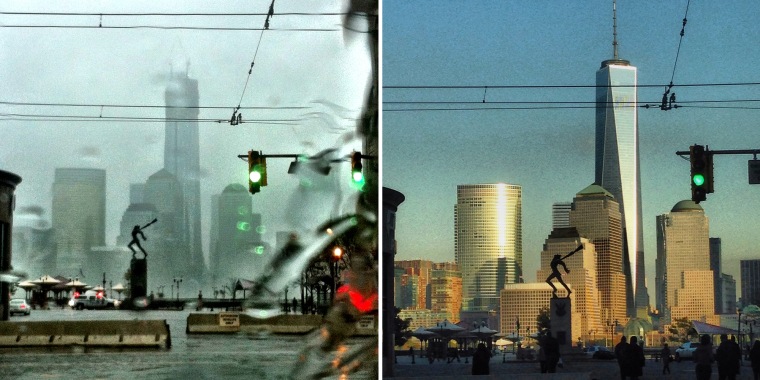 Then (left): Sandbags placed along the Hudson River in Jersey City, N.J., aim to reduce flooding from Superstorm Sandy on Oct. 29, 2012. Now (right): Customers pick produce from Stony Hill Farms along the Jersey City waterfront in New Jersey on Oct. 29, 2013. The family-owned farm had been coming to Jersey City for over six years, but the storm disrupted their markets, and power outages made farm work difficult: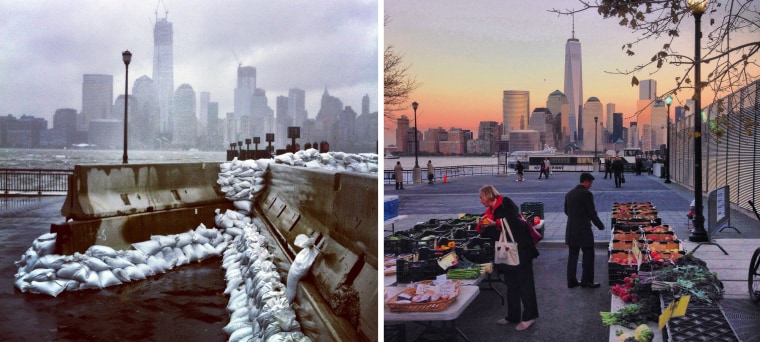 Then (left): Superstorm Sandy sent a 70 foot tree crashing into George and Maryanne Greenfield's home when they were about to sit down for dinner, on Oct. 30, 2012. The impact caused heavy damage and shifted the foundation of the house, condemning it. Branches penetrated the guest bedroom, where a friend was staying the night before. Now (right): Maryanne and her son Spencer Greenfield stand in front of their nearly rebuilt home on Oct. 30, 2013, a year after Superstorm Sandy sent a tree crashing into it: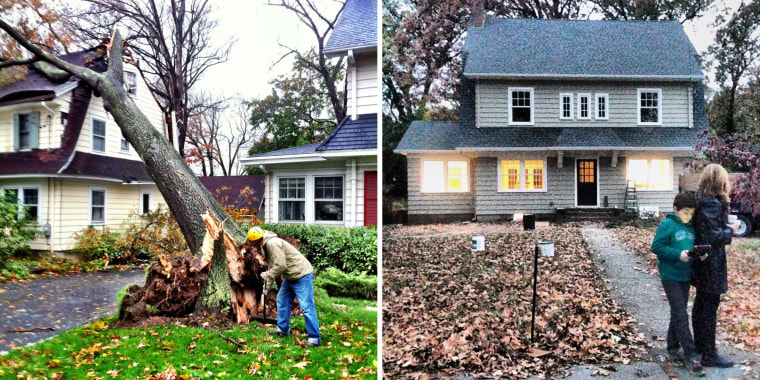 Then (left): Sandy floodwaters scattered boats at Brown's Point Marina in Keyport, N.J., on Oct. 30, 2012. Two years after the marina was completely redone, Sandy caused nearly a million dollars worth of damage to the facilities, in addition to the 60 boats that were lost. Now (right): A taxi passes Brown's Point Marina in Keyport, N.J., on Oct. 30, 2013. Manager Sam Snyder said it may be two more years until the facility is restored to pre-Sandy conditions, largely due to a lack of funding. "We have plenty of people to do the work, but it's all about the money," said Clay Pelman, owner of the marina for nine years: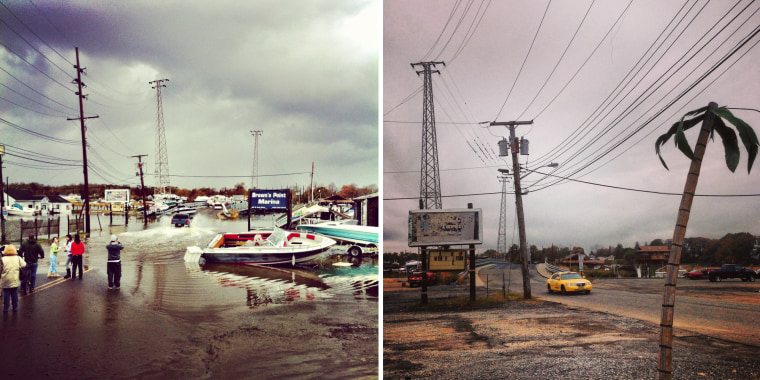 Then (left): A woman combs through the rubble of her home destroyed by Superstorm Sandy on Oct. 30, 2012, in Union Beach, N.J. Now (right): A new house is going up a block away on Oct. 30, 2013, in Union Beach, N.J: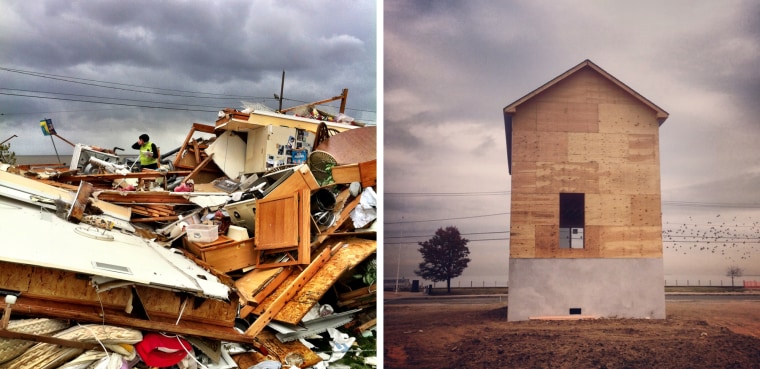 Then (left):A blue car sits amidst the debris of from Superstorm Sandy in front of a building on Oct. 30, 2012 in Keyport, N.J. Now (Right): A year later, a different blue car is parked on the same street on Oct. 30, 2013: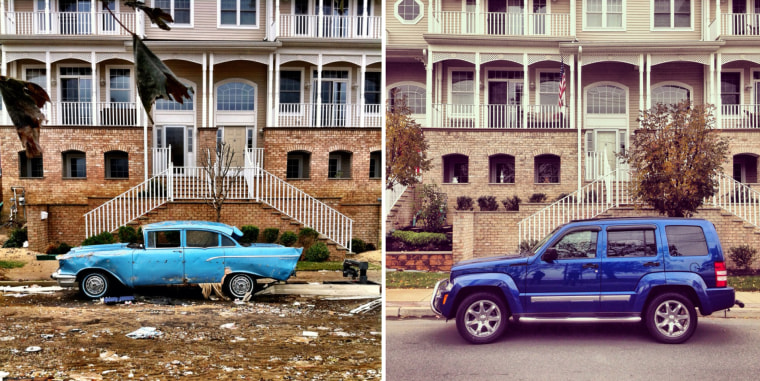 Then (left): Casinos along the Atlantic City Boardwalk a day after Superstorm Sandy on Oct. 30, 2012. left. Now (right): One year after the storm on Oct. 30, 2013: