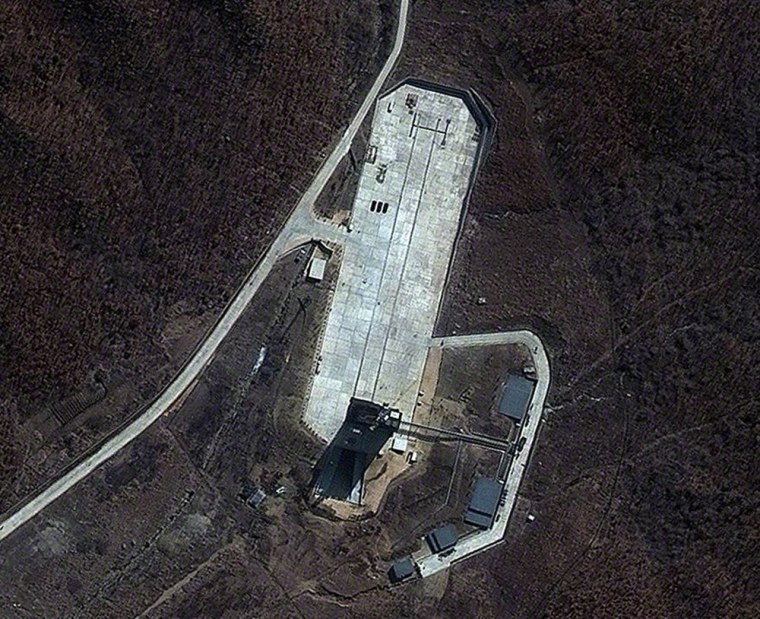 While North Korean officials were showing off their preparations for a controversial satellite launch, DigitalGlobe's Quickbird satellite was snapping high-resolution pictures of the scene from far above. The images reveal how far the North Koreans have come — and how much can be gleaned about their intentions from orbit.
DigitalGlobe is a commercial satellite imagery provider, and QuickBird can provide pictures at a resolution of a half-meter (20 inches) per pixel. But you can bet that U.S. intelligence agencies are getting significantly better views of the Tongchang-ri Launch Center from their satellites.
North Korea is due to launch its Unha-3 ("Milky Way 3") rocket anytime between now and April 16, ostensibly to send an Earth-observing satellite known as Kwangmyongsong-3 ("Bright Shining Star 3") into a pole-to-pole orbit. The United States and its allies worry that the launch is really more of a test of North Korea's capability to launch intercontinental missiles as weapons.
International journalists, including a team from NBC News, were invited to visit the secretive hard-line communist nation this week for an on-the-ground assessment of the space mission. NBC News space analyst James Oberg said that in its current configuration, the booster is "not a military missile ... but it's darn close."
"This rocket is not a weapon, but it's maybe 98 percent of one," Oberg said. "It can be converted all too easily and all too frighteningly into a weapon, and they don't need it."
AmericaSpace's Craig Covault said the Tongchang-ri facility is clearly built to handle rockets much larger than the Unha-3. He quoted U.S. and South Korean intelligence analysts as saying they believe the complex could be used for tests of North Korea's "Satan" long-range ballistic missile, as well as a North Korean-Iranian booster with up to six engines clustered in the first stage.
"Iran and possibly North Korea plan to use the large new space launch booster to send Iranian and North Korean astronauts into space," Covault wrote. He lays out a Korean-Iranian missile development program that sounds positively scary.
North Korea might have been hoping that this week's visit by journalists would put Washington's fears to rest. But based on the feedback so far, it doesn't sound as if that'll be the case.
Here's tonight's report from NBC News' Richard Engel in Pyongyang:
... Here's a computer-generated animation of the expected launch from Analytical Graphics Inc.:
... And here are more satellite pictures from DigitalGlobe:
More about North Korea's space plans:
Alan Boyle is msnbc.com's science editor. Connect with the Cosmic Log community by "liking" the log's Facebook page, following @b0yle on Twitter or adding Cosmic Log's Google+ page to your circle. You can also check out "The Case for Pluto," my book about the controversial dwarf planet and the search for other worlds.