The skies over northern latitudes have been set aglow with auroral displays, and this weekend promises to bring a particularly powerful light show. Check out these views from Sweden and Finland, and then keep watch online for more.
"Get ready, aurora watchers!" the National Oceanic and Atmospheric Administration's Space Weather Prediction Center says on its Facebook page. "It looks like we have several things lining up that could give us a pretty good show Friday and/or Saturday! But timing is everything."
Two solar storms sent outbursts of electrically charged particles into space, and the prediction center says geomagnetic disturbances may excite Earth's magnetic field over the next couple of nights. It's not clear whether U.S. observers will see anything out of the ordinary, but skywatchers at higher latitudes could get an eyeful.
"Tonight I saw the first auroras of the new season in Oulu, Finland," photographer Thomas Kast told SpaceWeather.com on Thursday. "I expected some green arc at the horizon, but this night was so much better. Two hours after sunset, an arc started to move, and for about 10 minutes it produced surprisingly strong northern lights. I saw needles, purple color and even a very faint corona due to the bright moon. What a promising start!"
Meanwhile, Goran Strand captured a set of stunning snapshots in northern Sweden.
"Last night proved to be an even stronger aurora than the one I saw yesterday," he wrote on his Astrofotografen blog. "This aurora was much more tangible and more colorful, with a lot of purple in it. ... The strong moonlight also added to the scenery in a very rewarding way throughout the night."
The moon and the northern lights? What a combination! To keep track of where and when the aurora can be seen, check out NOAA's Ovation website. And if you're not in the aurora zone, keep an eye on SpaceWeather.com's gallery for sights that will set your heart aglow.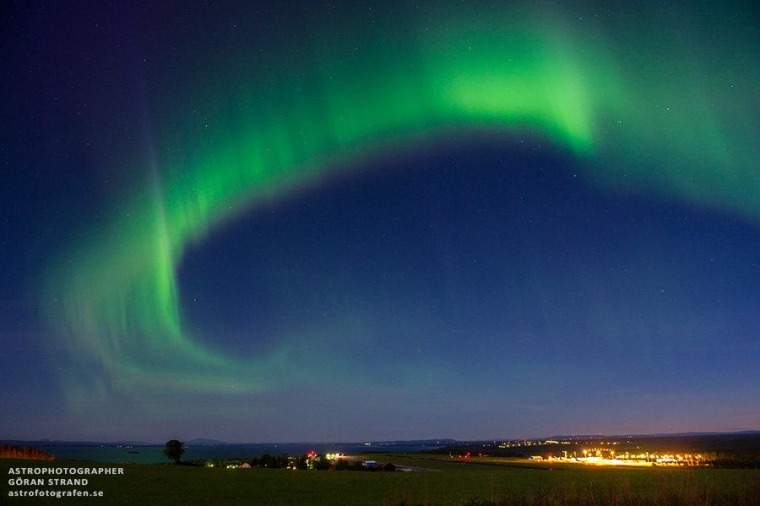 More auroral glories:
Alan Boyle is NBCNews.com's science editor. Connect with the Cosmic Log community by "liking" the NBC News Science Facebook page, following @b0yle on Twitter and adding the Cosmic Log page to your Google+ presence. To keep up with NBCNews.com's stories about science and space, sign up for the Tech & Science newsletter, delivered to your email in-box every weekday. You can also check out "The Case for Pluto," my book about the controversial dwarf planet and the search for new worlds.