NAIROBI, Kenya — Pope Francis has warned that it would be "catastrophic" for world leaders to let special interest groups get in the way of a global agreement to curb fossil fuel emissions on the eve of make-or-break climate change talks in Paris.
Francis issued the pointed warning in a speech to the U.N.'s regional office here on Thursday after celebrating his first public Mass on the continent: A joyous, rain-soaked ceremony before 300,000 faithful that saw the Argentine pope being serenaded by ululating Swahili singers, swaying nuns, Maasai tribesmen and dancing children dressed in the colors of Kenya's flag.
PHOTOS: Kenyans Welcome Pope at First Africa Stop
Francis has made ecological concerns a hallmark of his nearly 3-year-old papacy, issuing a landmark encyclical earlier this year that paired the need to care for the environment with the need to care for humanity's most vulnerable.
Francis argues the two are interconnected since the poor often suffer the most from the effects of global warming, and are largely excluded from today's fossil-fuel based global economy that is heating up the planet.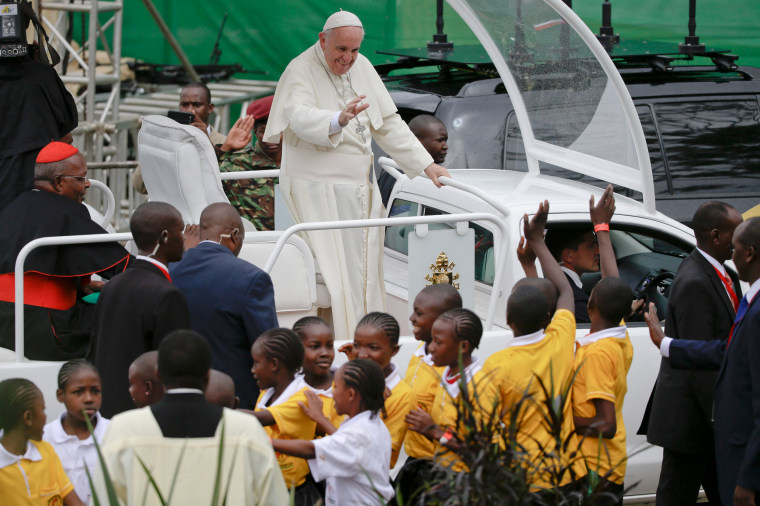 On Thursday, Francis repeated that message but took particular aim at those who reject the science behind global warming. In the United States, that accounts for several Republican presidential candidates and lawmakers, who have opposed steps President Barack Obama has taken on his own to cut greenhouse gas emissions.
"It would be sad, and dare I say even catastrophic, were special interests to prevail over the common good and lead to manipulating information in order to protect their own plans and interests," Francis said.
Francis' environmental entreaty followed a call for inter-religious dialogue and cooperation to guard against "barbarous" Islamist extremist attacks that have struck the country.
Starting his first full day in the Kenyan capital, Francis celebrated an open-air Mass for tens of thousands of rain-drenched people who sang, danced and ululated as he arrived.
Some people had been at the University of Nairobi since 3 a.m., braving heavy showers that turned the grounds into thick puddles of mud. Others waited in lines stretching 1.8 miles to get close to the venue, but the turnout appeared far less than the 1.4 million that Kenyan authorities had predicted after declaring Thursday a national holiday.
Related: Baby Kissed by Pope in U.S. Sees Tumor Shrink
In his homily, Francis appealed for traditional family values, calling for Kenyans to "resist practices which foster arrogance in men, hurt or demean women and threaten the life of the innocent unborn."
The African church is among the most conservative in the world, and African bishops have been at the forefront in insisting that traditional church teachings on marriage and sexuality, and its opposition to abortion, be strongly emphasized.
Francis obliged, but also stressed issues of his own concern: He called for Kenyans to shape a more just society that looks out for the poor and to "reject everything that leads to prejudice and discrimination, for these things are not of God."
Earlier Thursday, Francis met with about 25 representatives of Kenya's faith groups: Anglicans, other Protestants, Muslims, Sikhs, Hindus and Jews.
The pontiff warned them that "young people are being radicalized in the name of religion to sow discord and fear."
PHOTOS: Africa Prepares for Pope's Arrival
Inter-religious dialogue "is not a luxury. It is not something extra or optional, but essential," he added, stressing that God's name "must never be used to justify hatred and violence."
He referred to Somalia's al Shabaab Islamists' 2013 attack on Nairobi's Westgate shopping mall and this year's assault on Garissa University. Hundreds of people have been killed in the past two years or so, with Christians sometimes singled out by gunmen.