ABOARD THE PAPAL PLANE — Pope Francis on Saturday said he will withhold judgment of Donald Trump until the two have a chance to speak during the president's visit to the Vatican next week.
During a news conference on board the papal plane, Francis said he would look for common ground at Wednesday's meeting — the first between Trump and the leader of the world's 1.2 billion Catholics.
"First of all, I never judge someone before I listen to the person. I can't do that," the pontiff said. "We will talk and things will come up … I will tell him what I think, he will tell me what he thinks, but I never wanted to judge someone before I listen to the person first."
Francis also said he and Trump would find "doors that are not completely shut" to create conversation, but he declined to say if he thought the meeting could be used to soften Trump's stance on certain issues.
While the pontiff has not directly criticized Trump, he has spoken out about some of his more controversial campaign promises, particularly his pledge to build a wall and "make Mexico pay for it."
In February, Francis urged his congregation to "not raise walls but bridges, to not respond to evil with evil."
"A Christian can never say, 'I'll make you pay for that.' Never," the pope said at the time. "That is not a Christian gesture. An offense is overcome with forgiveness, by living in peace with everyone."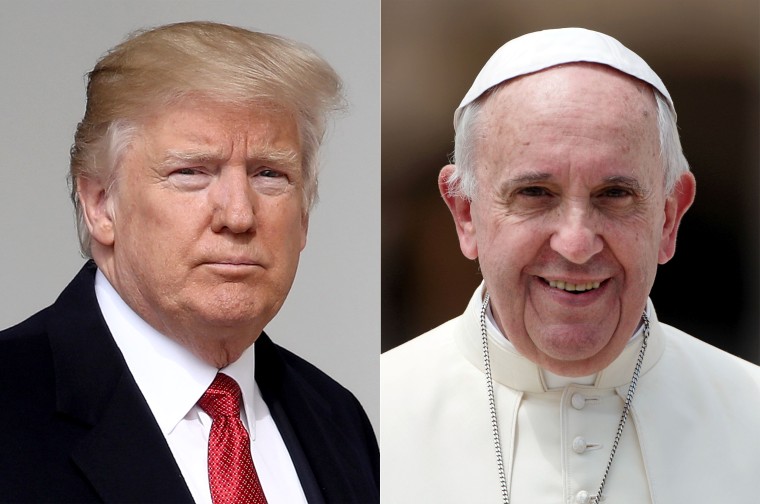 Trump later responded to Francis' remarks in a Facebook post, warning that "if and when the Vatican is attacked by ISIS ... I can promise you that the Pope would have only wished and prayed that Donald Trump would have been President because this would not have happened."
He added that others are "using the Pope as a pawn and they should be ashamed of themselves for doing so, especially when so many lives are involved and when illegal immigration is so rampant."
Related: Trump: It's 'Disgraceful' for Pope to Question My Christianity
The pontiff on Saturday had held a Mass in Fatima, Portugal, where he canonized two girls and a boy who were later interpreted as foretelling World War II, the rise and fall of Communism and the death of a pope.
He reiterated to reporters during his trip that people "need to find the doors that are at least slightly open."
"Peace is handcrafted," he said. "It is made day by day. Friendship, esteem … they, too, are handcrafted."