The mayor of Orem, Utah, was allegedly spat on and punched by the adult daughter of a newspaper reporter he allegedly disparaged during a City Council meeting this week. 
Linnea Pugmire, 31, was arrested Tuesday evening by Orem police after confronting Mayor David Young in a heated skirmish caught on video.
The faceoff unfolded after Young spent about 20 minutes at Tuesday's meeting discussing articles about himself and the council by reporter Genelle Pugmire in the local newspaper, the Daily Herald, dismissing them as "off the rails" and "overly ridiculous."
Video of the confrontation, shared by a witness with NBC affiliate KSL of Salt Lake City, showed the moment the younger Pugmire said "How dare you?" to Young, who quipped, "How dare you? Get out of my face!" and Pugmire spat at him. 
Pugmire is seen charging toward Young and throwing a punch toward his face and swinging toward other people around him. At one point, Pugmire pointed and said, "Don't talk about my mother."
"I'm sick of being pushed around by your mother," Young said to Pugmire in the clip.
Pugmire was booked into jail on charges of disorderly conduct, assault, propelling a bodily substance and threatening elected officials, and was released Wednesday, according to Utah County booking records.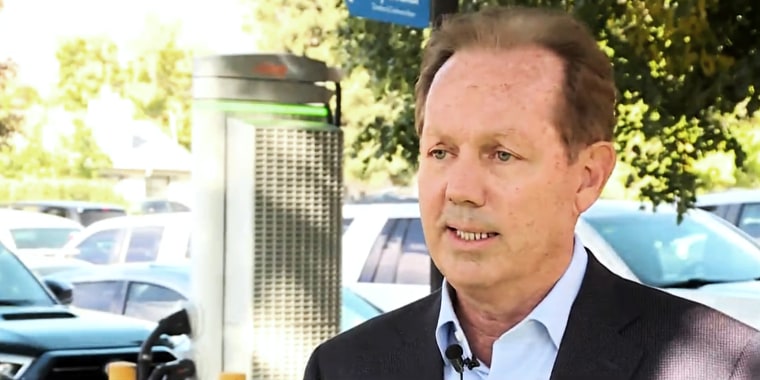 The police booking affidavit obtained by KSL said Pugmire "admitted to being upset at the mayor over personal concerns with family."
"While speaking with the victims and witnesses of this incident, officers also learned there was a second victim who had been hit and spit on," the report said. It did not identify that second person. 
Pugmire declined to comment on the incident Thursday., NBC News has reached out to the Daily Herald for comment.
During Tuesday's council meeting, Young spoke at length about the Daily Herald reports concerning himself and the council.
"I wouldn't make a big deal about this, but it just keeps happening and happening, and this keeps coming out of this paper, and we just have to keep going along, and it's just not right. I want to give a few examples to help us understand that this is not an isolated occurrence," he said.
Young pointed to one headline that centered on rising fees in the annual budget. "That sounds kind of ominous doesn't it? Of the options available ... this could have been 'Orem State Council Adopts Balanced Budget,'" he said.
He went through several articles reading out headlines and criticizing the content, often dismissing them as a stretch and as painting the council in a bad light.
He also complained about a story about a $1 million fraud lawsuit in Alabama that the mayor was named in last year. He said on that report: "It's just mind-blowing — the disconnect — what's going on in this newspaper versus what's going on in reality."
In a statement Wednesday, Young said: "As a community, we are better than this and I hope this incident will further serve as a wakeup call for the need for more responsible journalism and for each of us to work together with greater civility and unity."