He's the pope's top cleric in Washington. But Cardinal Donald Wuerl has also become the face of the Roman Catholic Church's renewed sexual abuse crisis in the fallout of the Pennsylvania grand jury report, with mounting calls from priests, Catholic university presidents and parishioners for his removal as Washington's archbishop.
At 77, Wuerl is one of the world's most influential bishops. He's a close, trusted adviser of Pope Francis and played a direct role in the selection of several U.S. bishops. Wuerl is also a member of the Congregation for the Doctrine of the Faith — the Vatican watchdog of church theology.
But Wuerl's reputation has been attacked by a growing number of Catholic professors, priests and parishioners in the wake of allegations that he did not act to remove some priests accused of abusing minors when he was bishop of Pittsburgh from 1988 to 2006. Wuerl was named more than 200 times in the grand jury report in connection to 18 cases that arose during his time as bishop. In some cases, accused priests were immediately removed from ministry, according to the grand jury report. But in a handful of other cases, Wuerl permitted credibly accused priests to continue serving, the grand jury found.
In addition, Wuerl has denied knowing that his predecessor, former Archbishop Theodore McCarrick, was suspected of abusing young men studying for the priesthood, raising criticism from some clergy members and advocates for victims who said that they found it hard to believe that as archbishop he was ignorant of the allegations.
That criticism surged late last month when Archbishop Carlo Maria Vigano, a former papal ambassador to the U.S. and a longstanding critic of Pope Francis, released a letter stating that senior clerics, including the pope and Wuerl, knew about McCarrick's behavior but did little or nothing to stop it. In one instance referred to in the letter, Vigano said he asked Wuerl to cancel a recruitment event with McCarrick and potential seminarians, which Wuerl immediately agreed to — raising questions, Vigano said, about why Wuerl would agree if he knew nothing of the allegations.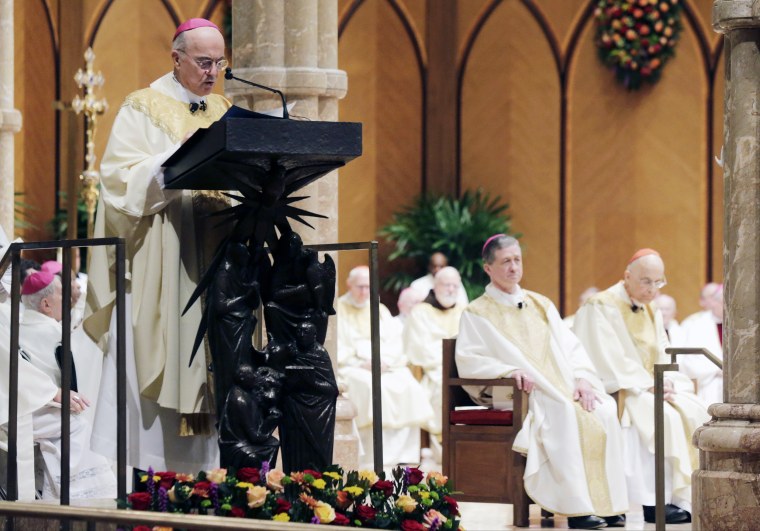 Wuerl declined to be interviewed for this article. In a letter to priests in the archdiocese on Thursday, he acknowledged the calls for "new leadership" but said he "also heard voices calling for the beginning of healing." He laid out plans for gatherings and resources devoted to that goal, including a six-week "Season of Healing" beginning on Sept. 14 and a one-day healing retreat for abuse survivors.
Separately, the general counsel of the archdiocese of Washington said calls for Wuerl to step down are "unfair and misguided."
And Ed McFadden, a spokesman for Wuerl, said that after the incident described in Vigano's letter, Wuerl reached out to Vigano's office for more information on McCarrick, but it wasn't provided. Since the letter's publication, Archbishop Vigano stated that the sanctions against McCarrick were private.
"The fact is that Vigano at no time provided Cardinal Wuerl with information, and he states that in the memo," McFadden said. "He presumes that Wuerl knows, when he really didn't."
Pope Francis has not directly responded to the allegations in Vigano's letter. "With people who seek only scandal, with those who look only for division," the best response is "silence and prayer, " the pontiff said at a Mass on Monday.
Following the release of the grand jury report, there have been calls by Catholics across the archdiocese of Washington and beyond for those who have been accused of inaction, starting with Wuerl, to face consequences. Several online petitions have gained momentum, with one seeking the cardinal's removal garnering more than 80,000 signatures. Protesters gather at St. Matthew's Cathedral in Washington daily to object to his leadership. This past Sunday, Wuerl was scolded by a parishioner who yelled "shame on you" as he gave a homily apologizing for "errors in judgment" at an installation ceremony and service for a new pastor, according to video footage of the event.
"I wish I could redo everything over these 30 years as a bishop and each time get it always right," Wuerl said at the ceremony. "That's not the case."
Mary Challinor, who stood with her back toward Wuerl throughout his homily in protest, said in an interview that she doesn't believe church leaders like Wuerl failed to respond to cases of abuse "out of malice."
"But," she continued, "I think that they abused their position and the responsibility that was given to them."
Amid the mounting pressure, Wuerl flew to Rome for several days last week, a spokesman for the archdiocese of Washington confirmed. A source familiar with his schedule said he met with the pope, who encouraged him to discuss his future as head of the archdiocese with all priests reporting to him.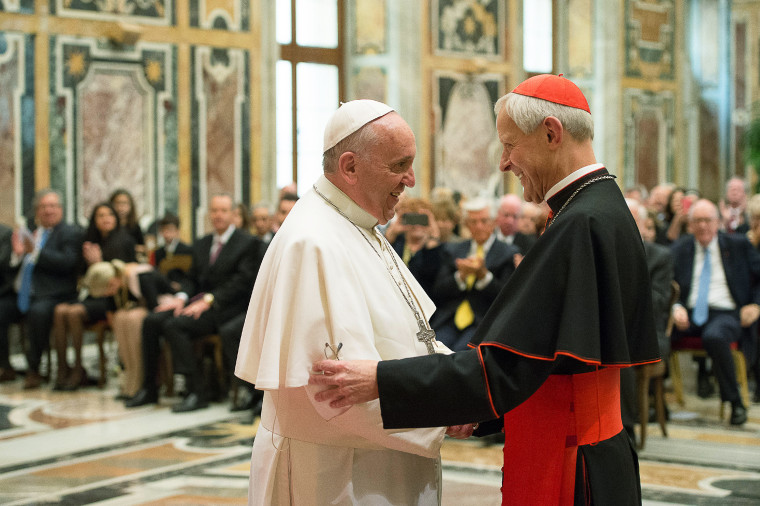 When the grand jury report first landed, the archdiocese went to great lengths to defend Wuerl, publishing a website called the Wuerl Record. The site praised the cardinal for being a zero-tolerance pioneer toward abusive priests. But it was taken down after criticism that it was insensitive, as more details emerged on the cardinal's response to other accused priests during his time in Pittsburgh. McFadden, Wuerl's spokesman, said in a statement that the site had been a "mistake."
Days before the grand jury report's release, Wuerl gave an interview to a faith-based TV outlet in which he said, referring to abuses in the church, "I don't think this is some massive, massive crisis."
But it is, according to priests in his own archdiocese. The Rev. Percival D'Silva devoted a portion of a recent Sunday sermon at the Shrine of the Most Blessed Sacrament in Washington to urge Wuerl to resign.
"Your stepping down will be the first necessary step in the process of healing," D'Silva said, according to a copy of his sermon shared with NBC News. "The church is much larger than one individual bishop."
A mixed record on confronting abuse
In recent interviews, some Catholics have been reflecting on the last time a high-ranking church prelate was accused of shuffling alleged predator priests to unknowing parishes.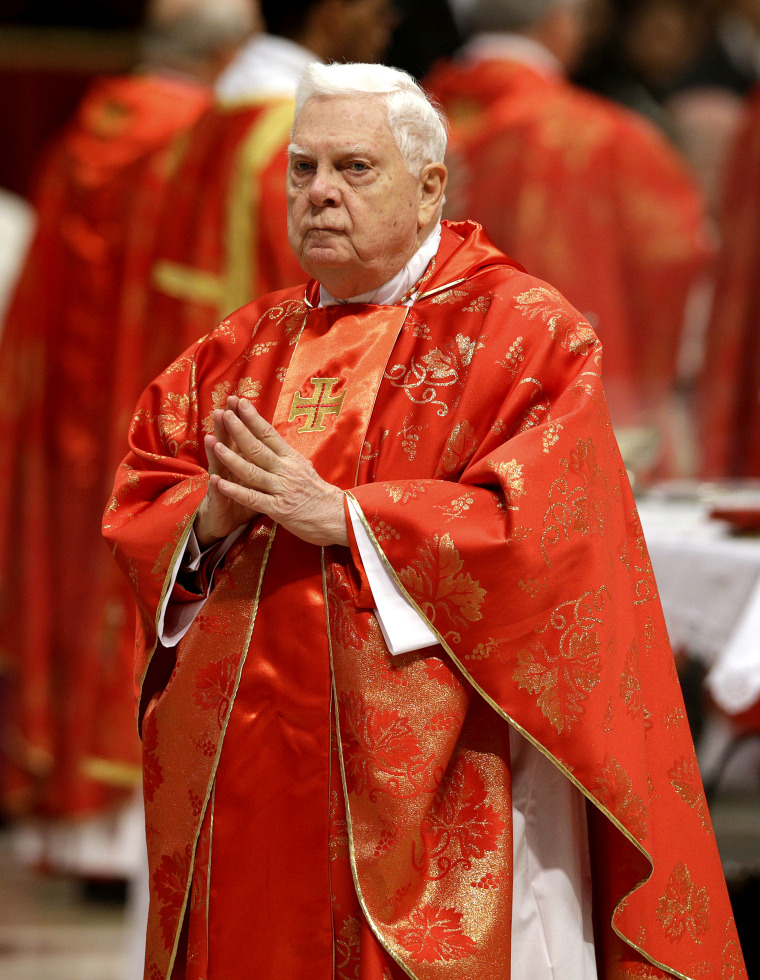 When the first wave of the church's sexual abuse crisis broke in 2002, the late Cardinal Bernard Law of Boston — a confidant of St. John Paul II — took the brunt of the blame for re-assigning hundreds of priests accused of sexual misconduct with minors to new parishes. The Boston Globe reported at the time that Law had transferred the abusive priests without telling police or parents of the allegations against them.
Law first chose to manage the crisis by not publicly commenting on the allegations. Then thousands of church records were released describing how he had expressed more concern for accused priests than for the victims. He resigned and retired to Rome amid an outcry from both conservative and liberal factions in the church.
Wuerl, in contrast, has firmly defended his record and, his supporters say, with good reason.
"If you look at the cardinal's entire record, he has been at the forefront of child protection," said Kim Viti Fiorentino, chancellor and general counsel for the archdiocese of Washington. "His record here in Washington is really outstanding, and there's a failure to fully review what he has actually done."
Wuerl earned public praise decades ago for his handling of allegations against the Rev. Anthony Cipolla. Wuerl removed Cipolla from ministry in 1988 after credible allegations were made that he had molested several young boys.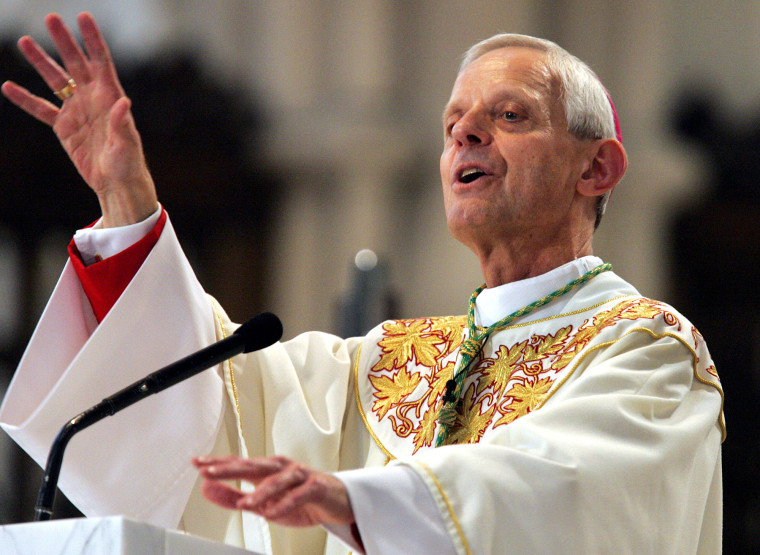 The priest appealed his case to a Vatican court in 1993 and won an order demanding that Wuerl reinstate him. Wuerl refused, convinced that Cipolla posed a danger to children. The Vatican court agreed, eventually siding with Wuerl in 1995.
This is one of a handful of cases the archdiocese of Washington refers to when defending Wuerl's record of combatting pedophile priests.
But several other decisions Wuerl made as Pittsburgh's bishop have drawn criticism.
Wuerl was just months into his new role in 1988 when he learned of the case of the Rev. George Zirwas, who, along with several other priests, was accused of giving alcohol to teenage boys before sexually assaulting them.
Wuerl's solution was to refer Zirwas for psychiatric treatment, according to the grand jury report. Zirwas remained in the priesthood until 1994, when he was first placed on a leave of absence.
The grand jury report described how Zirwas groomed his abuse victims by giving them each a gold cross.
"They were a signal to other predators that the children had been desensitized to sexual abuse and were optimal targets for further victimization," the grand jury notes.
It was only after another report of assault was made that Wuerl placed Zirwas on a permanent leave of absence in 1995. Zirwas moved to Florida and then Cuba, where he was later found killed in an apartment.
Will he step down?
It's precisely because of Wuerl's mixed record in going after accused clergymen that some priests and other Catholics are now torn on whether he should step down.
Wuerl has already submitted his resignation to the pope, as all priests are required to do at the age of 75. Only the pope, who counts Wuerl as a crucial ally in the American church, can accept that resignation.
The fact that Wuerl is still in office nearly a month after the grand jury report was released has inspired some incensed Catholics to speak out.
"It seems like Rome is not interested in addressing the scandal in a public way," said Winnie Obike, 28, who started an online petition calling for Wuerl's removal. "My trust in the church and its leadership has been shattered."
Obike, a first-generation American with roots in Nigeria and Cameroon, baptized her two sons Catholic.
"As a mother, I ask myself, What would I have done if one of my sons was hurt or victimized by a priest?" she said. "They want this story to go away through their silence, but our petition won't let them."