Boyd Packer, one of the elder statesmen and longtime leaders of The Church of Jesus Christ of Latter-day Saints, died Friday at his Utah home, church officials said. He was 90.
The cause of death was related to his age, according to the church. The church said Boyd spent his decades of devotion immersed in scripture and ordained as an apostle.
"From the crown of his head to the soles of his feet, he represented the Savior of the world," Elder M. Russell Ballard said in a statement.
Related: Mormon Leader L. Tom Perry Dies From Cancer at 92
Packer since 2008 was the president of the Quorum of the Twelve Apostles, the second-highest governing body in the LDS church behind the First Presidency. As part of his legacy, he was on a committee that helped to produce new editions of spiritual scriptures in 1979 and 1981, the church said.
"President Packer always felt that if we could read the words of the Lord we would be far better off and much safer than speculating with our own ideas," Ballard said in a statement.
"It was not unusual for him to say, 'Brethren, let me read to you.' And then he would turn to a very important scripture in the standard works and let us listen to what the Lord had to say. And we all learned at his feet," Ballard said.
Packer, the son of a mechanic, was a native of Utah and served as a bomber pilot in World War II, fighting in the Pacific.
When he returned to the U.S., he rose through the ranks of the LDS church and was known for his hard line stance against ideologies shared by feminists, gays and intellectuals.
In 2010, he denounced homosexual attraction as unnatural and immoral. His hostility toward homosexuality made him a target of gay rights advocates in recent years. In 2013, a Utah gay-rights organization started a petition to protest the naming of a new Weber State University center in Ogden, Utah, after Packer.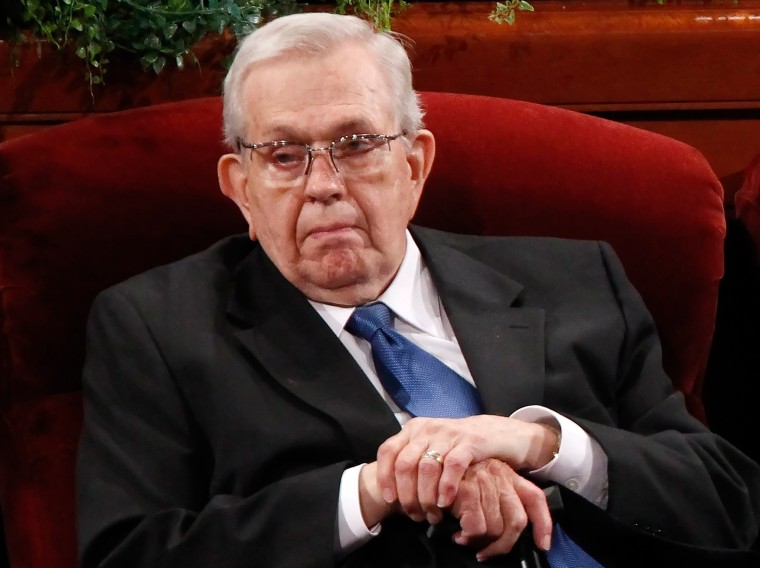 Related: John Dehlin, Popular Mormon Podcaster, Excommunicated by Church
Packer's death comes just over a month after L. Tom Perry, a senior member of the church's governing body who died of cancer at age 92.
Quorum member Russell Nelson, 90, now becomes the next in line to take over as top leader of the Mormon church after current President Thomas Monson, 87.
Replacements for Packer and Perry will be chosen sometime in the coming months by Monson, considered the religion's prophet. Members of the faith believe those decisions are guided by inspiration from God.
Packer is survived by his wife, Donna, their 10 children, and scores of grandchildren and great-grandchildren, the church said.