WASHINGTON — In the beginning, the Museum of the Bible opened Friday to much fanfare.
Gospel star CeCe Winans belted out "Amazing Grace," "Touched by an Angel" actress Roma Downey posed for pictures and some of Washington, D.C.'s distinguished faith leaders used oversize scissors to snip a ceremonial gold ribbon and beckon visitors inside.
It was the sort of hoopla befitting a $500 million edifice just three blocks from the U.S. Capitol.
But during a dedication ceremony, museum president Cary Summers couldn't overlook some of the questions that have engulfed the institution since construction began in 2015 at a site that was once a refrigeration warehouse.
"We created this museum to help our guests understand and appreciate the role of the Bible ... We have no other agenda," Summers said.
What the museum says it aims to do — share the historical relevance and significance of the sacred scriptures in a nonsectarian way — still has some biblical scholars and observers wondering if the facility is ultimately just a promotional tool for the evangelical Christianity espoused by its chairman of the board, the billionaire Steve Green. Most of the museum's leadership are also evangelical as well as white and male.
Green, the president of Oklahoma-based crafts chain Hobby Lobby, was under scrutiny this past summer when his company settled with the Department of Justice for $3 million after it was discovered it had purchased thousands of smuggled Iraqi artifacts that were wrongly mislabeled. Green said at the time that his company was new to collecting and still learning how the antiquities market operates.
The nonprofit museum said in a previous statement that the items identified in the Hobby Lobby settlement are not and never have been in its collection, and that it employs the same standards for acquiring items used by other institutions. (Hobby Lobby is best known for its landmark Supreme Court victory in a 2014 ruling that businesses don't have to provide contraception under Obamacare.)
Visitors who are not donors or members of the Museum of the Bible but got the chance to tour its eight floors on Friday said they didn't care much about such controversies. Pre-scheduled tour groups were able to visit early while the museum opens to the wider public on Saturday.
Related: Museum of the Bible gears up for opening in Washington
"They got hoodwinked," Mark Singer, of Scottsdale, Arizona, said of Hobby Lobby's predicament over certain items' provenance. "I would give them the benefit of the doubt. They don't do things 'cause they're evil. They're naive."
Singer, who was visiting the museum as part of a Christian tour group, said he was more intrigued by how the Bible has played a role in American history. That the museum — and the lessons it can impart— are in Washington, D.C., seemed appropriate: "Maybe it will work on some of the members of Congress," said Singer, who believes the Bible should be taught in schools.
He added that he was OK that the museum wasn't championing Christian beliefs — a viewpoint that diverged from his wife.
"I would like to see more of Jesus," Kim Bongiorno said.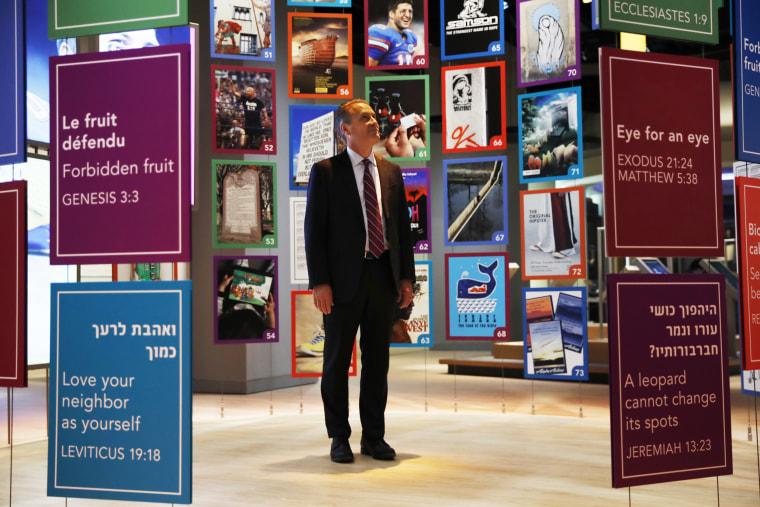 What visitors can find are rooms bursting with Bibles. Bibles translated in Burmese, in Catalan, in Sherpa, in Southern Puebla Mixtec.
There's a Bible that once belonged to Elvis Presley; a missal to Babe Ruth. First editions of the King James Bible mingle with Torahs and biblical books designed in a Japanese Manga style.
"It's amazing to realize how much the Bible can change, but its message stays the same," said Jamara Kulla, 23, of southwestern Washington state, as she perused a section about biblical themes in popular literature.
Elsewhere in the museum, visitors were greeted by an exhibit of the Bible in popular culture, including Madonna — the "Material Girl" singer — in a pose resembling the crucifixion of Jesus.
In another part, staffers were dressed in costume in a staged replica meant to look like the Holy Land of biblical times. "Welcome to Nazareth!" one woman in blue and white garb cheerfully proclaimed to no one in particular.
The museum doesn't touch on more controversial issues stemming from the Bible, such as sexuality, nor does it seek to prove each event in the book happened in the same way the Creation Museum in Kentucky offers.
But curators have made it clear that not all of the artifacts on display are necessarily authentic either.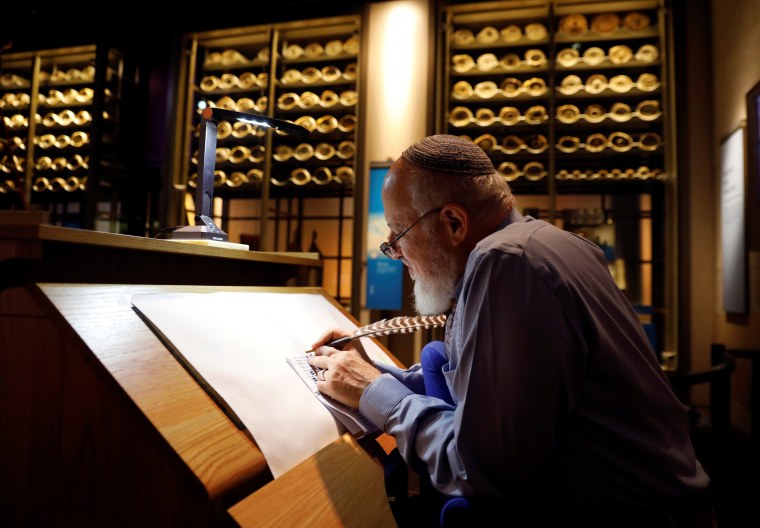 Underneath glass cases are fragments that were obtained for the museum and appear to be pieces of the Dead Sea Scrolls, ancient religious writings first discovered in caves 70 years ago but dating back some 2,000 years. The museum tells visitors that further testing must be done: "Are these fragments real?" a sign asks. "Research continues."
Green told NBC News this week that scholars have helped the museum in its pre-opening stages to review items so that there is transparency. Items that are not originals are labeled as "facsimiles."
"If there are questions that are still unanswered, we're going to let people know about that," Green said.
While the Iraqi antiquities named in the settlement are not in the museum's collection, it's unclear if Hobby Lobby or the Green family donated any other items with questionable origins to the museum.
Egyptian antiquities officials said they're asking the U.S. for help in determining whether items coming from Egypt were obtained legally or illegally by Hobby Lobby.
The museum, meanwhile, is anticipating about 3 million guests in its first year. Visiting is free, although a $15 donation is suggested for adults.
James Mahon, 62, of Medford, Oregon, said the fact that the Museum of the Bible is so close to the nation's seat of power should get visitors thinking about how much religion and politics remain intertwined despite the separation of church and state.
On Thursday night, the museum's opening black-tie gala was held at the Trump hotel in Washington, reported The Washington Post.
Surrounded by Bibles, Mahon said, "I just pray this place can stay open."