Russell M. Nelson, the new leader of the Church of Jesus Christ of Latter-day Saints, isn't expected to move the church in major new directions, church members and activists said Tuesday.
Nelson — a world-renowned heart surgeon who was president of the Society for Vascular Surgery and of the Utah State Medical Association before he started moving up in the church's leadership — signaled a stay-the-course philosophy when he was announced Tuesday as the successor to President Thomas S. Monson, who died Jan. 2 at age 90.
"If you have stepped off the path, may I advise you with all the hope in my heart to please come back," Nelson, 93, said in an address broadcast from Salt Lake City, the church's headquarters. "Whatever your concerns, whatever your challenges, there's a place for you in this, the Lord's church."
In keeping with church tradition, Nelson became its 17th president as the senior member of the Quorum of the Twelve Apostles, the church's second-highest governing body. As president, Nelson, who will also assume the title of "prophet," will lead its highest authority, the three-member First Presidency.
Nelson "is unlikely to make big waves," because, as the senior apostle, he had "already been serving amicably with the previous president for decades," said April Young Bennett, co-founder of Ordain Women, which advocates for women to be admitted to the Mormon priesthood.
Monson wasn't sympathetic to the group's concerns, Young said Tuesday on Religious Feminism, a podcast of Exponent II, a publication for Mormon women.
Nelson "really does seem concerned about empowering Mormon women," she said, but she contended that his sympathies appeared to lie with women in terms correlative to their willingness to defend the church, "not as feminists."
Nelson on Tuesday cited the church's Doctrine and Covenants as specifying that "before the foundation of the world, women were created to bear and care for the sons and daughters of God, and in doing so they glorify God."
"I love them," he said, referring to women. "I'm the father of nine beautiful daughters. ... We need their voices [and] their input, and we love their participation with us."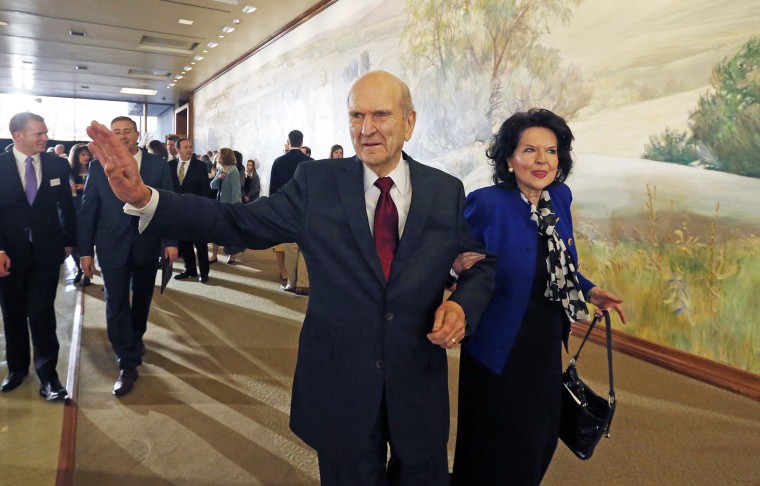 Nelson became familiar to the general public after the church revised its Handbook of Instructions in late 2015 to declare that same-sex couples are apostates and that children living with them can't take part in church activities until they're adults and leave home.
Shortly thereafter, he said the policy was "confirmed" by a direct revelation from God to Monson, indicating that it wasn't open to alteration any time soon.
As if to reinforce the point, Nelson appointed Dallin H. Oaks, 85, a member of the Quorum of the Twelve Apostles, as his first counselor on the First Presidency.
Oaks took the lead late last year in defending the policy, telling a worldwide audience of Mormons: "Even as we must live with the marriage laws and other traditions of a declining world, those who strive for exaltation must make personal choices in family life according to the Lord's way whenever that differs from the world's way."
Related: Amid backlash, Mormon church clarifies same-sex policy
Asked about the policy Tuesday, Nelson said, "Every member needs to know the difference between what's doctrine and what's human." He added that God loves all of his children despite what he called "their challenges."
Carol Lynn Pearson, a fourth-generation Mormon who is a prominent poet and advocate for women's and LGBTQ issues, said on the Religious Feminism podcast that the church as a whole appears to be moving toward "accepting our LGBTQ couples who choose to be in a loving relationship."
"Elder Nelson is not," she said. "But I have hope that he will find a way to respond."
Jana Riess, a religion professor at Miami University in Ohio, said Nelson's more outgoing style is likely to be a refreshing change from the reserved face Monson put on the church's leadership.
But in an editorial for Religion News Service, she said: "It's unlikely that the new First Presidency's responses on questions about women, minorities, LGBT Saints [church members], and disaffiliation among young adults will be very satisfactory to Mormons who have ongoing questions about those issues."