A scathing grand jury report released Tuesday details how two Catholic bishops of a small Pennsylvania diocese covered up cases of priests who preyed upon hundreds of young children — allowing sexual abuse to go unchecked or the offenders to return to work.
And the 147-page report, overseen by Pennsylvania's attorney general, blasted roughly 50 predator priests who acted as "wolves disguised as shepherds" over four decades.
"Over many years, hundreds of children have fallen victim to child predators wrapped in the authority and integrity of an honorable faith," the report said.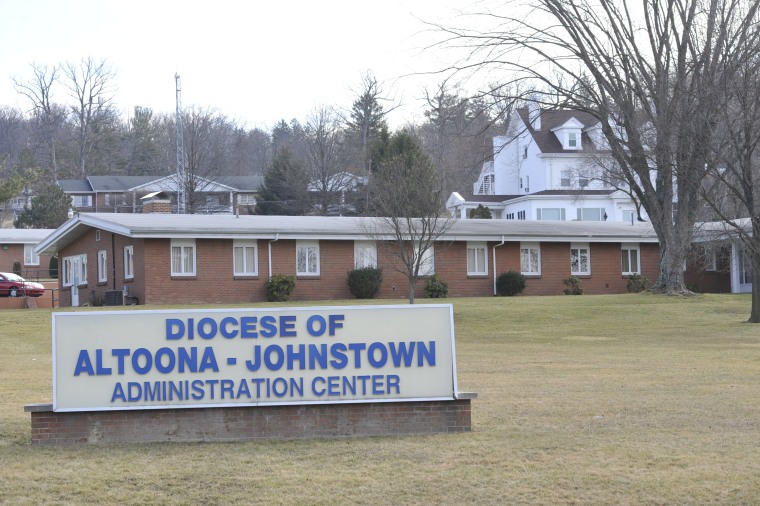 The former bishops of the Altoona-Johnstown Diocese, James Hogan and Joseph Adamec, ultimately chose to "avoid public scandal over the well-being of children" in failing to get law enforcement involved, Pennsylvania Attorney General Kathleen Kane said at a news conference.
Hogan led the diocese of about 100,000 Roman Catholics from 1966 to 1986 before his death in 2005. Adamec, who took over for him, retired in 2011.
Among the most disturbing findings in the report was a "pay-out chart" to help guide how much some victims might receive from the church as part of a cover-up, the grand jury said.
Related: Clergy Abuse Victims' Group Slams Pope's 'Brief Chat'
The compensation included $25,000 to $75,000 for forced oral sex and $50,000 to $175,000 for forced intercourse.
Despite the sexual abuse claims and abuse of power, no one will be prosecuted in this case, Kane said. That's because the statute of limitations has expired in some incidents, while the accused priests have died in others. In addition, not all victims are willing to come forward.
"The heinous crimes these children endured are absolutely unconscionable," Kane said. "These predators desecrated a sacred trust and preyed upon their victims in the very places where they should have felt most safe."
"Their souls were killed as children," Kane added. "They weren't out playing baseball; they were trying to avoid priests."
A grand jury pored over more than 115,000 documents that included handwritten notes by Hogan, letters and memos to Adamec and several sexual abuse victim statements.
Monsignor Philip Saylor, who was a key aide to Bishop Hogan, reportedly told the grand jury that the church held a strong sway over even police and civil authorities in eight counties. Those officials would simply "defer to the diocese" when priests were accused of abuse, the report said.
In one of the more egregious cases, according to the grand jury, Monsignor Francis McCaa was described as a "monster."
Related: Vatican Cardinal Pell: Pedophile Priest 'Wasn't of Much Interest'
At least 15 boys between ages 8 to 15 belonging to Holy Name Church in Ebensburg were groped and fondled during his 20 years there, the report said. The children were abused during confession, and at least one of them later committed suicide, according to the grand jury.
McCaa died in 2007 after 59 years as a priest.
Adamec, meanwhile, refused to testify in front of the grand jury, citing possible self-incrimination.
In a filing, his attorney said he forced 14 accused priests to undergo psychiatric evaluation: nine were removed or suspended, while the other five who were brought back supposedly didn't re-offend.
"Bishop Adamec's handling of abuse allegations has no similarity to other clergy abuse scandals," his attorney wrote.
"Over many years, hundreds of children have fallen victim to child predators wrapped in the authority and integrity of an honorable faith."
The diocese's current bishop, Mark Bartchak, is not accused of any wrongdoing. He has worked to suspend some of the priests named in the report.
"I deeply regret any harm that has come to children," Bartchak said in a statement.
The Catholic church's history of child sex abuse became a national scandal in 2002 when The Boston Globe investigated how high-ranking officials covered up cases of priests who molested children. The expose became the subject of the Oscar-winning film, "Spotlight."
In response to the Pennsylvania grand jury's findings, the state's Office of Victim Advocate said it was "disgusted and saddened" by a cover-up that has involved hundreds of victims without any real punishment.
"What is further troubling in this case is that the 'victim advocate' assigned to these cases was in fact solely advocating on behalf of the church," Victim Advocate Jennifer Storm said in a statement. "This is a gross manipulation in what victim advocates are in place to do and highlights the need for truly independent victim advocates whose only interests are for the safety and well being of the crime victims."
The grand jury in its report suggested several recommendations in protecting any future victims. Those include abolishing the statute of limitations for sexual offenses against minors and urging state lawmakers to suspend the civil statute of limitations on sexual abuse claims.