DUBLIN — Pope Francis heads to Ireland this weekend and is likely to get a chillier welcome than John Paul II did during the last papal visit to the country.
Ireland has traditionally been a Roman Catholic stronghold but decades of abuse scandals have damaged the church's reputation and weakened its influence.
An estimated 500,000 people are expected at a Mass in Dublin's Phoenix Park as part of the World Meeting of the Families rally on Sunday. Pope John Paul II attracted more than 1 million to Phoenix Park during his 1979 trip — almost one-third of the country's population at the time.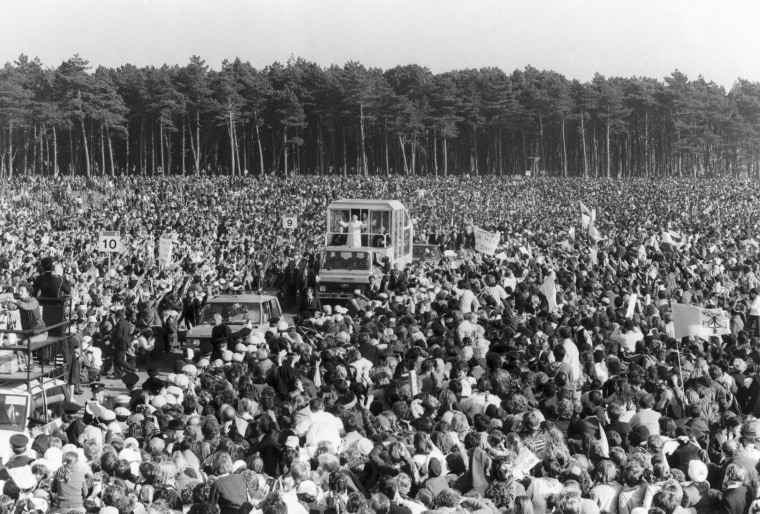 Anger is running high over the Vatican's perceived failure to take concrete action to tackle abuse involving the church. The two-day trip follows the pontiff's apology this week over the Pennsylvania abuse scandal, but some victims here also want answers.
"I would hope that he would go beyond that letter and that he would tell us exactly what he intends to do to deal with of sexual abuse within the church," Maeve Lewis, the executive director of One In Four, a Irish group which helps the survivors of abuse, told broadcaster RTÉ earlier this week. "This visit is enormously distressing for a lot of survivors. It has reactivated a lot of the trauma and the pain that they have experienced, so the very least they deserve is a clear statement of the actions the pope intends to take, not another apology."
The church has been tarnished by scandals including the notorious Magdalene Laundries — secretive Catholic institutions of confinement for "fallen" women such as unmarried mothers and prostitutes, and in which dozens of bodies were discovered in a mass grave in 1993 — as well as thousands of instances of child abuse involving clerics.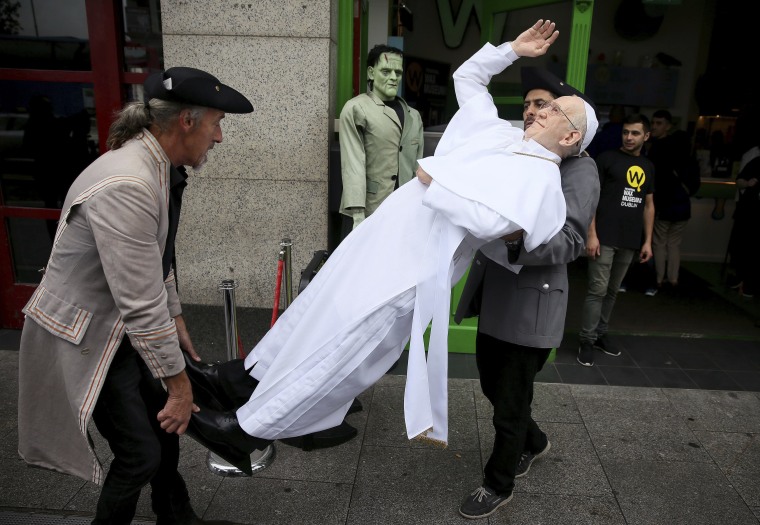 In 2009, a government-ordered commission compiled a report drawing on the emotionally wrenching testimony of almost 2,000 witnesses from some 200 Catholic-run schools during a 35-year period up to the 1990s.
The report concluded that child sexual abuse was "endemic" within boys' institutions, with then-President Mary McAleese calling it a "terrible injustice" and "atrocious betrayal of love."
Church attendance has plummeted in recent years. From 1972 to 2011, the number of Roman Catholics attending a weekly service in Ireland fell from 90 percent to 31 percent. A growing number of Irish people also say they have no religious affiliation.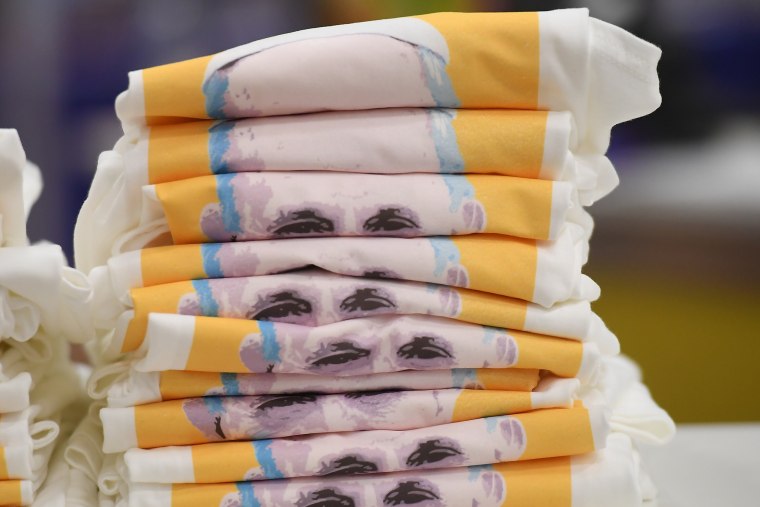 The Rev. Brian D'Arcy — a priest, radio host and survivor of clerical sexual abuse — said such declines are partly linked to a loss of trust in the institution.
"Trust broken is trust finished," he told NBC News. "People had to make up their own mind about their own moral stance, and they discovered the roof didn't fall in when they did."
The waning influence of the church and the shift away from social conservatism has also been reflected in the the country's landslide vote to repeal its ban on abortion this year. And in 2015, Ireland backed the legalization of same-sex marriage.
The country's taoiseach — or prime minister — is Leo Varadkar, an openly gay man who took office last year.
Aisling Hurley, 50, was in Dublin for Pope John Paul II's visit in 1979. She described the experience as "tremendous," but told NBC News she won't be attending Francis' Mass.
"Why? Perhaps I'm a bit disillusioned with the church," she says while enjoying lunch one day this week with her daughter in a busy shopping district next to St. Stephen's Green, a park in the city center.
"I think what he is trying to do is quite good [but] I think the latest scandals need to be addressed. I think he's well-intentioned and I think his overall humbleness is quite endearing."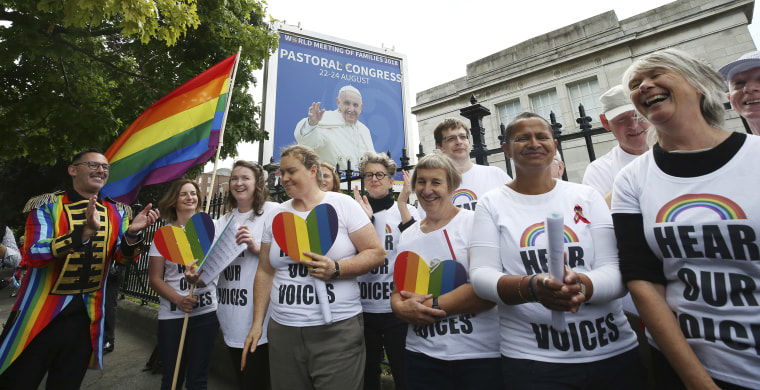 Eileen Coburn, who is in her 50s, was raised Catholic, but has now turned to the Anglican Church of Ireland, saying it is more progressive since it features female ministers.
"I think that's a disgrace, the audacity for him to come here. The last pope covered up child abuse. The previous pope before that, John Paul, covered up child abuse," she said. "Male friends of mine have been raped and tormented by priests."
Amnesty International Ireland is organizing a protest in central Dublin to coincide with the papal Mass.
Others have taken part in a "Say Nope to the Pope" Facebook campaign, where they snap up tickets for the Phoenix Park event, but protest by not attending.
But many are looking forward to the pope's visit.
On Wednesday after Mass, visitors streamed out of St. Teresa's Carmelite Church — a striking 19th-century building in a bustling neighborhood south of the River Liffey. All clutched cards stamped as part of a walk for pilgrims ahead of the papal visit.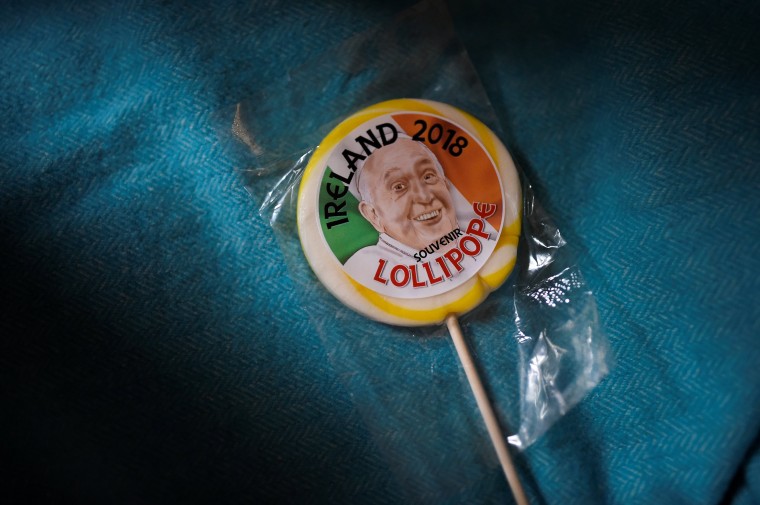 Among them were Rosaleen Nugent, Bridget Ward and Thomas Ward — three worshippers in their 70s. They were all excited by Francis' impending arrival.
"He's for everyone," Nugent said. "It doesn't matter if you're a Catholic or Jew. He's the pope for all."
Bridget and Thomas Ward also said they would be attending the pope's Mass on Sunday. However, they have noticed that the flock is declining where they worship.
"Not as many people go to the church," Bridget said. "My daughters and I know they are very good Christians, but they don't go to the church.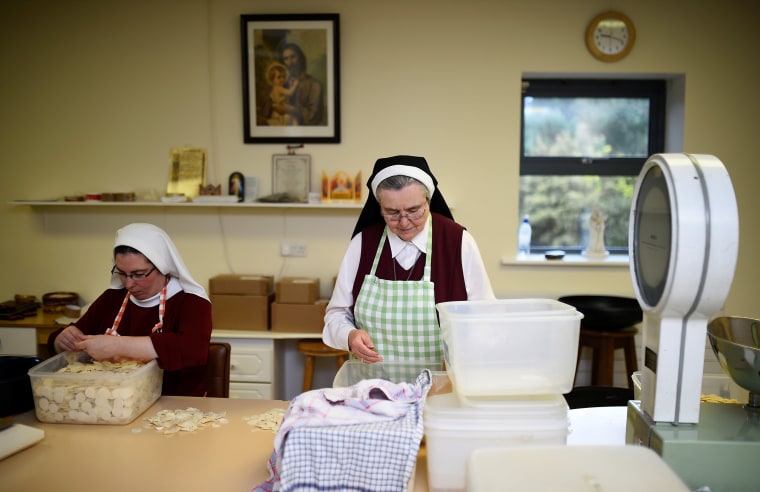 She added that she doesn't believe this is related to abuse, however.
"It's nothing to do with the scandals, believe it or not. It's just the way of life now. It's so fast. We don't take time out, we make excuses."
So how does the Vatican plan to respond to public outcry over the church's response to successive abuse scandals during the visit?
In a video issued ahead of the World Meeting of the Families Tuesday, the pope spoke of "reconciliation," and he is expected to meet abuse victims while in Ireland.
Asked if Francis would weigh in on abuse, Vatican spokesman Greg Burke noted that the pope will deliver six major speeches during his 36 hours on the ground, and therefore "has several opportunities."
Linda Givetash reported from Dublin, Francis Whittaker and Saphora Smith from London, and Claudio Lavanga from Rome.