A TikTok singing sensation appears to no longer be on the platform after dozens of people online accused him of inappropriate behavior toward a fan whom he had collaborated with on a TikTok Live video.
The fan, Olivia McCraw, a 19-year-old musician, said that Rodger Cleye, 58, flew from California to Maryland to visit her on Aug. 6. The two filmed a duet of Guns N' Roses' cover of Bob Dylan's "Knockin' on Heaven's Door" in a TikTok Live video on Aug. 7, which is no longer available on the platform. Clips of the duet have recirculated on TikTok with some users replying with stitched videos. The video, which was filmed in Cleye's hotel room, has fueled a backlash against the popular creator, whose alleged behavior is being described by many online users as predatory. 
As of this week, Cleye's account is no longer active on TikTok. A spokesperson for the platform did not immediately respond to request for comment Thursday. Cleye did not address why he's no longer on the platform when asked by NBC News in an email.  
Cleye attracted a following of more than 3 million fans on TikTok, who called themselves "Cleyemates," by posting videos of himself singing covers of popular songs. His face permeated across the platform as people began green screening him onto their own point of view (POV) videos, making him a popular meme.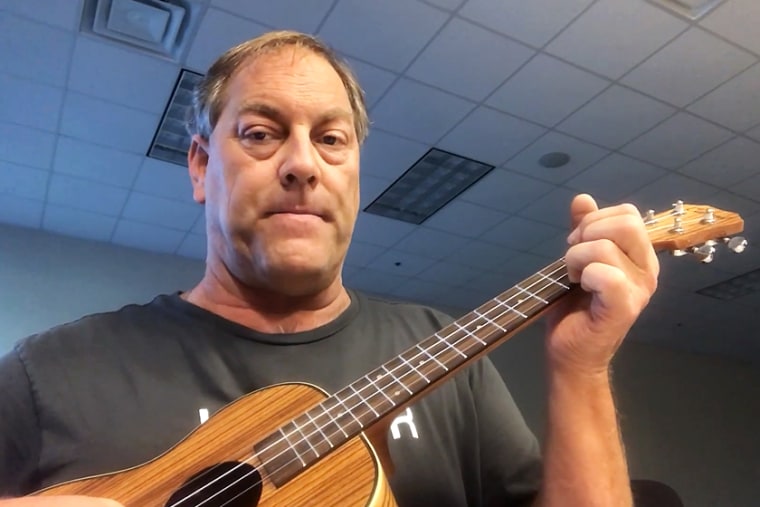 After the duet, viewers online questioned why he was collaborating with a younger woman — some asked in the comments if McCraw was his daughter. Others speculated that Cleye and McCraw were dating. Several TikTok users claimed they were muted or blocked by Cleye for mentioning the age gap between them. Videos criticizing Cleye and analyzing the situation on TikTok received millions of views.
A day after the live video, in an Aug. 8 video, McCraw said that the two are not romantically involved. She called on people to "stop spreading rumors," and said Cleye presented her with an opportunity to share her singing with a larger audience. She called it a "great experience."
On Sunday, McCraw went viral after posting a lengthier four-and-a-half-minute follow-up video, which she labeled "MY TRUTH." In the video, which has amassed 6.2 million views since being posted, she said she felt uncomfortable during the livestream after Cleye "rubbed her back continuously." She said she eventually "scooted away from him, but that did not help." 
She also said that Cleye had a photo of her as his phone background and presented her with poems he had written. She said that he kissed her after the livestream concluded.
"I was by myself and I didn't know what to do and I just kind of felt obligated," McCraw told NBC News in a phone interview earlier this week. "And I know that's horrible to say that I felt really sick when I kissed him back, because he leaned to kiss me. But I really just felt like something was weird."
When asked if she knew Cleye's intentions for the visit, McCraw said she felt that the trip was made with the purpose of getting to know each other. She said that she was uninterested in a relationship with Cleye upon meeting him. 
"I was the one that wanted to sing with him and he was like, 'Yeah, I would love to sing with you,'" she said. "And he gave me the opportunity to, but he mainly wanted to get to know me. And I think there was more intention than just singing. So it wasn't just to collab, it was to spend a day together and he said he wanted me to show him my world."
After the collaboration, McCraw said she told Cleye that she was uncomfortable and that she "couldn't do this anymore." She said people were bombarding her phone, criticizing her for the TikTok Live. While Cleye was understanding at first, she said he quickly turned on her. McCraw said Cleye told her she'd made him feel "hurt and abandoned." 
"I was like, I understand," she said. "I just couldn't put myself in that situation any longer."
The situation, many TikTok users said, underscores how larger creators have the potential to take advantage of their power and influence over fans. Some suggested they think Cleye "knew what he was doing," and pointed out that many of his fans are young women. (According to the online database Know Your Meme, "going into mid-2022, Cleye's follower base became predominantly female due to his expressive singing and willingness to sing any song, including ones from emotional female pop singers."). 
In an email to NBC News, Cleye said that McCraw lied about her age. He shared a screenshot of what appears to be a part of their text conversation, in which he asks McCraw's birthdate. McCraw appeared to say that she was born on June 10, 2002.
"She crafted this story from the beginning," he wrote in his email statement. "Everybody is looking for a reason to hate older people." He also said "a quick thank you kiss after a fun performance with a said 21-year-old is not a crime."
McCraw confirmed to NBC News that she initially told Cleye that she was 21. She told him her real age after the livestream received backlash. She said that he still wanted to pursue her and she shared screenshots of messages which she said were between her and Cleye, in which he appeared to suggest they wait three years. She also shared another screenshot that appeared to be from Cleye that said, "the eve we spent together was nothing short of magical" and called their relationship "something to fight for."
Cleye did not respond to further email questions about the status of his TikTok account, McCraw's age, his interest in her or criticism from TikTok users. 
McCraw said that she initially connected with Cleye on July 31 after she said he was looking for a date for one of Taylor Swift's concerts in Inglewood, California, during a TikTok Live. She had messaged him and volunteered to accompany him to the concert. 
"I'd always been a big fan of him," she said. "I always thought he was funny. You know, he didn't care what people thought."
Cleye took his daughter to the concert, according to McCraw, but they kept in touch over the next week. He sent her multiple text messages prior to their meeting describing what a relationship with him would be like, McCraw said. 
After their collaboration, Cleye said in now-deleted comments that McCraw lied to him about her age and called her "manipulative and attention seeking." McCraw shared screenshots with NBC News and to her TikTok page of what appear to be her text messages with Cleye, in which he calls her a "manipulative girl" and says "you brought this on yourself." 
In an Aug. 10 recording of Cleye's TikTok Live after his collaboration with McCraw, he pushed back against criticism over a duet with someone younger, saying that it was "taboo" to sing with people under 21 years old. He said, "Say she's 19, what's the problem?" He also said he wouldn't "confine himself" to duetting with people his age and would be happy to "sing with somebody 100 if they had a good voice." 
TikTok users defended McCraw in videos and comments, saying that Cleye's behavior was inappropriate regardless of her age.
While his TikTok page is no longer up, he remains on Instagram. His most recent post is from Thursday morning, and features him singing along to "Lies" by the Thompson Twins, including the lyrics, "lies, lies, lies, yeah." When a user asked in a comment, "Are they really lies though?" Cleye responded: "truth will always find you."
At this point, McCraw said she just wants to move on.
"I really don't want the worst for anyone," she said. "I want the best for everyone. But I really do think we need to move forward. It's just we need to move forward being safe and making the right choices."