The much-heralded New York Jets debut of future Hall of Fame quarterback Aaron Rodgers ended with an injury — perhaps a season-ending one — after only a handful of plays on Monday.
Buffalo Bills linebacker Leonard Floyd sacked Rodgers on New York's first series, and the ex-Green Bay Packers signal caller struggled to get off the turf at MetLife Stadium in East Rutherford, New Jersey.
He was replaced by former Jets starter Zach Wilson and carted off the field. "Monday Night Football" cameras showed Rodgers limping into the Jets' locker room with a boot on his left foot and lower leg.
X-rays showed there was no break, but the Jets announced he would not play the rest of the game, which New York went on to win in overtime, 22-16. Xavier Gipson's 65-yard punt return ended the game in victory for the Jets.
But Rodgers' status overshadowed everything.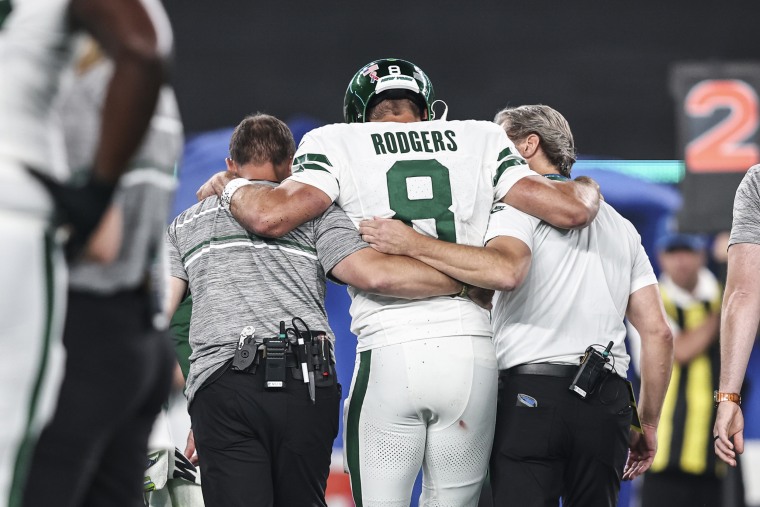 New York coach Robert Saleh said the team fears Rodgers might have suffered a devastating Achilles tear, which would sideline him for the season.
"MRI is probably going to confirm what we think is already going to happen, so prayers tonight but it's not good," Saleh told reporters after the game.
"That part sucks. I'm going to enjoy this win. Winning in the NFL is hard regardless of who the quarterback is. Personally I don't hurt for me. I don't hurt for our locker room. I hurt for Aaron and how much he's invested in all of this. So I'm still going to say prayer, I'm still going to hold out hope, but my heart is with Aaron right now."
Gipson admitted that the team's "energy kind of got low" after Rodgers went down.
"In my mind, I'm thinking like let's win this game for Aaron Rodgers," Gipson told ESPN moments after the victory. "He works hard. He worked hard all week."
Rodgers took four snaps Monday night: Handing it off to running back Breece Hall for a 26-yard gain, throwing an incomplete pass and drawing a 5-yard Bills penalty before the sack.
Rodgers, 39, had spent his entire career with the Packers, winning four NFL MVP awards. He was the MVP of the Super Bowl on Feb. 6, 2011, when Green Bay defeated the Pittsburgh Steelers, 31-25.
In addition to his play, Rodgers has been reliably durable, having started at least 15 games in 13 of the last 15 seasons.
His arrival with the Jets was celebrated by long-suffering Gang Green fans who hoped he'd be able to turn around the franchise, which has endured seven consecutive losing seasons.
The Jets have been desperately searching for a transformative quarterback to make them Super Bowl contenders again. They have won one Super Bowl, the famed 1969 title game.
That triumph happened so long ago that it came against a team, the Baltimore Colts, that hasn't called Maryland home since the 1980s and in a stadium, Miami's Orange Bowl, that no longer stands.
After they drafted Mark Sanchez with the fifth overall pick of 2009, the Jets went on to take Sam Darnold with the overall No. 3 selection in 2018 and then Wilson at No. 2 in 2021.
Wilson was benched at the end of last season before the Jets pinned their hopes on the veteran Rodgers.
The drama surrounding Rodgers' arrival with the Jets drew the interest of HBO's popular reality show "Hard Knocks."
And his debut was a primetime event that many across the country were tuned into.
"Hate that, man..." Kansas City Chiefs quarterback Patrick Mahomes tweeted after Rodgers went down Monday night. "Praying for the best."
Wilson played reasonably well for the Jets on Monday night, completing 14 of 21 passes for 140 yards with one touchdown and one interception.
If Rodgers is finished for 2023, then Wilson will be the starting QB, Saleh said.
"We still have a lot of faith in him," the coach said. "I think we've proven that by keeping him here and continuing to invest in him and excited for him and his opportunity."