It's been home, not-so-sweet home for the Houston Astros and Washington Nationals.
The World Series will be settled by a Game 7 in Houston, following Washington's 7-2 historic road victory Tuesday night at Minute Maid Park.
This year's Fall Classic is the first to see the first six games won by the visiting team. In the 1996 Atlanta Braves-New York Yankees World Series, visitors won the first five games before the Bronx Bombers ended it with a home triumph in Game 6.
On Tuesday, Adam Eaton and Juan Soto blasted home runs for Washington in the fifth inning, giving their team the lead for good and silencing the hostile Houston partisans.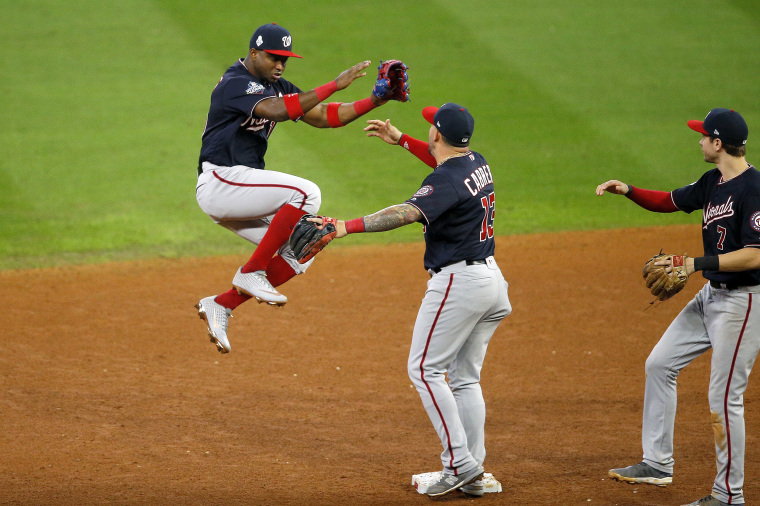 But the game's most-talked-about play came in the seventh inning when the Nationals appeared to have a huge rally going with two runners on and no one out. But umpires ruled that Washington's Trea Turner interfered with a play at first base by running inside the line and obstructing the throw.
That controversial call was rendered moot moments later when Anthony Rendon, a Houston native and Rice University alum, blasted a two-run home run to give Washington insurance.
Despite Rendon's homer, Nationals manager Dave Martinez was fuming about the Turner call. During the seventh inning, as fans sang "Take Me Out to the Ball Game," an enraged Martinez continued his tirade at umpires and was ejected.
His bench coach Chip Hale took over the squad and guided Washington for the final 2 1/2 innings.
Game 7 is set for 8:08 p.m. ET on Wednesday.
Four of the past six Fall Classics have been pushed to a winner-take-all seven games with the San Francisco Giants edging the Kansas City Royals in 2014; the Chicago Cubs slipping past the Cleveland Indians in 2016; and the Astros squeaking by the Los Angeles Dodgers in 2017.
CORRECTION (Oct. 30, 2019, 12:05 p.m. ET): A previous version of this article misstated when Game 7 will be played. It is Wednesday, not Thursday.