The teenage son of a former Miami Dolphins linebacker has been charged with killing his father and mother at their Houston home.
The 16-year-old was charged as a juvenile and being questioned by investigators in connection with the deaths of Antonio and Dawn Armstrong, NBC affiliate KPRC reported.
Two of the couple's other children were in the house when the shootings happened around 2 a.m. local time Friday and neither was hurt, the station reported.
A stunned investigator who called the Armstrongs an "all-American family" said they have not yet determined a motive.
"This was an outstanding family," Houston police homicide investigator Jimmy Dodson told KPRC. "He was an associate pastor in the area church. He's a great guy. The mother was apparently a great mother, according to family members."
Police did not release the accused teen's name because of his age.
Dawn Armstrong died at the scene, police said. Her husband was pronounced dead later at Memorial Hermann Hospital from a gunshot wound to the head.
Before turning pro, Armstrong was a college football star at Texas A&M, where he played for the Aggies from 1991 to 1994 and a cornerstone of the school's famed "Wrecking Crew" defense.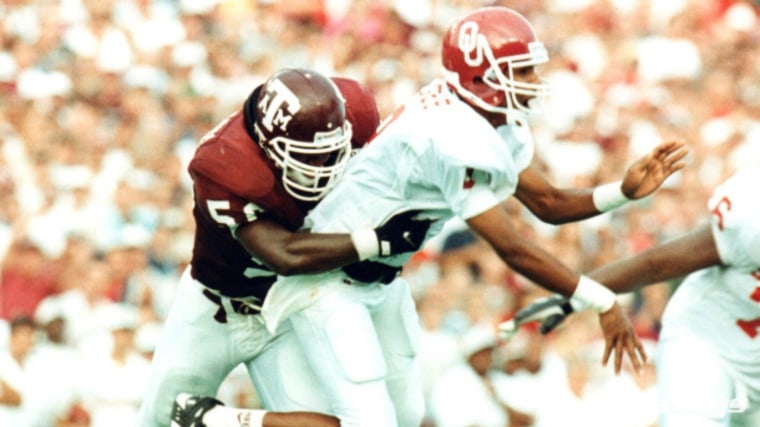 He was named first-team Associated Press All-America linebacker in 1994 and was drafted in the sixth round of the 1995 NFL Draft by the San Francisco 49ers.
An ankle fracture in training camp led to his release that October. He signed with the Dolphins and played in four games with Miami that season, logging four solo tackles.
The Miami Dolphins said in a statement that they were "saddened by the tragic" deaths.
"Our thoughts and prayers go out to his family and friends during this difficult time," the team said.