Arnold Palmer — the pants-hitching, chain-smoking son of a greenskeeper who helped transform golf from an elite country club pursuit into a sport for the masses, winning every major honor the game has to offer along the way — died Sunday at age 87.
Alastair Johnson, chief executive of Arnold Palmer Enterprises, told The Golf Channel — which Palmer co-founded, among his many successful business enterprises — that Palmer died Sunday afternoon from complications of heart problems. (The Golf Channel is a unit of the NBC Sports Group.)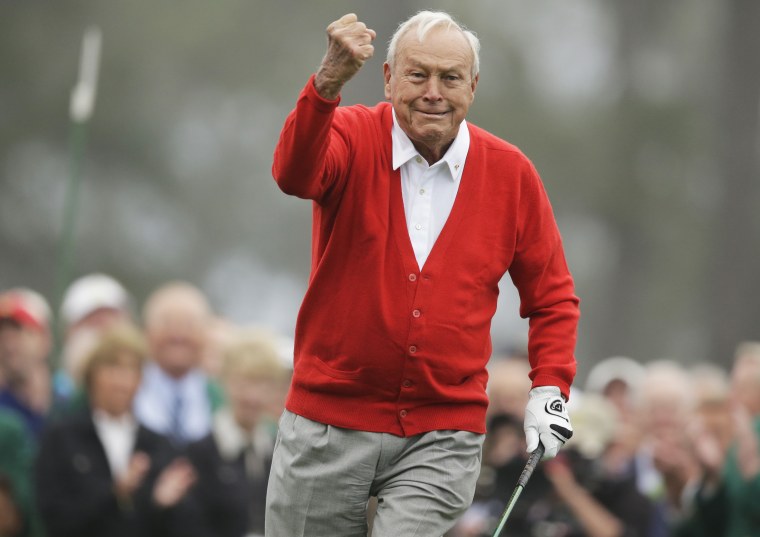 "We are deeply saddened by the death of Arnold Palmer, golf's greatest ambassador, at age 87," the USGA said Sunday night. Multiple reports said he died in Pittsburgh, near his lifetime home of Latrobe, Pa.
Palmer, known as "the King," pursued a rivalry with Jack Nicklaus — whose own nickname, "the Golden Bear," illustrated the differences in their styles and personalities — that thrilled fans for three decades.
In a note posted to Twitter on Sunday, Nicklaus called Palmer one of his best friends, saying they last spoke on Palmer's birthday, Sept. 10. Palmer sounded great, Nicklaus said.
"I know he was in Pittsburgh trying to find out how to make himself better," Nicklaus wrote. "That's what Arnold has always tried to do. He has always been a fighter and he never gave up on anything."
Nicklaus added: "Arnold transcended the game of golf. He was more than a golfer or even great golfer. He was an icon. He was a legend. Arnold was someone who was a pioneer in his sport. He took the game from one level to a higher level, virtually by himself."
Golf Channel: We May Never See the Likes of Arnold Palmer Again
At a time when some professional golfers were still tooling around the course in plus-fours, Palmer popularized a modern, exciting form of golf on the edge, often scrambling to save par or even come in under par after having driven off-line into the woods or a bunker.
He played by the seat of the pants that he regularly hoisted back up to his waist — an everyman gesture that endeared him to duffers around the world. They were known as "Arnie's Army."
His biographer, James Dodson, told NBC News on Sunday: "He was the most charismatic player in golf history. Because of him, golf boomed. He took it from being a sleepy country club game to America's game."
Tim Finchem, commissioner of the PGA Tour, agreed, saying late Sunday: "It is not an exaggeration to say there would be no modern-day PGA Tour without Arnold Palmer."
Other golfers also lined up to pay tribute Sunday. Tiger Woods said it would be hard to imagine "anyone more important to the game than the King."
Related: Golfers Lionize Arnold Palmer on Social Media
Dustin Johnson, winner of this year's U.S. Open, said on Twitter that Palmer was "truly one of golf's greatest icons," adding: "His legacy will live on."
Three-time PGA Tour winner Rickie Fowler, meanwhile, said late Sunday that he would "never forget the bear hug in front of the clubhouse at Augusta," Ga., where Palmer annually took the ceremonial opening tee shot at The Masters.
"Thank you for being you and giving me the opportunity to do what I get to do every day," Fowler said. "I love you as did everyone!"
Palmer was born in Latrobe, where his father, Deacon Palmer, was the head pro and greenskeeper at Latrobe Country Club.
After attending Wake Forest College (now Wake Forest University) in Winston-Salem, N.C., which he attended on a golf scholarship, Palmer served three years in the Coast Guard before returning to school and winning the U.S. Amateur Open in 1954.
He quickly turned pro, and it wasn't long before he won the Canadian Open in 1955. He went on to win seven major championships among his 95 tournament victories — including four Masters. Several of his victories came in gritty matchups with Nicklaus as they built one of the leading rivalries in all of sports.
He completed his last Masters in 1984 — the 50th straight year he'd qualified for the game's marquee tournament.
Palmer became nearly as well known for his entrepreneurial pursuits as his golf talent. He bought the Latrobe Country Club, where he'd worked with his father as a child, in 1971.
He was principal owner of the Bay Hill Club and Lodge in Orlando, Fla., where the elite Arnold Palmer Invitational is held, as well as the famed Pebble Beach golf complex in Monterey, Calif., which he bought with investors.
He co-founded the Golf Channel, which was acquired by Comcast in 2000 and is now part of the NBC Sports Group, and Arizona Iced Tea began selling his favorite drink — the Arnold Palmer, half-tea, half-lemonade.
Arnie's Army also became a charitable foundation providing financial support for children, families and the environment, among other things, according to the foundation's website.
President Barack Obama tweeted a photo of his putting in the Oval Office as Palmer looked on.
"Here's to The King who was as extraordinary on the links as he was generous to others," Obama said. "Thanks for the memories, Arnold."
And former President George W. Bush, who presented Palmer with the Presidential Medal of Freedom in 2004, captured Palmer's impact in a statement Sunday night, which read in part: "For all who love the game of golf and love to see it played, there has never been a sight quite like Arnold Palmer walking down the fairway toward the 18th green."