Former New York Mets manager Bobby Valentine remembers the lengths to which his lefty pitcher Al Leiter would go to protect his arsenal of pitches when the team played on the road. Leiter wanted to change the signs so many times that it drove his catchers crazy.
"I promise you, when Al Leiter went into some stadiums, he was so paranoid that the other team had our signs, Mike Piazza wanted to whack Leiter when he went to the mound for a visit," Valentine said in an interview Tuesday.
His comments came a day after Major League Baseball Commissioner Rob Manfred suspended Houston Astros general manager Jeff Luhnow and manager A.J. Hinch for the entire 2020 season, without pay, for their involvement in an electronic sign-stealing operation in 2017 and 2018. Pitchers lose the element of surprise if their signs are stolen, giving batters a huge advantage because they know what pitch is coming.
"Teams always look for an advantage," Valentine said. "The bigger question and solution going forward is not who to suspend or fire. It's if the technology is out there to do this, the only way to combat technology is with technology. The league should come up with a firewall to keep technology from interfering with play."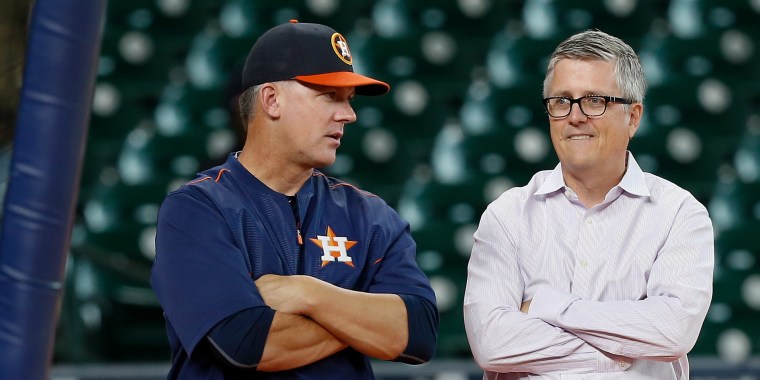 Preventing future sign-stealing scandals is one of many thorny issues that confront Manfred and the sport in the wake of Luhnow and Hinch's downfall. Astros owner Jim Crane fired both men shortly after Manfred's statement outlining the discipline was released. (In addition to the suspensions, Crane was fined $5 million and the team had to forfeit its first- and second-round draft picks for 2020 and 2021.)
No players were disciplined in Manfred's nine-page report, even though Manfred named Carlos Beltrán — the Mets' current manager — as one of the Astros players who was actively involved in the operation. Another former Astros coach, Alex Cora, was fired as manager of the Boston Red Sox. Manfred has withheld his decision on Cora because the Red Sox are under investigation by MLB for similar alleged rules infractions.
"I don't think he chose to discipline players because if he did, the Players Association would have had the ability to, in effect, grieve all of it in front of an arbitrator," a baseball official said, referring to the baseball players' union.
Another baseball source said that unlike Luhnow and Hinch, major league players "have rights and can take grievances to an arbitrator."
"He would be picking a fight he doesn't need," the source said of Manfred.
Manfred said the Astros used the video feed from a center field camera at their home field, Minute Maid Park, to decode opposing teams' signs and had players bang on a trash can near their dugout to signal certain pitches. The illegal scheme was used during the 2017 and 2018 regular seasons and the 2017 postseason, when the Astros beat the New York Yankees in the American League Championship Series and the Los Angeles Dodgers in the World Series.
"These guys are cheating in the World Series, and no players are disciplined, and those two guys get yearlong suspensions?" a baseball insider said of Hinch and Luhnow. "Ridiculous."
Download the NBC News app for breaking news
The mess will likely continue to garner attention leading into spring training and the 2020 season, especially afterCora was fired Tuesday evening. What, if any, fallout awaits Beltrán? Beyond those two, will the punishments exacted by Manfred be enough of a deterrent to prevent this kind of cheating in the future?
"This just seems like Bonds, Clemens and A-Rod, and no more steroids," said Valentine, comparing the sign-stealing scandal to the performance-enhancing drug scourge that clouded the game in the late 1990s and throughout the next decade and a half. Barry Bonds, Roger Clemens and Alex Rodriguez, nicknamed A-Rod, have all been linked to PED use, and Rodriguez was suspended for an entire season for his involvement in a doping scandal.
"How many layers of the onion do you peel back? This is not starting and stopping with Houston," Valentine added.
Former Commissioner Fay Vincent, who presided over the game when its all-time hits king, Pete Rose, was banned for life for betting on baseball games, said Manfred needed to send a message.
"I think that I might have even been a little more draconian, more severe, with the discipline, because this sort of technology feed goes to the heart of the game," Vincent said.
"When you use a television camera or get involved in technology the way these guys were doing it, you're obviously crossing the line," he added. "You have to make sure everybody understands what happens if you cheat. They knew they were cheating. There's no question. They were trying to get an unfair advantage. In some respects, it's worse than the betting on baseball, because it's trying to affect the result on the field by some technological advantages.
"Baseball's got to stop that."