One of the nation's foremost experts on infectious diseases, Dr. Anthony Fauci, gave baseball fans hope this week when he said a season could start amid the coronavirus pandemic if games are played in empty stadiums and players are sequestered in hotels.
"Put (players) in big hotels wherever you want to play, keep them very well surveilled," Fauci, director of the National Institute of Allergy and Infectious Diseases, said in an interview with Peter Hamby on the Snapchat show "Good Luck America.""Have them tested every single week and make sure they don't wind up infecting each other or their family. Just let them play the season out."
Major League Baseball, or MLB, shut down spring training last month and hasn't been able to say much about when, or whether, things can resume.
Commissioner Rob Manfred told The Associated Press on Wednesday that MLB is doing everything it can to get a season underway.
"I think it's incumbent upon us to turn over every stone to try to play the game in 2020 if there's any way we can in the environment," he said. "I think we all need, no matter what your predilection is, to wait for the situation to unfold more, give us more information and then make realistic decisions about what's possible."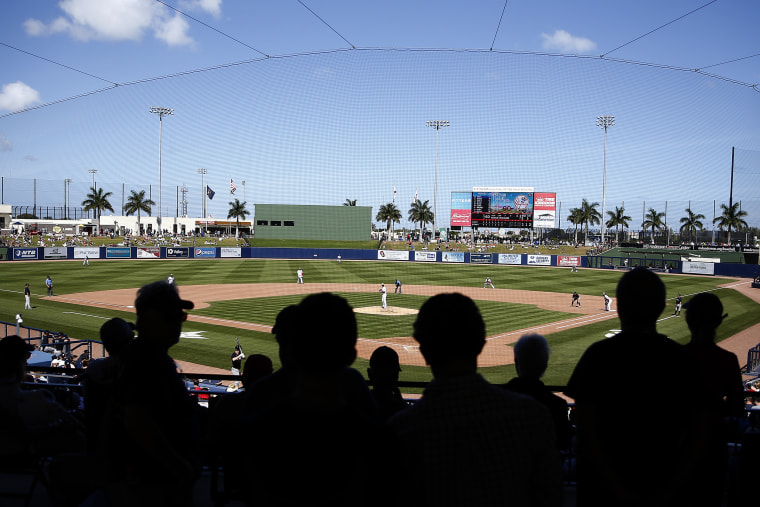 A league spokesperson told NBC News in a statement on behalf of Manfred: "Only one decision, however, has been made with respect to the 2020 season: Major League Baseball will return to the field only when public health officials agree that it is appropriate to play and when we are convinced that our return to the field is safe for players, employees and fans."
But while a report last week detailed a contingency plan that follows Fauci's recommendations — games played in Arizona in front of no fans possibly as soon as next month — medical experts expressed a wide range of concerns about starting America's pastime again.
"This virus is calling the shots," said Dr. Chris Worsham, a pulmonary and critical care physician at Massachusetts General Hospital and Harvard Medical School. "There's not a single prediction out there that the coronavirus will be gone by then. The coronavirus will tell us what's to be done. We're doing what we can now to prevent the spread."
In the ESPN report that outlined the Arizona plan, players, managers, coaches and other team personnel would stay in hotels and shuttle between stadiums each day, playing games at spring training sites and Chase Field, home of the Arizona Diamondbacks, in a bubble-like existence.
Gov. Doug Ducey said during a news conference Tuesday that the state would welcome hosting all 30 teams to play a season, but Worsham said Arizona residents might feel differently.
"If Phoenix or other Arizona communities get an influx of out-of-towners — you bring teams to that community — what if we see an influx of [coronavirus] cases?" Worsham asked. "It's one thing if an umpire gets sick, but what if a couple people from each team become infected and the ICUs fill up? The downstream effects of all of this are hard to predict."
And while Fauci said in his interview that players should be tested weekly, other medical experts think testing would have to be more frequent.
"You would probably need to do ongoing, rapid testing. If you did a season in such a way, testing is key. But you would need to do it on a daily basis," said Dr. Paul Currier, a physician at Massachusetts General who specializes in pulmonary and critical care medicine. "We think about baseball players — they may be touching their faces [for signs], they're sliding into second. There's going to be contact. Are they going to be playing with masks on?"
Dr. Dean Winslow, a professor of medicine at Stanford University Medical Center, said that daily testing would be "excessive" and that asking fans to wear masks at stadiums once they're allowed back is reasonable, but he said requiring players to do the same might be problematic.
"We wear surgical procedure masks when making rounds, and it's really hard to breathe," Winslow said. "I would not want to be an athlete wearing a surgical procedure mask when I'm charging hard to [stretch] a double into a triple."
And what about asking players to eschew spitting inside a stadium? Or eliminating eating sunflower seeds?
Beyond the health and safety protocols that would need to be in place for players and team personnel, there are broader moral questions. If a season starts and players are to be tested — either daily or weekly — how would the public react during the pandemic if tests were being provided to professional athletes but there weren't enough for everyone else?
"It would be irresponsible to use so much testing for this purpose," Currier said. "In a month or two, when we have the capacity, then that discussion can take place. I think it's way too early to think about these things, and it gets worse before it gets better."
For now, Worsham said, the focus should be on the efforts to help the broader recovery.
"Where do we want to devote our public health efforts — to get pieces of the economy up and running? Playing baseball might not be the first choice," Worsham said. "Most would probably rather focus on the safety of our health care professionals or people who are providing our food at your local store. If the person bagging the groceries is without a mask because there are not enough available and professional athletes are using them, instead, that might not sit well."