Boxing great Pernell "Sweet Pea" Whitaker, who won Olympic gold and championship belts in four weight classes, was killed after being struck by a pickup truck in his native Virginia on Sunday, police said.
He was 55.
Whitaker was crossing the intersection of Northampton Boulevard and Baker Road in Virginia Beach shortly after 10 p.m. when he was hit, police said.
He was pronounced dead at the scene and the driver remained there to be interviewed by police, authorities said.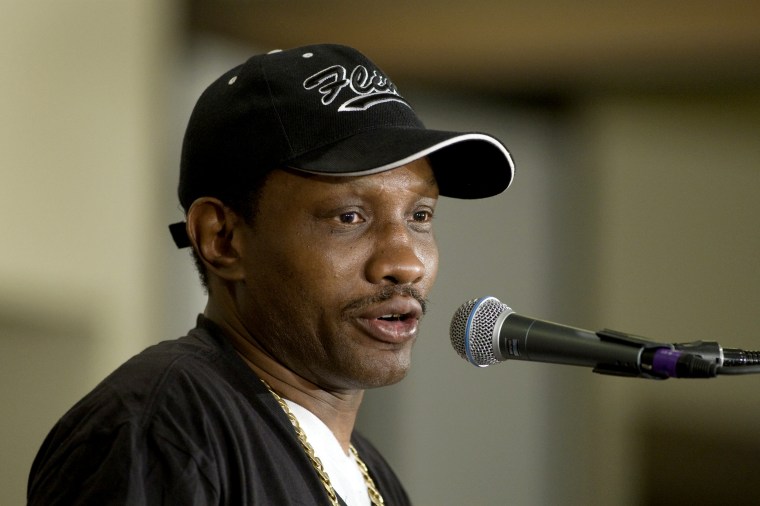 While investigators still have to confer with prosecutors, police don't believe speed or alcohol played a role in the deadly collision, officials told NBC News.
"From Olympic gold to world championships in four weight divisions, Pernell Whitaker was one of the greatest boxers to ever lace up a pair of gloves," International Boxing Hall of Fame Executive Director Edward Brophy said in a statement.
"Everyone at the Hall of Fame joins the boxing community in mourning his passing and offers our condolences to his family."
Whitaker trained fighters for several years after hanging up his gloves, but had in recent times been totally retired from the ring, his agents at Main Events Boxing said.
But Whitaker was still very active, making weekly appearances at either autograph signing shows, speaking engagements and other public events, according to Main Events.
"I have no words so sad, not only was he one of the best to ever do it, he was a great friend outside the ring, he was our family at Main Events not just our fighter," tweeted Jolene Mizzone, vice president of operations at Main Events.
"Not a week would go by that he didn't call us at the office. He was the most loyal guy I knew. RIP Pernell."
Most boxing fans first got to know the southpaw Whitaker during the 1984 Olympics in Los Angeles, when he struck gold in the lightweight division.
He would go on to win lightweight, light welterweight, welterweight and light middleweight titles in a career that lasted until 2001. His career pro record was 40-4-1.
He was inducted into the International Boxing Hall of Fame in 2007.