Just a day after his reinstatement to the NFL, Cleveland Browns star Myles Garrett doubled down on his claim that November's end-of-game brawl that led to his suspension was sparked by Pittsburgh Steelers' Mason Rudolph using a racial slur.
"He called me the N-word," Garrett told ESPN's 'Outside The Lines' during an interview that aired Thursday evening on SportsCenter. "He called me a 'stupid N-word.'"
Garrett ripped Rudolph's helmet off his head and hit him with it near the close of the rivals' Nov. 14 game, played in Cleveland. The attack sparked a brawl involving multiple players from both teams.
Garrett was suspended indefinitely, and just reinstated Wednesday after meeting with NFL commissioner Roger Goodell, according to a statement from the Browns.
Download the NBC News app for breaking news
The defensive end had first apologized and said he made a "terrible mistake" in a statement released by the Browns the day after the brawl.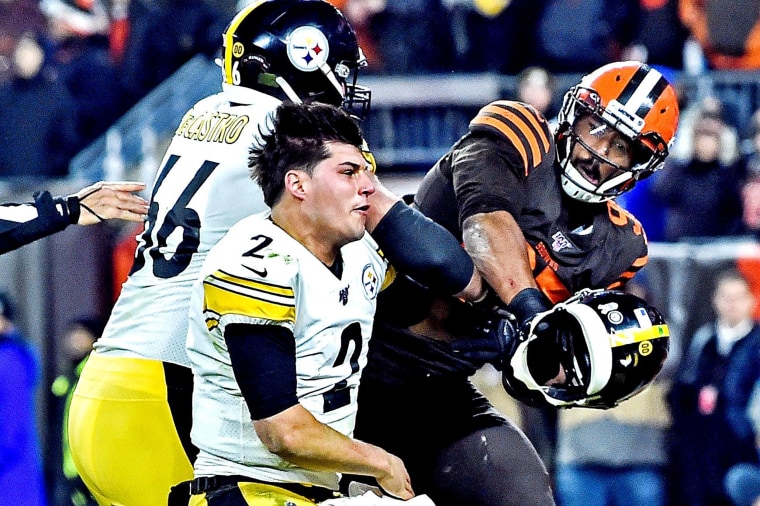 "I lost my cool and what I did was selfish and unacceptable. I know that we are all responsible for our actions and I can only prove my true character through my actions moving forward," Garrett said in an apology to Rudolph, his teammates, the NFL and fans. "I know I have to be accountable for what happened, learn from my mistake and I fully intend to do so."
But during an appeal hearing later in November, Garrett claimed his attack followed Rudolph's use of a racial slur. He was not clear at the time what the slur was, but Rudolph's attorney and the Steelers denied the quarterback made any offensive remark.
Rudolph's attorney, Timothy Younger, suggested Garrett was lying. He said in a statement that the accusation was "conspicuously absent in the apology published by the Browns and adopted by Garrett."
But in Thursday's interview, Garrett maintained his version of events.
"When he said it, it kind of sparked something, but I still tried to let it go and still walk away," Garrett said. "But once he came back, it kind of reignited the situation. And not only have you escalated things past what they needed to be with such little time in the game left, now you're trying to reengage and start a fight again. It's definitely not entirely his fault; it's definitely both parties doing something that we shouldn't have been doing."
"I don't say the N-word, whether it's with 'a' [or] 'er.' To me personally, just shouldn't be said, and whether it's by family, friends, anyone," Garrett added. "I don't want to use it because I don't want [people to] find that appropriate around me for anyone to use."
Neither Younger nor the Steelers immediately responded to a request for comment Friday.