LOS ANGELES — Where's Teddy Roosevelt when you need him?
The National Collegiate Athletic Association is facing what sports law experts say is its worst crisis since Roosevelt was president and college football was a brutal, even deadly, game under pressure to improve safety. Roosevelt, a fan of the game, gathered the presidents of Harvard, Yale and Princeton in 1905 to hash out reforms, an effort that would drive the creation of the NCAA the following year.
Now, after California Gov. Gavin Newsom signed legislation on Monday allowing college athletes to hire agents and to be paid for endorsements and the use of their images, the NCAA is again in crisis, experts said, and it's not clear who will play Roosevelt this time to resolve the dispute over whether college athletes should be paid.
The NCAA has always insisted that college athletes are amateurs who shouldn't profit financially from their talents.
Meanwhile, major college football and basketball coaches are paid millions of dollars a year, and big athletic departments reap millions from brand sponsorships and TV contracts. The NCAA itself reported slightly more than $1 billion in revenue in the fiscal year that ended in August 2018, the last for which full figures are available.
Newsom called that a "bankrupt deal" as he signed the legislation during an appearance Monday on the basketball superstar LeBron James' HBO show, "The Shop."
Current NCAA regulations ban athletes from signing endorsement deals or accepting any payment for the use of their images. The California law, which is scheduled to go into effect in 2023, would let them do so, and it would specifically prohibit the NCAA from punishing them.
Newsom said the law would "change college sports for the better by having, now, the interest, finally, of the athletes on par with the interests of the institution."
"Look, they're a little panicked, because they recognize they're vulnerable. People are hitting this, not just in California, but all across the country, because the gig's up," Newsom said.
"Billions and billions of dollars — 14-plus billion dollars — goes to these universities, goes to these colleges, billion-plus revenue to the NCAA themselves," he said. "And the actual product, the folks that are putting their lives on the line, putting everything on the line, are getting nothing."
The NCAA, which had urged Newsom to veto the bill, acknowledged Monday that change was needed, but it said in a statement that reform should come only "through the NCAA's rules-making process."
"Unfortunately, this new law already is creating confusion for current and future student-athletes, coaches, administrators and campuses, and not just in California," it said.
The NCAA said it was considering "next steps in California while our members move forward with ongoing efforts to make adjustments to NCAA name, image and likeness rules that are both realistic in modern society and tied to higher education."
Tim Nevius, executive director of the College Athlete Advocacy Initiative, which provides legal support to athletes in disputes with the NCAA, said that while the NCAA insists that its stance trumpets the idea of amateurism, "it's really for the purpose of maintaining power and money."
"I think it's especially relevant to note that this whole enterprise is entirely professional, except the players are not paid," said Nevius, a lawyer who worked for the NCAA investigating alleged violations before shifting to advocating for athletes.
Nevius predicted in an interview that the NCAA would fight the California legislation in court, which he said would be "foolish and unsuccessful" because "there's mounting pressure on the NCAA to come to grips with the fact that its rules are outdated, repressive and unjust."
Another option would be for the NCAA to simply kick the California colleges out. That, too, would be "incredibly foolish," Nevius said.
Almost 60 California colleges compete in NCAA sports, which are divided into three tiers. The top tier, Division I, includes 23 California schools, four of which are members of the powerful Pacific-12 conference: the University of Southern California, the University of California-Los Angeles, the University of California-Berkeley and Stanford University.
"That's a lot of institutions that could be affected by this. It's quite feasible they could go it alone," said Nellie Drew, a sports law professor and director of the Center for the Advancement of Sport at the University at Buffalo Law School.
Nevius agreed, saying: "College sports can exist without the NCAA. California colleges can form their own association if they had to."
'Harmful and, we believe, unconstitutional'
The NCAA is unlikely to go down without a fight.
In a letter to state legislative leaders three weeks ago, the NCAA's board of governors called the measure "harmful and, we believe, unconstitutional." It said California colleges would have an unfair advantage in recruiting star athletes, an edge that it said "would result in them eventually being unable to compete in NCAA competitions."
"Yes, California colleges will be able to attract better talent, because they [would] have the ability to capitalize on the enormous popularity of their athletes' reputation and skills," Nevius said. "That's basic economics."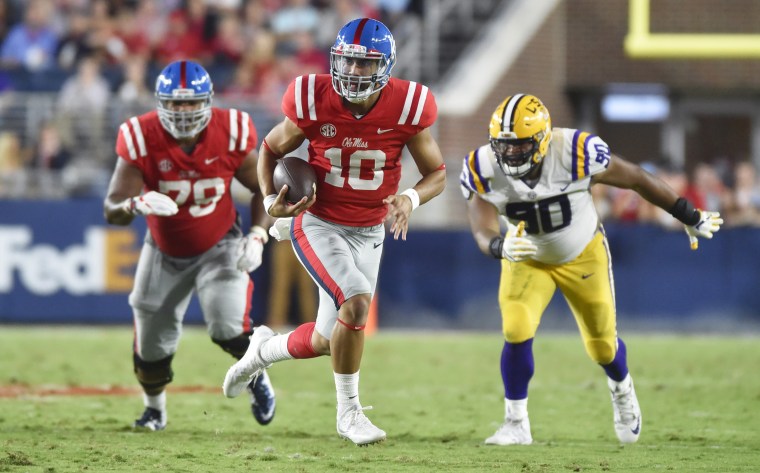 But it's a false argument, he said, pointing to the NCAA's long history of recruiting and under-the-table payment scandals.
"Unfair recruiting advantages — that's the fact right now," he said. "There is no concern in that regard."
Nevius said that it should be a no-brainer for the NCAA to let athletes get paid, because its current rules "have a disproportionately negative effect on athletes of color and athletes of low-income background."
"There's something here for anyone of any political ideology," he said. "Not only do we have civil rights issues [and] we have workers' rights issues, but we also have free market principles at play here."
In any event, Drew said, the law is likely to be on California's side.
"State regulation in this area affects interstate commerce," Drew said in an interview, and the current conservative Supreme Court "tends to favor states' rights."
"This could be a very long, very interesting series of legal battles, she said.
That's because if other states follow California's lead — similar efforts are already underway in New York, South Carolina and elsewhere — "you could potentially have 50 different jurisdictions with 50 different sets of rules."
"That's a mess for the NCAA. It's a mess," said Drew, who called the looming showdown "the single biggest threat the NCAA has faced, maybe, in its history."
'Take it seriously now'
It's impossible to predict how the dispute will shake out by the time California's law goes into effect in 2023. That means "you've got uncertainty, and that's a really bad thing for coaches, institutions and athletes," Drew said.
"How would you like to be the recruiting coordinator for an NCAA football team?" she asked, suggesting that some top high school athletes might shy away from California colleges if they can't play for NCAA championships.
"Why take that risk if you could also go to Notre Dame?" she asked. "Alternatively, you could make a lot more money in California than in Indiana," where the University of Notre Dame is.
In the meantime, colleges and star athletes alike need to be flexible to be ready for whatever the future holds, said Jim Cavale, chief executive of INFLCR, a sports marketing consultancy based in Birmingham, Alabama.
INFLCR (it's short for "influencer") works with colleges and athletes to help both get the biggest bang for the buck from their "influencers" on social media — the big-time coaches and the playing-field idols alike.
"You've got these kids that need to be protected," Cavale said in an interview. "Who's going to protect them in getting the right deal, the appropriate deal, and manage all this money that's more than anything they've ever seen in their life?"
Cavale advised high school stars and their families to "take it seriously now."
"Really start telling your story on social media now, and start doing it in a way that engages with all the different people following you as a recruit," he said, quoting LeBron James' policy of controlling his own public image "as an athlete and more than an athlete."
If athletes are eventually able to sign lucrative endorsement and sponsorship deals, their public images could decide whether they're able to cash in for millions at a marquee school.
"Once you get to the four- and five-star levels of recruiting, talent is pretty equal, and it becomes more about who you are as a person," Cavale said.
"You should think about the brands that you really believe in, and you should almost have those brands in mind to be ready to talk about should you be a five-star recruit that signs with North Carolina and has 500,000 followers," he said. "You're going to have a lot of opportunities. Be ready for those conversations."
At the same time, colleges should also get to work, Cavale said.
Coaches and administrators should ask where the billions of dollars that brands are spend on college sports will move — will they switch from being spent "with the teams and the conferences to being shared with the athletes? Or will it be all new revenue or new dollars?"
"The ones who start preparing for it now — thinking about their organization charts, thinking about some of the things they should be asking questions about — these are the ones who are going to win."