New York Knicks legend Charles Oakley has been banned from entering Madison Square Garden indefinitely after being ejected Wednesday, the venue's chairman said Friday afternoon.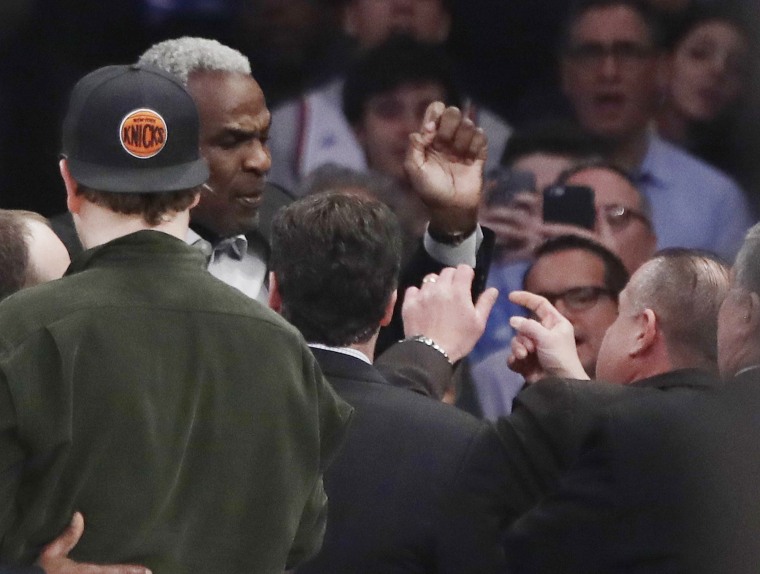 "We're going to put the ban in place and hopefully it won't be forever," said James Dolan, adding that he was concerned with fans' level of safety during the games.
Related: Why Was a Basketball Legend Dragged Out of Arena in Handcuffs?
Dolan told ESPN Radio's Michael Kay in an interview Friday that he had fired Madison Square Garden's security chief two days after the arrest of Oakley. He cited "handling of the Oakley incident" as the reason behind the firing.
The security chief, Frank Benedetto, who began in the role in August after working in the Secret Service for nearly 30 years, could not immediately be reached for comment.
Oakley responded Friday on Twitter that he still has "love" for New York City and the Knicks.
Wednesday night's fracas surrounding Oakley, 53, lit up social media, with current and former NBA players bashing his ejection as "sad" and disrespectful to a fan favorite nicknamed the "Chairman of the Boards."
Oakley was involved in an altercation in the stands, prompting security to try and boot him. The situation escalated, and he was forced to the ground and handcuffed — creating a temporary stop in the Knicks' home game against the Los Angeles Clippers.
The Knicks said in a statement that Oakley "behaved in a highly inappropriate and completely abusive manner. ... He was a great Knick and we hope he gets some help soon."
They also distributed a witness report earlier Friday featuring more than a dozen witnesses from throughout the arena, matching their description of Oakley's behavior.
The NYPD charged him with three counts of assault and gave him a desk appearance.
Oakley was seated several rows behind Dolan and was reportedly insulting him during the game — the former player has been a vocal critic of the billionaire businessman's leadership.
In an interview with the New York Daily News, Oakley denied even knowing Dolan was there and said he was the target of harassment minutes after sitting down.
"I said why do you guys keep staring at me. Then they asked me to leave," Oakley told the newspaper. "And I said I'm not leaving."
Video shows a combative Oakley pushing back security as they tried to escort him out.
Oakley played for the Knicks from 1988 to 1998, and became an integral part of the team spearheaded by Hall of Famer Patrick Ewing. He said he has been routinely harassed by security whenever he attends basketball games at the Garden.