After a weekend of peaceful protests and demonstrations over the shooting death of Keith Lamont Scott, Charlotte Mayor Jennifer Roberts lifted the citywide curfew Sunday evening.
Roberts and the chairman of the Mecklenburg Board of County Commissioners, Trevor M. Fuller, released a joint statement urging the community to continue to "show their unity in a peaceful and legal manner."
Violent protests rocked the city last week after a police officer shot and killed Scott on Tuesday. North Carolina Gov. Pat McCrory declared a state of emergency, calling in the National Guard.
As the week drew on, the demonstrations continued, but protesters remained peaceful.
Activists were demonstrating at and boycotting Sunday's NFL game between the Carolina Panthers and the Minnesota Vikings in protest of Scott's death. A sea of people took a knee outside Bank of America Stadium as "The Star-Spangled Banner" played and police in riot gear looked on.
Tonya Ford, a Charlotte resident and Panthers season ticket holder, told NBC News that she would not be attending Sunday's game.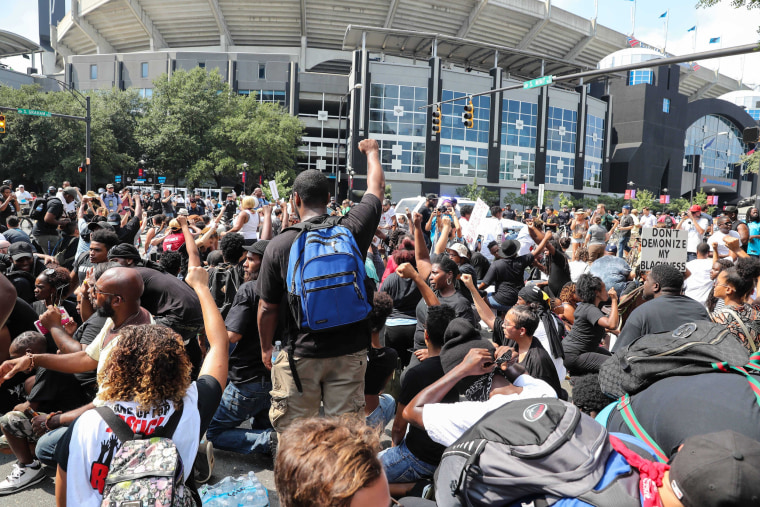 "We all want justice, we all want the truth, and as of right now, we're not getting that," Ford said. "I couldn't come out here and put on my blue Carolina Panthers T-shirts and things without having got everything we've requested."
Panthers quarterback Cam Newton — who has often been criticized for being silent on social justice issues — warmed- p for Sunday's game in a black T-shirt with the Martin Luther King Jr. quotation "Injustice anywhere is a threat to justice everywhere."
Security around the stadium was increased in light of the recent protests. About 50 Charlotte-Mecklenburg police officers dressed in riot gear got an ovation from fans waiting to get into the stadium for Sunday's game.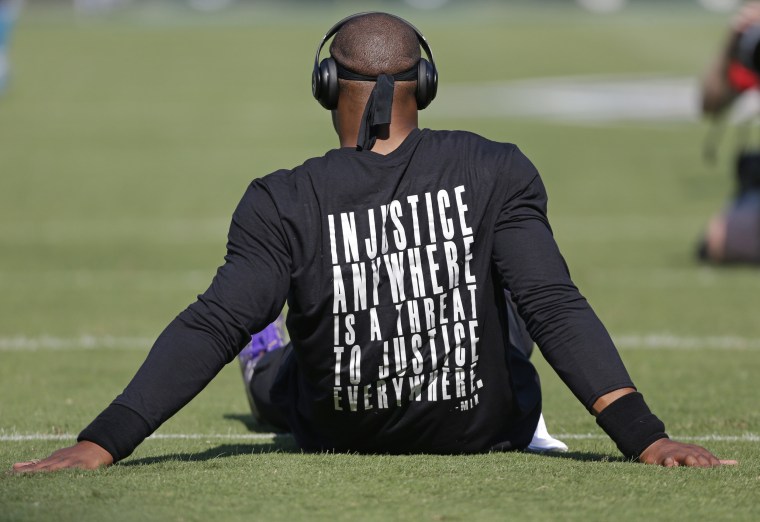 Related: Charlotte Police Release Video From Keith Lamont Scott Shooting
But after two nights of violence, protests in Charlotte remained peaceful over the weekend.