Amid a relatively low-key and low-rated NFL season, San Francisco 49ers' quarterback Colin Kaepernick has been the biggest story in football this year.
His silent sideline protests during the national anthem — to shine a light on what he considers widespread racial bias and inequity in this country — has sparked a national dialogue and debate, and inspired several other prominent athletes to follow in his footsteps.
He has also been the subject of widespread condemnation from everyone from a Supreme Court Justice to a presidential nominee, and even death threats, too.
Related: Colin Kaepernick's Protest is Part of Long Sports Tradition
And so far, he's done all that from the bench. This week, he regained his position as the starting quarterback of the 49ers, which will make him the unofficial face of an NFL franchise, meaning his activism will have the largest audience it has had yet. The question remains whether Kaepernick's polemics will prove to be a distraction for his teammates and a detriment to himself.
After a wave of largely negative press and public reaction to his initial choice to sit (and later kneel) during "The Star-Spangled Banner," Kaepernick's demonstrations appear to have caught on — at least with some of his fellow athletes, both active and retired.
He is no longer the sole 49er or NFL player who doesn't stand to salute the flag, and with either fists raised or arms locked, athletes appear more emboldened to let their sociopolitical feelings show.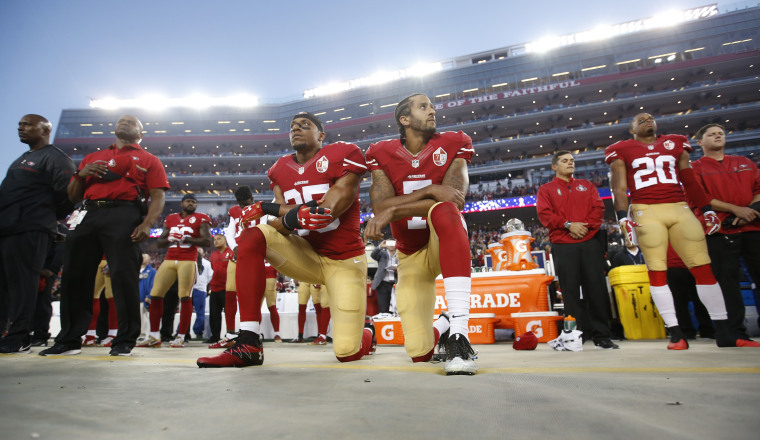 Meanwhile, a series of off-the-field incidents — such as the controversial police shootings of black men in Tulsa, Oklahoma, and Charlotte, North Carolina (the latter of which led to violent police-protester clashes) — has lent real-time examples to Kaepernick's argument about biased policing.
Related: Colin Kaepernick National Anthem Protest Catches On in NFL
"To me, this is bigger than football and it would be selfish on my part to look the other way," Kaepernick told reporters in August.
Still, even if football isn't his biggest priority, it is his livelihood, and as a starter he has much more at stake than he did as a second stringer. Just four years ago, Kaepernick led the 49ers to their first Super Bowl appearance since 1994, and despite a narrow loss, he seemed poised to be one of the most exciting and prolific passers in the game.
After a solid second season under center, injuries, a depletion of offensive weapons and, some have argued, a regression of his skill set, led to disappointing campaigns for Kaepernick in 2014 and last year. This pre-season, Kaepernick's weight loss and openly expressed desire to be traded led many to think his days in San Francisco were numbered, with or without his controversial protest movement.
"[H]e's not where he was physically. You can just look at him physically. He's not the same guy right now," 49ers head coach Chip Kelly conceded last last month. "That doesn't mean he can't be the same guy, and he's working as hard as anybody I've ever been around to get back to be that right now."
With his copious tattoos, and now, imposing Afro, Kaepernick has always presented a visceral departure from the classic image of a quarterback. And according to New York University professor and sports historian Jeffrey Sammons, his protest also runs counter to a jingoistic aesthetic which has long been the NFL's stock and trade.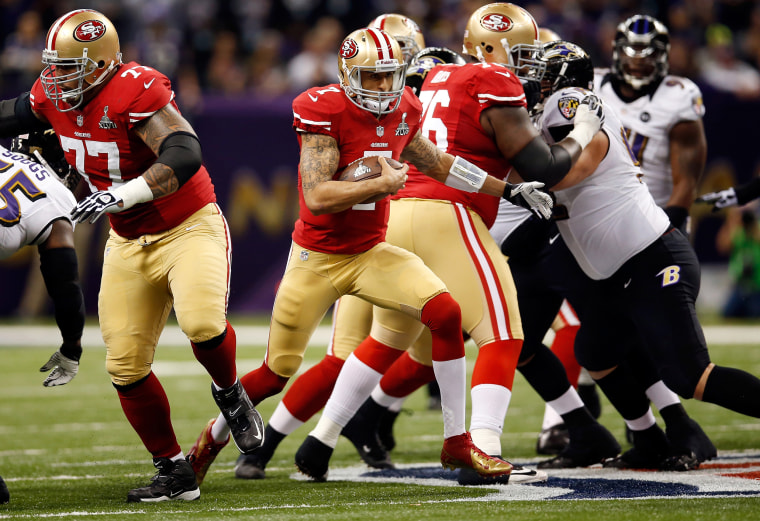 "I think that it is of all the major sports, the most militaristic," Sammons told NBC News, pointing out that the position Kaepernick plays is often nicknamed "field general." "The football athlete is the most representative of a kind of American nationalism and exceptionalism now."
"People want to believe that sport should be devoid of politics, it's an arena where people are looking for escape so why drag politics into something entertaining, something that we enjoy, something that is wholesome," he added. "I think the fundamental question is why do we have the national anthem playing at sports events in the first place?"
With the exception of outliers like former Cardinals' linebacker Dave Meggyesy, NFL players have historically not been outspoken on behalf of progressive causes — and despite the fact that the league is currently majority black, the politics of many players, coaches and front offices is decidedly reactionary.
Related: Why Donald Trump is always ready for some football
A recent (not remotely scientific) informal survey of NFL players from Bleacher Report determined that 100 percent of white players are backing Republican Donald Trump, while nearly 100 percent of black players are backing Democrat Hillary Clinton.
And this Sunday, ironically, Kaepernick's 49ers will face the Buffalo Bills, whose coach Rex Ryan is an unabashed Trump supporter. Ryan has been forced to publicly refute the same Bleacher Report analysis which suggested the current election has his locker room split decisively along racial lines.
On Sunday, the stakes couldn't be higher for Kaepernick, who is biracial and not supporting either major party candidate for president. The 49ers are off to a 1-4 start, so simply winning against the Buffalo Bills would do a lot to help his team's narrative, and his own. As other previously embattled NFL stars like Ben Roethlisberger, Ray Lewis, Tom Brady, Adrian Peterson and Michael Vick have shown — winning is often the best way to change the conversation and get in the good graces of fans.
If Kaepernick can prove that once again he can score points on the field, and not just political points off it, he could wind up being even more influential than he ever imagined. Or it will, at the very least, be an excellent audition for a spot on another squad next year.
And even if he gets injured and can no longer play, as of right now, he stands to pocket up to $14.5 million.
"Colin Kaepernick has already won," said Edge of Sports writer Dave Zirin. "We know this because he was not cut from his team in training camp. We know this because athletes across the country from middle school to the pros, to band members, to cheerleaders, are taking a knee or raising their fist to elevate awareness about police violence. We know this because he has enraged all the right people, exposing just how little patience there is for a young man to speak truth about continual injustice.
"Of course if he plays well, if the hapless 49ers all of a sudden go on a winning streak, then more reporters will talk to him and his message will be amplified further. But that's just icing at this point," he added. "Kaepernick has won and every athlete who wants to speak out going forward is better for it."