Breakout American teenage tennis phenom Cori "Coco" Gauff planned ahead of time what she was going to say to her childhood idol Venus Williams after playing her at Wimbledon.
But the 15-year-old tennis star hadn't expected to deliver her prepared remarks as the winner of the match.
"The night before, I kind of planned out what I was going to say, but I didn't think I would be on the winning end, to be honest," Gauff said on NBC's "Today" on Tuesday about the moments following her stunning first-round Wimbledon win against Williams.
"I know I say I always have belief in myself, but you know, you can see in my reaction after the match, I was so shocked, and that was definitely a really good moment," she said.
Competing against her role model made her "excited" rather than nervous, Gauff said. She assumed she would be playing one of the Williams sisters, but it didn't fully hit her that she was playing Venus until she saw the lineup on the Wimbledon app, she said.
Much about Gauff's meteoric rise in the world of tennis at Wimbledon is shocking to her. The teenager earned a wild-card spot at the tournament, and made it to the fourth round before Simona Halep, the world's No. 7-ranked women's singles player, defeated her 6-3, 6-3 Monday.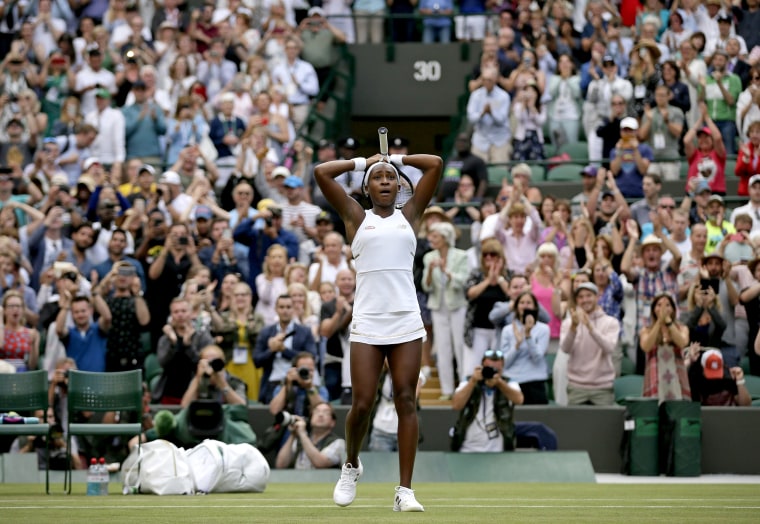 "I woke up and I'm still living a dream. Walking on the street, people are asking for pictures, so that's just really crazy," Gauff said.
"I don't think I'll ever believe it to be honest," she said.
Between playing Williams and Halep, Gauff upset Magdalena Rybarikova of Slovakia and Polona Hercog of Slovenia.
In her match against Hercog, Gauff made a stunning comeback, winning 3-6, 7-6, 7-5 after facing two match points.
"I was just telling myself to go for my shots, like it's either now or never. I always believe in myself even when the score line doesn't say so," Gauff said. "I really fought my way through that match, I mean Polona was playing amazing, and I was just staying in there."
Her Wimbledon run grabbed the attention of celebrities such as Jaden Smith, Tina Knowles and Snoop Dogg, who took to tweeting at her. Gauff said of her fans, "each and everyone has been special," but she is especially enamored with one — former first lady Michelle Obama.
"I looked up to her so long, having her in the White House, and seeing a black woman in the White House was definitely special to me as a little girl," Gauff said.
But the tennis star isn't the only one getting social media attention. Her parents have become celebrities in their own right for their enthusiastic cheering and emotional reactions from the stands.
"It's kind of weird 'cause my mom, she's never really like that," Gauff said. "We were talking about it last night, like, 'What possessed you to even do that — it looks so funny.'"
"I've seen so many videos of people retweeting her," she said. "I don't know if she likes it or not, but I'm definitely loving it."
It was Gauff's parents who told her to, "just go out and see how good you can be," when she began playing at Wimbledon.
And Gauff has plans for that advice as she looks ahead to her tennis career. "My ultimate goal is to be the greatest," she said.