As NBA player-turned-reality star Lamar Odom remained on a ventilator Thursday after collapsing at a Nevada brothel, his precarious condition highlights a life that seemed to have it all — but was too often undercut by heartbreak and tragedy.
His mother died of cancer when he was 12; his youngest of three children died at 6 months; and two close friends succumbed to drug-related incidents this summer.
Odom had checked into the Love Ranch brothel on Saturday, and was found Tuesday night lying face down and foaming at the mouth in his VIP suite, authorities said. Dennis Hof, the owner of the legal bordello, told NBC News that the 35-year-old athlete was using a sex stimulant he referred to as "herbal Viagra."
Related: NBA, Reality TV Star Lamar Odom Found Unconscious in Nevada Brothel
Sources close to Odom told E! that the estranged husband of Khloé Kardashian and former Los Angeles Laker, who has been in and out of rehab over the years, was found with multiple drugs in his system. They said he suffered a stroke and brain damage, but is not brain dead.
This latest downward spiral has added another layer to how a gifted baller once billed as the next Magic Johnson could appear to hit rock bottom so many times.
"This really takes me over. Lamar is just 35," his paternal grandmother, Florence Odom, told NBC News on Wednesday. "It's really shocked me. I don't know what he was doing. Well, he's a man ... Only God knows."
The dark side of drugs was introduced to Odom at a young age in his native Queens, New York, after his estranged father, Joe Odom, became addicted to heroin, according to a 2009 Sports Illustrated profile.
His mother, Cathy, died from colon cancer when he was 12 — it was the release of being on a basketball court that helped him cope.
In an online post in 2013 — in response to his father reportedly calling his turbulent marriage to Kardashian the "worst mistake" of his life — Odom made it clear who nurtured him when he needed it most.
"He was absent ALL of my life due to his own demons," Odom wrote of his dad. "My mother and grandmother raised me. Queens raised me."
Odom's ball skills took him from the playgrounds of Queens to prep schools in Florida to the University of Nevada at Las Vegas. But troubles academically and off the court, including a citation for soliciting prostitution, plagued Odom before he transferred to the University of Rhode Island.
Following his freshman year, the 6-foot-10 Odom decided to make a play for the pros, and was selected by the Los Angeles Clippers in 1999 as the fourth overall pick. In just a couple of years, the roar of the crowd faded for him after he was suspended twice within eight months for smoking marijuana.
"I've made a couple (of mistakes) and I may make a couple again, but hopefully they won't be as big as this one," Odom told reporters at the time.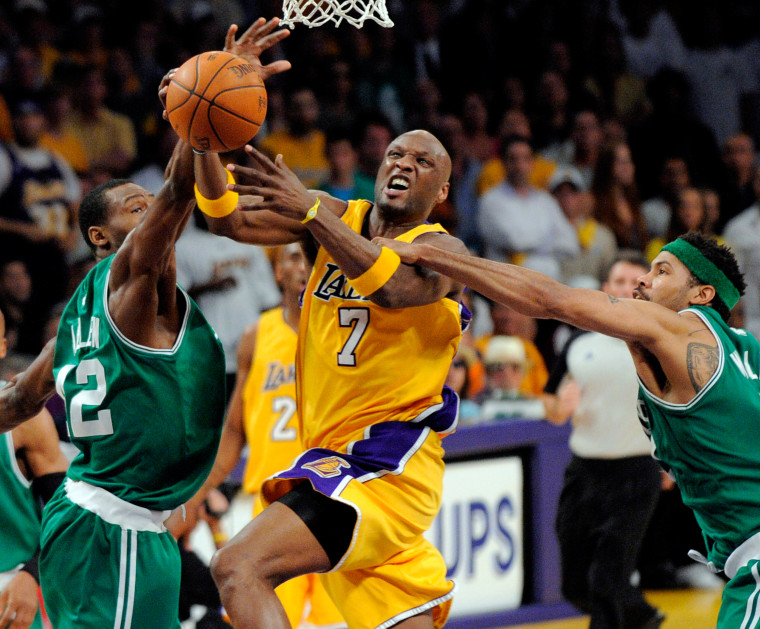 After a short stint with the Miami Heat, Odom's career rebounded with the Lakers from 2004-11, as he pounded the hardwood alongside superstars Kobe Bryant and Metta World Peace. They won the 2009 and 2010 NBA championships, and Odom was honored with the NBA's Sixth Man of the Year award in 2011.
PHOTOS: Looking Back at Lamar Odom's NBA Career
But the victories on the court as a fan favorite have been marred by tragedies off.
In 2003, Odom's maternal grandmother Mildred, who helped raise him, died — she inspired him to wear his lucky No. 7 jersey. Three years later, his 6-month-old son, Jayden, died from sudden infant death syndrome while sleeping in his crib.
In 2011, a 24-year-old cousin he was close with was murdered while Odom was in New York to shoot a Nike commercial. And after attending his cousin's funeral, Odom was a passenger in an SUV that was in an accident that claimed a 15-year-old pedestrian's life.
"Death always seems to be around me," Odom told the Los Angeles Times in 2011. "I've been burying people for a long time. When I had to bury my child, I probably didn't start grieving until a year and a half later."
Amid the tumult, Odom gained notoriety by marrying Kardashian in 2009.
Their whirlwind romance — he was her "Lammy" — and lavish wedding was featured on the E! series, "Keeping Up with the Kardashians," and they starred together in a spinoff, "Khloé & Lamar." But the limelight of celebrity only seemed to prop up Odom's party-boy lifestyle.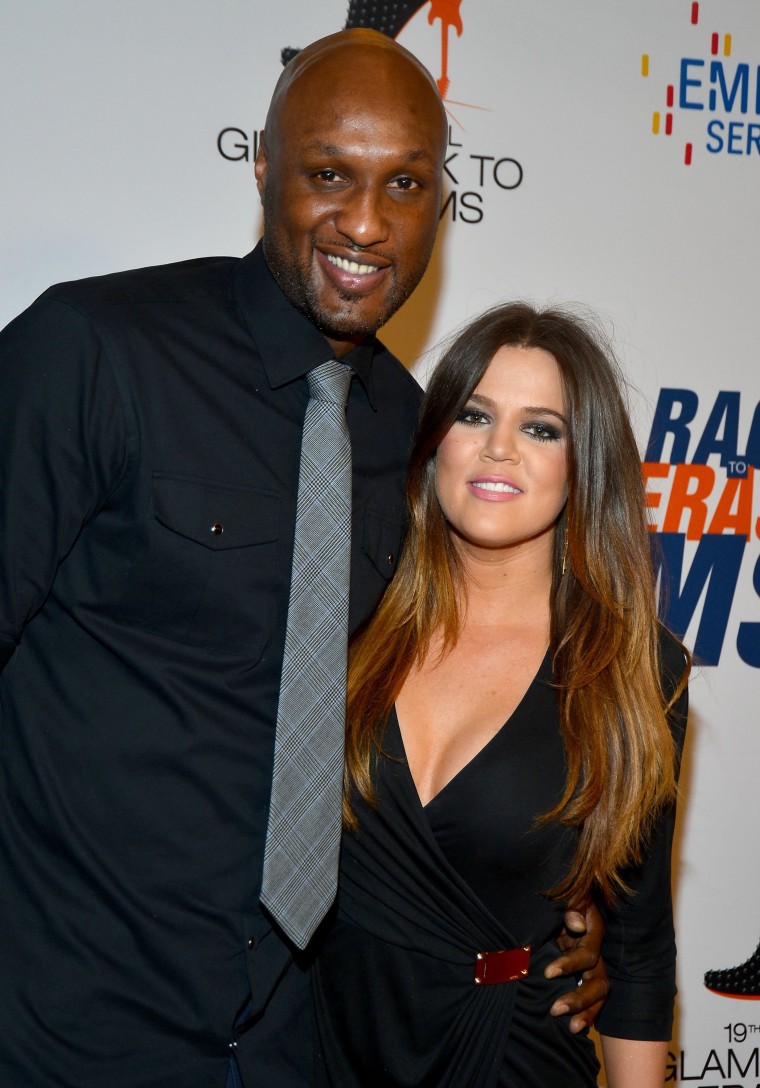 He and Kardashian were regular tabloid fodder after reports of infidelity, a $1,000-a-day crack cocaine habit and a drunken driving arrest.
The glare under the paparazzi took a toll on their marriage, and Kardashian filed for divorce, citing irreconcilable differences, as Odom reportedly entered into rehab. The paperwork from a divorce agreement still hasn't been processed, according to Los Angeles court records, and Kardashian has been at Odom's bedside in Las Vegas.
Odom was last signed to play professional hoops for the New York Knicks for their 2013-14 season, but was dropped for failing to meet the team's requirements. That scuttled his 14-year career.
This past summer, in another bout of misfortune, two of Odom's close friends died a week apart in drug-related incidents.
Miami Heat star Dwyane Wade had played with Odom in 2004 and shared a friendship that continued even after they were no longer teammates.
Wade tweeted Wednesday that "everyone will ask why or say how could he do this or that."
But, he added, "if you're not walking in life thru his eyes, you will never know what it's like."