Veteran National Women's Soccer League midfielder Sinead Farrelly said the support she has received since speaking out about alleged sexual misconduct by a coach and systemic problems in the league has "given my pain purpose."
"Every person that has reached out and shown support has turned this moment into a movement and made this matter ... I don't have words, just pure gratitude, and they have truly amplified our voices and just made this what it should be, which is a huge deal and demanding change," she said Tuesday on NBC's "TODAY" show.
"The support and the validation of this story by everyone globally, it has blown me away and really has felt like it has given my pain purpose, and that has been a liberation for me that I have not been able to feel for almost 10 years," Farrelly said.
North Carolina Courage coach Paul Riley was fired last Thursday after a report in The Athletic detailed allegations made by players on teams that he has coached since 2010.
Farrelly said she had been coerced into having sex with Riley on multiple occasions.
Farrelly and midfielder Meleana "Mana" Shim both told the online sports publication that, after a night of drinking in 2015, Riley took them back to his apartment and pressured them to kiss each other as he watched.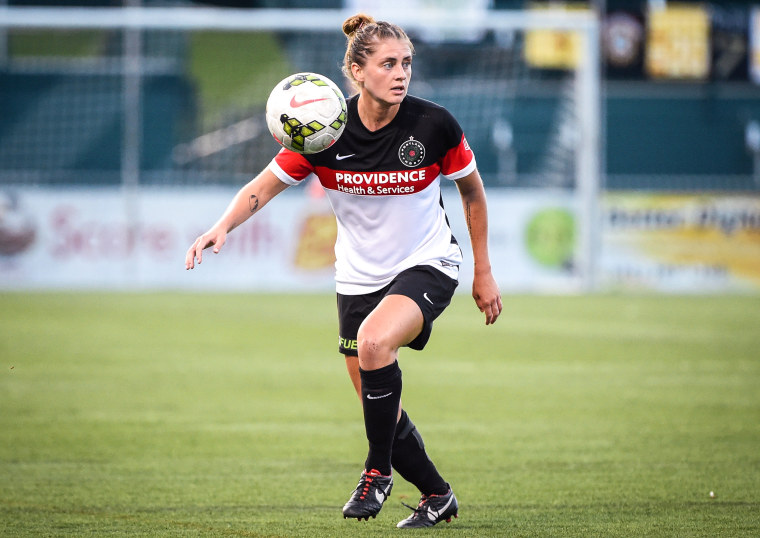 Riley responded in writing to 23 questions from The Athletic, saying in an email that the majority of the allegations are "completely untrue."
"I have never had sex with, or made sexual advances towards these players," he wrote.
Riley wrote that he sometimes socialized with players and occasionally picked up bar tabs, "but I do not take them out drinking."
He said "there's a chance I've said something along the way that offended someone," before adding that "I do not belittle my players, comment on their weight, or discuss their personal relationships."
He has not responded to NBC News' requests for comment.
During Tuesday's interview with "TODAY," Shim called Riley "a predator."
"He sexually harassed me, he sexually coerced me and he took away our careers," she said.
Shim also said she is grateful for the outpouring of support but still feels "very deeply sad and heartbroken about what happened."
"It's a mixture of things — I want more, I want more justice. I want better policies. I want players to be better protected, and at the same time I feel like we're on the right path," she said.
Shim said that during her time with Riley as her coach, she was "silenced."
"Every day I showed up to work, every day I practiced, every game I played, I didn't have confidence and I was scared," she said.
Shim said she had the full support of Team USA star Alex Morgan, who said Tuesday that the league "failed" Shim when she filed a complaint in 2015.
"At the time, there was no anti-harassment policy in place, there was no league HR, there was no anonymous hotline, there was no way to report," Morgan said. "We have now started to put these things in place by demand of players, not by the league, being proactive. So something we ask is for the league to be proactive, not reactive. We ask for transparency."
After The Athletic article was published, league Commissioner Lisa Baird on Friday apologized and submitted her resignation.
She later released a statement, saying she joined the league long after Riley was fired from the Portland Thorns following the 2015 investigation, and then hired by another team.
"As Commissioner, I fought to enact initiatives that protected the women in our league," Baird, who joined the league in 2020, said. "The women who play our game deserve to be protected and I am proud of what I did to make the League better," she said.
The league said in a statement Sunday that it is "immediately launching several critical investigative and reform initiatives to protect players and staff, and the environments in which athletes live, train, and compete to give athletes the agency and ability to safely report misconduct of any form."
And U.S. Soccer, the sport's national governing body, announced Sunday night that it had appointed former acting Attorney General Sally Yates to lead an investigation.
"U.S. Soccer takes seriously its responsibility to vigorously investigate the abhorrent conduct reported, gain a full and frank understanding of the factors that allowed it to happen and take meaningful steps to prevent this from happening in the future," it said in a statement.
Shim said Tuesday that she's "so grateful for the opportunity to get these bad people out of the league and really shine a light on this issue because it's so prevalent."
Hours after the players' "TODAY" interview, Washington Spirit CEO Steve Baldwin resigned his post in the wake of abuse allegations plaguing that club. He said he's "committed to improving the club's culture" but concluded that stepping down was in the best interest of the team, which saw its coach, Richie Burke, fired last week.
Burke was terminated over allegations of verbal and emotional abuse of players.
A league probe also found that "the Spirit and its ownership have failed to act in the best interests of the league." Baldwin was not accused of misconduct.
"It's not just this team. It's not just this coach," Shim said. "It's across the league. It's across the sport, and we have to do something about it."