Pat Bowlen, the owner of the Denver Broncos whose tenure included seven Super Bowl appearances and three titles, died Thursday night, his family announced in a statement. He was 75.
"We are saddened to inform everyone that our beloved husband and father, Pat Bowlen, passed on to the next chapter of his life late Thursday night peacefully at home surrounded by family," the Bowlen family said.
"His soul will live on through the Broncos, the city of Denver and all of our fans."
Bowlen, who will be inducted into the Pro Football Hall of Fame this year, suffered from Alzheimer's disease.
He is the only owner in NFL history to achieve 300 victories during his first 30 seasons, according to the Hall of Fame.
Bowlen's family expressed gratitude for the support it has received over the years. "Heaven got a little bit more orange and blue tonight," they said.
"Pat Bowlen had a competitive spirit with a great sense of humor. As fun-loving as he was, he always wanted us to understand the big picture. We will forever remember his kindness and humility," the family statement said.
"More important than being an incredible owner, Pat Bowlen was an incredible human being."
Bowlen became majority owner in 1984. His illness was announced by the team in July 2014, and shortly after, after he stepped down as chief executive officer, NBC Sports reported.
With Bowlen as owner, the Broncos made seven Super Bowl appearances and captured three titles — in Super Bowls XXXII, XXXIII and 50. The team had 21 winning seasons, 13 division titles and nine conference championship berths, according to the Hall of Fame.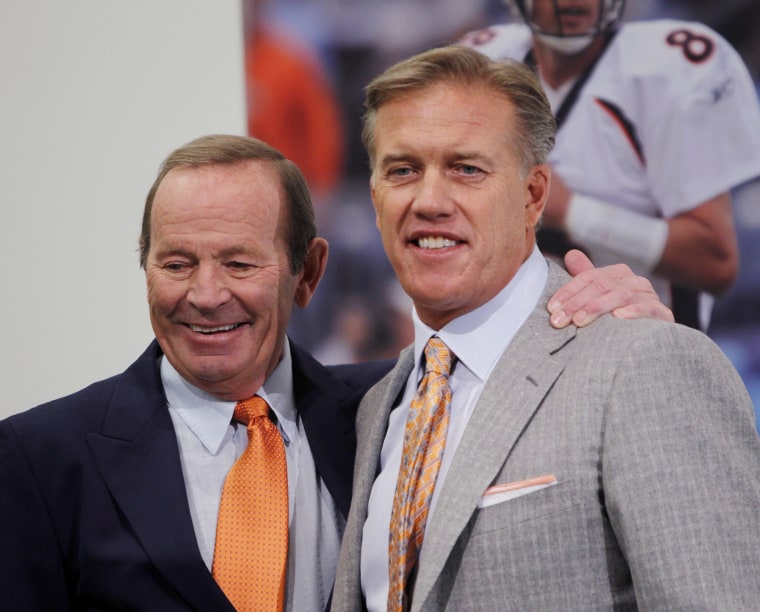 Broncos director of sports medicine, Steve Antonopulos, affectionately known as "Greek," was chosen to present Bowlen into the Pro Football Hall of Fame during the Aug. 3 enshrinement ceremony in Canton, Ohio,, the Associated Press reported.
Antonopulos said that when he presents Bowlen, he wants to make sure to convey how much Bowlen put winning atop his to-do list and how he genuinely cared for everyone who worked for him.
The Broncos said in a statement that Bowlen, known to many as "Mr. B," was guided by a simple phrase: "I want to be No. 1 in everything."
"Pat Bowlen was the heart and soul of the Denver Broncos. Not only was Pat a Hall of Fame owner — he was a Hall of Fame person," Broncos President and CEO Joe Ellis said in a statement. "His competitiveness, kindness and humility are the qualities that I will always remember. Even during his battle with Alzheimer's, you could still see that same strength and dignity in Pat that he brought to the office every single day for more than 30 years."
Ellis said Bowlen was "the driving force in establishing the championship culture of the Broncos."
He said his heart goes out to Bowlen's wife, Annabel, and seven children, Amie, Beth, Patrick, Johnny, Brittany, Annabel and Christianna, as well as to the team's fans.
"With the fans, Pat felt in many ways that his team belonged to them and approached things with that in mind," Ellis said. "There will never be another owner like Pat Bowlen."
"I would much rather operate behind the curtain and let the athletes and coaches be the entertainment," Bowlen once said, according to the team. "I think that's the way that it should be."