LOS ANGELES — Donald Sterling once railed against the National Basketball Association as "a band of hypocrites and bullies." He torched Commissioner Adam Silver and other NBA leaders as "despicable monsters" for taking away his beloved Los Angeles Clippers. Forced to sell the team he had owned for three decades after making racist remarks, Sterling pledged that he would sue the NBA. For the rest of his life.
But now, after Sterling was banned for life from the league, and even prohibited from attending games, his wife and her lawyer are looking for a way to lift the league's ultimate sanction.
The fire-breathing Sterling, who shocked the public in 2014 with his inflammatory remarks about African-Americans, had seemed prepared to live out his life in perpetual combat. But in a series of telephone conversations with NBC News this month — approaching the three-year anniversary of the sale of the Clippers — Sterling struck a remarkably different tone. He called the NBA "a great league," the Clippers "a great team" and Commissioner Silver, previously his sworn enemy, "a wonderful leader."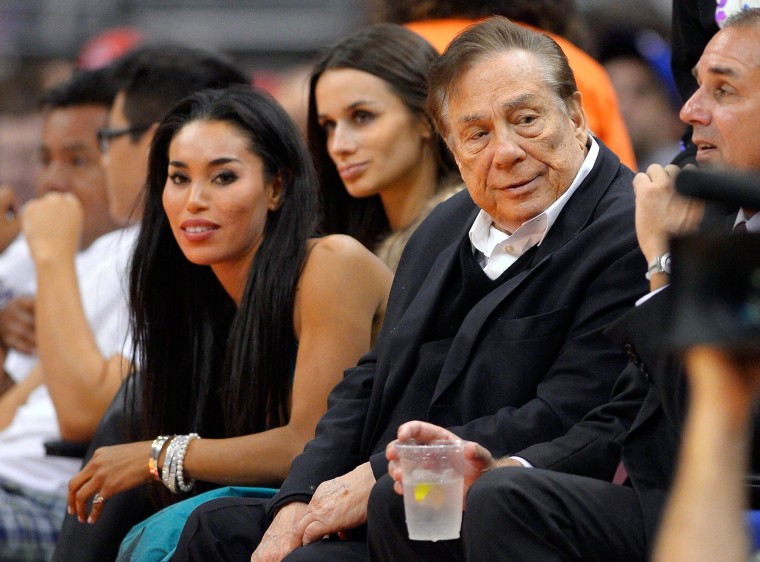 The 83-year-old Sterling at first hesitated to speak to a reporter, as the anniversary of the $2 billion sale of the Clippers to former Microsoft CEO Steve Ballmer approaches on May 29. But he eventually agreed to be interviewed, saying he wants the world to know that he has moved beyond the battles of the past.
"I am as happy as I have ever been. I am as comfortable as I have ever been," Sterling said. "And I don't want to do anything to disturb that."
But his wife, Shelly Sterling, also 83, said in a separate interview that she has not let go of at least one formal blot that remains on Sterling's record: the lifetime ban from the NBA that was imposed on the long-time Clippers owner after his racist remarks against African-Americans attending games.
Shelly Sterling said she personally approached Silver and also had her attorney, Pierce O'Donnell, talk to the league office about lifting the lifetime ban, which prevents Donald Sterling from attending NBA games. Her intention is not to allow her husband to do business with the league, but to clear his record, in consideration of the 33 years he spent as an owner.
Sterling's wife and her attorney argued that the punishment against Sterling was out of proportion to his misbehavior, and said that being forced to sell his team, and fined $2.5 million, had sent a strong enough message against Sterling's incendiary remarks.
""I couldn't understand the severity of the ban. It just seemed a little bit out of line," Shelly Sterling said. "I have talked to [the NBA] several times and I don't know what they will do. Maybe they will and maybe they won't [lift the ban]. Maybe it takes a little bit more time."
O'Donnell, the attorney who helped Shelly arrange the sale of the team, acknowledged that he had called NBA chief counsel Richard Buchanan on her behalf. "Shelly asked me to make the inquiry and I did it immediately," O'Donnell said.
The wife and attorney said they made their requests to clean Sterling's record with the league independently. Sterling was not involved, and made it sound in the interview as if he personally indifferent to the punishment. "A ban? I don't even know what that means," he said. "But I think my time has passed."
NBA officials did not immediately respond to a request for comment.
Sterling was the longest-tenured owner in the NBA when his companion, V. Stiviano, made a recording of him ranting about her showing up at Clippers games with African-American men. He admonished her not to bring her black friends to any more games — a broadside that Sterling later tried to explain away by saying he was jealous seeing younger men with his paramour.
Silver quickly banned Sterling that spring of 2014, also imposing the fine and moving to force the sale of one of the league's most valuable franchises — a series of sanctions that amounted to the most severe actions ever taken against a professional sports owner in the United States.
"I am as happy as I have ever been. I am as comfortable as I have ever been," Sterling said. "And I don't want to do anything to disturb that."
But Sterling seemed intent on digging his hole even deeper. After Silver moved against him, the Clippers boss attacked Magic Johnson, saying that the Los Angeles Lakers hall-of-famer was sexually promiscuous and did little to help the African-American community.
Shelly Sterling made her pitch for leniency about a year ago, reminding the NBA commissioner that Major League Baseball had imposed a much lighter penalty in 1993, when Cincinnati Reds owner Marge Schott was accused of directing racial slurs at employees and making anti-Semitic remarks. Baseball fined Schott $25,000 and suspended her from day-to-day operations of the Reds for one year.
NBA officials heard the arguments from Shelly Sterling and O'Donnell, but were unmoved. O'Donnell recalls that Buchanan, the NBA's top lawyer, said there was no chance Sterling would again have any relationship with the pro basketball league. "He said 'Pierce, you know that's a non-starter,'" O'Donnell recalled.
Sterling was found to be suffering from Alzheimer's disease during the court case that stripped him of the Clippers. Those who know him say he remains sharp and lucid much of the time. They confirm that he seems to have gotten over the pain of losing the Clippers, the team he bought in 1981 for just $12.5 million.
Sterling settled his multi-billion-dollar lawsuit against the NBA six months ago, on unknown terms. (That cleared the way for the NBA to release half of the sales proceeds, which had been held in escrow until the league was freed of Sterling's legal threats.) Sterling also dropped litigation against his one-time companion, Stiviano. The octogenarian also reconciled with Shelly, whose push to sell the team once so infuriated him that he shouted at her, in open court, "Get away from me, you pig!"
Shelly Sterling continues to occupy the two courtside seats she obtained when the Clippers were sold to Ballmer. The deal also entitled her to another 10 seats elsewhere in Staples Center. She is a fixture at games, intensely knowledgeable about the Clippers and the rest of the league, according to those who have attended with her.
Though he once made a pledge of an external legal battle against the NBA, Donald Sterling now suggests that the league's order that he sell turned into an advantage. "I was trying to negotiate the highest price I could," Sterling said. "So if I would have voluntarily offered to sell the team, I wouldn't have gotten the highest price."
He called Ballmer, 61, "a very good man, a very sweet man." Sterling said: "He came to my house and said, 'I am going to buy the team no matter what it costs.'" He added with a chuckle: "I am not so sure he should have said that."
Shelly Sterling says that she is happy to be free of the headaches of owning the Clippers, including the constant pressure to win. Her husband seems to agree.
"I think that, really, at this stage of his life, he is happy, not at the way that it happened, but that he got so much money for it," she said. "He could have never sold it today at that price.... We never know when we are going through it, but sometimes, through tragedy, comes happiness."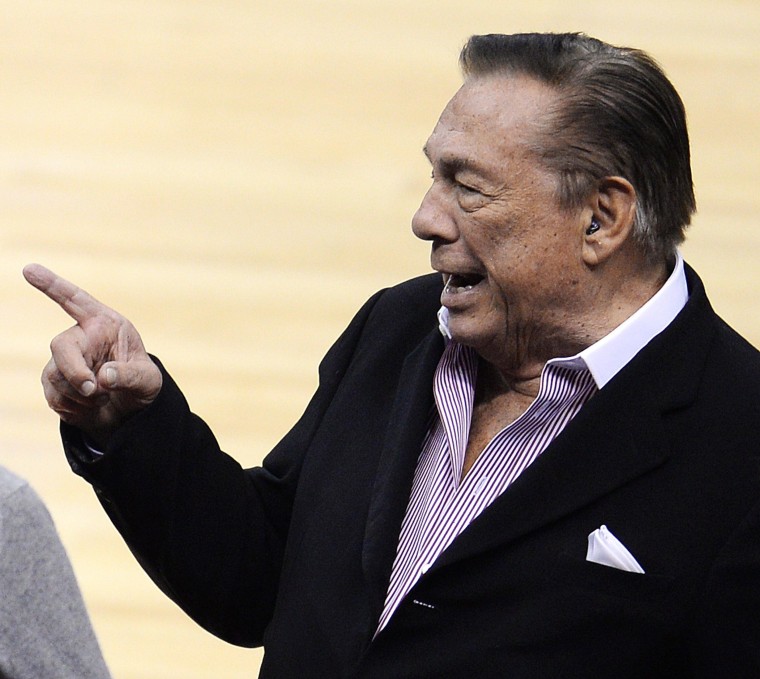 Unable to attend Clippers games, Sterling still watches faithfully on a television at his Beverly Hills home, or wherever he finds himself, he said. He said he is turning more of his attention of late to charities that he supports, though he did not provide any details.
Just as in days gone by, paparazzi cameras still occasionally capture the former Clippers boss out on the town. In the last week, the celebrity site TMZ posted photos of Sterling, in designer sunglasses, out shopping with a young woman.