Paul Kinney watched it once and can't bring himself to watch it again — the horrific video of one of his fellow dirt-track racers being run over and killed by Tony Stewart, the NASCAR superstar.
Kinney, driving his No. 19K car in the race on Saturday night in upstate New York, did not see the fatal collision, but moments earlier, he did see Kevin Ward Jr. standing on the track — furious with Stewart after Stewart buzzed him and Ward spun out.
"I drove right by him," Kinney told NBC News in a phone interview Monday. "He looked a little bit angry. I didn't think much of it. A lot of drivers do that."
After the spinout, Ward got out of his car, and stalked toward the middle of the track and pointed toward Stewart's car, No. 14. As it approached, it appeared to fishtail. Ward was sucked under the wheels and hurled into the air. He was pronounced dead at the hospital.
Besides not looking at the video again, Kinney, 30, said that he has stopped looking at Facebook. He said he can't stand the speculation about whether Stewart went after Ward on purpose.
"That's obviously not a racing incident," he said. "It's not a good idea to get out of your car and run towards other cars. But nobody can speak for Tony. Only Tony knows exactly what happened."
Still, he said: "I seen Kevin clear as day. Nobody else ran into him, either."
The Ontario County sheriff, Philip Povero, said Sunday that there was no evidence of criminal intent on Stewart's part. He also said that the matter was still under investigation, and that authorities were looking into the track condition and lighting.
The crash happened in a sprint car race on a clay track at Canandaigua Motorsports Park. Stewart pulled out of the much more prominent NASCAR Sprint Cup race the following day, about an hour away at Watkins Glen.
Stewart said in a statement that "there aren't words to describe the sadness I feel about the accident that took the life of Kevin Ward Jr."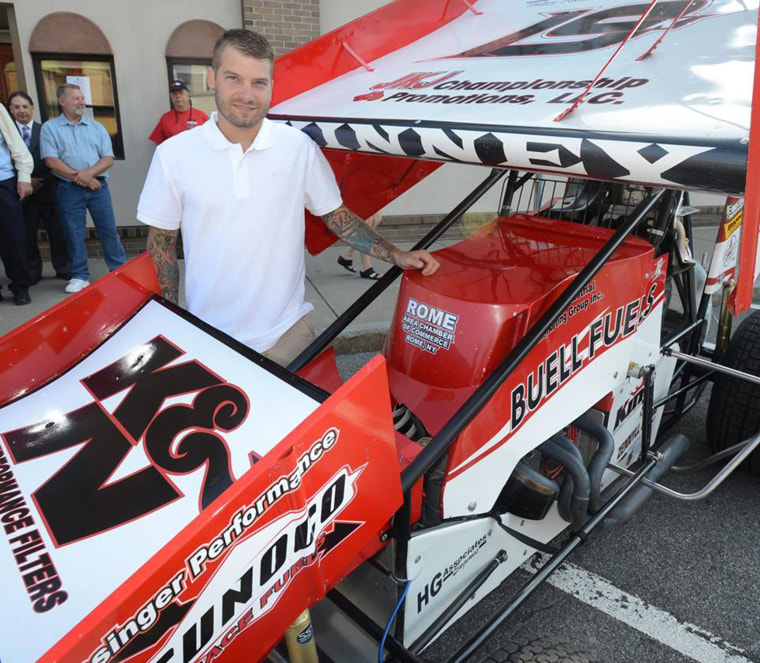 The emotion that led Ward to get out of his car and head for Stewart is nothing unusual in racing and would be hard to stop, Kinney said. Drivers are focused and pumped with adrenaline, and anger comes quickly when they are knocked out of a race.
"People get a little carried away. I actually got a little bit angry at a fellow racer last year," he said. "You don't really think when you get out of the car. You just want to let 'em know what you're thinking."
Kinney remembered Ward as a clean racer and a good guy, eager to help and share tips. They talked "pretty much car setup," Kinney said, like how to position their shocks before a race.
The circuit where they raced together is far from the football-stadium crowds and national television audiences of NASCAR, and Kinney described it as extremely tight, drivers living out of motorhomes and spending weeks on the road.
"Everybody with the racing family, they're super close. They were crying," he said. "It didn't seem real. It doesn't matter if it was Tony or not. It was just — it didn't seem real. It was just an eerie feeling in the pits."